Yalla Shoot News
Yalla Shoot :Women's World Cup 2023: Megan Rapinoe criticises Spanish football federation and United States critics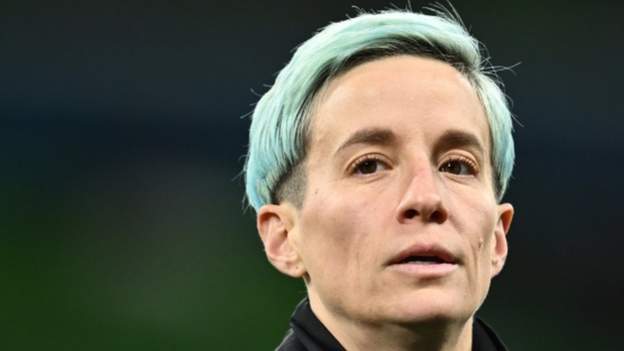 Female footballers campaigning for equality means they are "playing two games at the same time", says former United States winger Megan Rapinoe.
Her career ended with a last-16 exit at the Women's World Cup and she says some had been "waiting for this stumble".
Rapinoe also criticised the "misogyny and sexism" shown by Spanish football federation (RFEF) president Luis Rubiales during their win in the final.
"It made me think about how much we are required to endure," said Rapinoe.
Spain's 1-0 win over England in Sydney was overshadowed by Rubiales kissing forward Jenni Hermoso on the lips during the presentation ceremony.
That came after Rubiales grabbed his crotch as he celebrated victory at the final whistle in the VIP area of Stadium Australia, near Queen Letizia of Spain and her 16-year-old daughter.
Spain coach Jorge Vilda survived a player revolt last September, when the RFEF said that 15 players had submitted identical emails saying they would not play for him unless "significant" concerns over their "emotional state" and "health" were addressed.
However, the the RFEF continued to back Vilda and posted 'VILDA IN' on Spain's official X account after their World Cup triumph.
In an interview with American magazine the Atlantic, two-time Women's World Cup winner Rapinoe said: "Think how much that Spanish team had to shoulder: some of the players who stood up way back last year still aren't on the team. Maybe that was something that galvanised them, but you shouldn't have to have that.
"There was another picture that signals such a deep level of misogyny and sexism in that federation and in that man (Rubiales) at the final whistle, just grabbing his crotch.
"What kind of upside-down world are we in? On the biggest stage, where you should be celebrating, Jenni has to be physically assaulted by this guy."
Rubiales apologised on Monday for kissing Hermoso but Spain's prime minister Pedro Sanchez said his apologies "are not enough", while second deputy prime minister Yolanda Diaz joined those calling for him to resign.
'We're playing together to win equality and progress'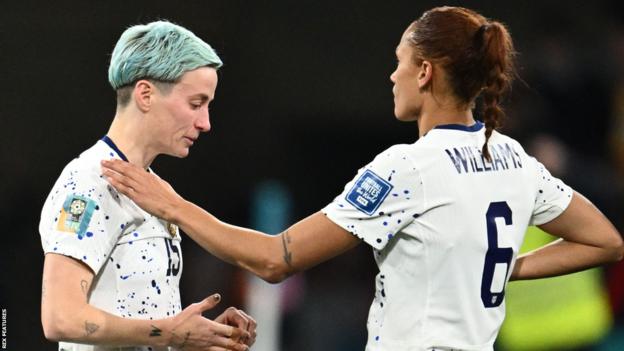 Rapinoe and the rest of the US squad filed a discrimination lawsuit over equal pay and working conditions shortly before retaining their World Cup title in 2019.
It was ultimately settled in February 2022 when US Soccer pledged equal pay for the men's and women's teams across all competitions.
England players had to pause discussions over performance-related bonuses until after the World Cup while Australia's squad criticised the gender disparity in prize money.
The World Cup preparations for Jamaica, Nigeria and South Africa were all disrupted by disputes over pay and facilities.
Rapinoe, the 2019 Women's Ballon d'Or winner, added: "What I've realised for a long time is that we're playing two games at the same time. One, we're playing all against each other, and then the other one, we're all playing together to win equality and progress and what we deserve.
"We want these other teams to be paid equally, and to have the resources that they deserve, and to not be subjected to misogyny and racism and sexism. If that comes at the expense of our own dominance, yeah, we want that.
"It is our responsibility to continue to push the game forward, and I take a lot of pride in the World Cup being what it is today versus even four years or eight years ago. I take a lot of pride when I see teams speaking up for themselves."
'They want women to believe you can't fight for things'
Then US president Donald Trump told Rapinoe not to "disrespect our country" after saying she would not visit the White House if the US won the 2019 World Cup.
Rapinoe, 38, announced before this year's tournament that she would be retiring at the end of the season, and her international career ended with a penalty shootout defeat by Sweden in her 202nd appearance for the US.
Trump was among those to criticise the team after that last-16 exit, calling it a "shocking and totally unexpected loss".
"The speed with which those comments got into the atmosphere… it's like they have just been waiting since, I don't know, 2016, 2019?" said Rapinoe.
"They've been waiting for this team to stumble. But when we are perfect, then we are accused of thinking that we're perfect.
"They want women to believe that you can't fight for things and be excellent; you can't ask for what you deserve and be successful.
"But the reality is, we're doing that. Beyonce is doing that. Taylor Swift is doing that. Coco Gauff is doing that. We are still great on the field, and we're fighting for equality, and it's better for our bottom line and the sport's."
The US and Sweden played out a goalless draw in Melbourne before the shootout went to sudden death, with Rapinoe one of three US players to miss their penalty. It would prove to be her last touch in international football.
"I would take that one again. I would pick me," she added.
"For a long time, I have thought about missing one in a really big moment. What are you going to do? The only other thing you could do is to not take one. I'm not going to do that.
"I would rather step up and be in that moment, and I think that's something that made the criticism after that loss particularly fake and disingenuous and absurd and outrageous to me. It's like, you're going to bash on me for getting out there and trying my best?"