Yalla Shoot News
Yalla Shoot :Who are the highest-scoring non-top-scorers in a football season? | Soccer
"Paul Mullin scored 38 goals for Wrexham in the National League this season, but was beaten to the top-scorer award by Notts County's Macaulay Langstaff, who hit 42," notes Niall McVeigh. "Are there any higher-scoring non-top-scorers?"
Ben Blatch-Hanlon kicks us off with the most high-profile example. "I imagine I'll be one of about 100 people writing in with this, but in La Liga's 2011-12 season Cristiano Ronaldo scored a pretty incredible 46 goals from 38 appearances – only for Lionel Messi to bag a frankly ridiculous 50, in just 37 games. In all competitions, Messi outscored Ronaldo 73-60. We really were blessed to have seen them at their prime together."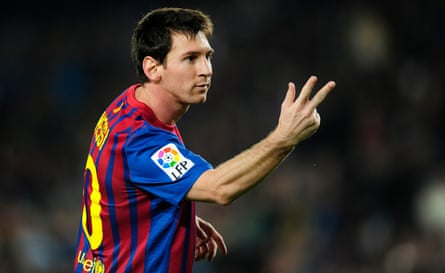 Ronaldo is surely the winner of this particular prize (and we're sure he will be delighted), but here are some less familiar examples of hotshots missing golden boots, starting with some Romanian history from Russell Connor. "Marcel Coras of Victoria Bucharest scored 36 goals in the 34-game top flight in 1988-89, beating Mullin on goals-per-game," flags Russell. "He was pipped to top spot by Dorin Mateut's 43 goals for Dinamo Bucharest, enough to win him the European Golden Shoe. Two years earlier, Rodion Camataru was Dinamo Bucharest's and Europe's top scorer in 1986-87 with 44 goals. He was initially awarded the golden shoe but this was revoked following a Fifa investigation.
"At that time, Romanian football operated largely at the whim of the Ceausescus and it is alleged that when the possibility of a Golden Shoe, and the prestige it would confer to Romania, became apparent, opposition defences were instructed not to try all that hard to stop Camataru," Russell adds. "In his last nine matches, the striker managed to score 26 goals. Toni Polster was ultimately awarded the shoe for that season, with his paltry 39 for Austria Vienna."
Philip Rebbeck adds: "In the 1953-54 Second Division, Fulham's splendidly named Bedford Jezzard scored 39 goals – three fewer than the legendary John Charles scored for Leeds." Then there's the story of George Pell, who scored 35 for Burnley in 1927-28, pipping Leicester's Arthur Chandler (34) and the 33-goal trio of George Camsell (Middlesbrough), Dave Halliday (Sunderland) and Harry Johnson (Sheffield United) in the First Division scoring charts. Sadly for Pell, and the rest, this was the season where Dixie Dean hit 60 for Everton, topping the list by 25 goals.
Finally, a word for Saint-Étienne's Salif Keïta. The Malian goal machine scored 42 goals in the 1970-71 French top flight – but was pipped to the European golden shoe and the league top scorer prize by Marseille's Josip Skoblar (44). The following year, Keïta could only manage 29 – and Skoblar netted 30.
Four cities, same first letter
"All the semi-finalists in the men's Champions League this season came from a city starting with the letter M – Madrid, Manchester and two from Milan," realises Ivor Leonard. "Has there been a major cup competition where all the semi-finalists have come from four cities starting with the same letter?"
Here's Dirk Maas with a full and thorough breakdown. "In the history of European Cup semi-finals, the only other time this has happened was in 2015-16 – with two teams from one city again. Madrid were represented by Real and Atlético, and joined by Manchester (City) and (Bayern) Munich."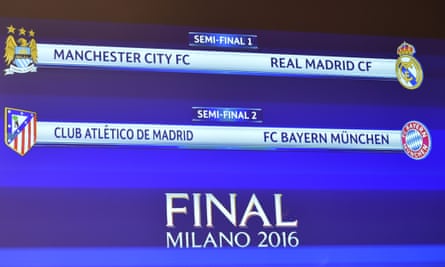 To find a final quartet from four different cities, we have to travel back to the 1958-60 Inter-Cities Fairs Cup, the second edition of the Uefa Cup precursor that took two years to complete. Barcelona beat Birmingham in the final, while the losing semi-finalists were a Belgrade XI and Union Saint-Gilloise.
The Belgian side, recently restored to the top flight thanks to investment from the Brighton owner, Tony Bloom, were founded in Brussels but moved outside the city limits in 1920. We think it's fair, though, given their history and current location, to call USG a Brussels team. Back to Dirk for some notable near-misses …
"The Uefa Cup semi-finals in 1987-88 featured Espanyol (Barcelona), Werder Bremen and Club Brugge – plus Bayer Leverkusen, who knocked out Barcelona," Dirk adds. "The 1990-91 European Cup, meanwhile, saw five quarter-finalists from 'M' cities: Marseille beat Milan and Spartak Moscow defeated Real Madrid, joining Bayern Munich in the semis with the odd side out, eventual winners Red Star Belgrade."
European Cup 1957-58: Real Madrid, Manchester United, Milan, Vasas (Budapest)
EC 1961-62: Standard Liège, Benfica (Lisbon), Tottenham (London), Real Madrid
Fairs Cup 1961-62: Barcelona, Red Star Belgrade, MTK Budapest, Valencia
EC 1965-66: Real Madrid, Man Utd, Internazionale (Milan), Partizan (Belgrade)
Cup Winners' Cup 1973-74: Magdeburg, Milan, Mönchengladbach, Sporting (Lisbon)
EC 1980-81: Real Madrid, Bayern Munich, Inter (Milan), Liverpool
EC 1985-86: Barcelona, Anderlecht (Brussels), Steaua Bucharest, IFK Gothenburg
EC 1989-90: Marseille, Milan, Bayern Munich, Benfica (Lisbon)
Uefa Cup 1997-98: Atlético Madrid, Inter (Milan), Spartak Moscow, Lazio (Rome)
UC 1999-2000: Leeds United, Lens, Arsenal (London), Galatasaray (Istanbul)
Champions League 2002-03: Real Madrid, Milan, Inter (Milan), Juventus (Turin)
CL 2013-14: Real Madrid, Atlético Madrid, Bayern Munich, Chelsea (London)
CL 2016-17: Real Madrid, Atlético Madrid, Monaco, Juventus (Turin)
The great escapes (2)
Last week, we looked at some statistically significant escapes from relegation. Here is another example, from Brazil, courtesy of André Leme Lopes:
Fluminense hit rock-bottom in the Brasileirão Série A in 2009 after the 21st round and were stuck there for 12 weeks. After 27 games, statisticians gave them a 99% chance of relegation. Then the team drew two games (against Internacional and Goiás), won the next six (against Atlético-MG, Cruzeiro, Palmeiras, Atlético-PR, Sport, and Vitória), and drew its last one (against Coritiba, away). Six wins and three draws in our last nine games; 11 games unbeaten at the business end of the season."
One can only imagine the carnival atmosphere on the streets of Rio when safety was secured.
Knowledge archive
"Has a club ever signed a goalkeeper, only to then move him to an outfield position (on a full-time basis), or vice-versa," asked Robert O'Shea in 2008.
One name that stood out in our inbox was that of shy, retiring Mexican stopper Jorge Campos. "Campos was signed in 1989 by Pumas UMAM as a goalkeeper," wrote Paul Haynes, "but because Adolfo Rios was playing well in goal, Campos was used as a striker, scoring 14 goals in his first full season. Campos, who often wore the No 9 shirt for his club, went on to win 130 caps for Mexico, but all of these as a goalkeeper."
From Mexico to the less exotic climes of Luton and Exeter. "I'm not sure what position he was playing when Luton signed him, but Tony Read was their regular keeper in the 1967-68 promotion season," emailed Keith Hayward. "But in his career of 203 appearances he scored 12 goals while playing as what we would now call a striker, including (I believe) a hat-trick."
Tom Lippiett offered Matt Taylor of Exeter, though Team Bath should have taken the credit for converting the player from a No 1 to a No 5. "Matt was instrumental in getting City back into the Football League, and won their player of the season award," wrote Tom. "However, just two years before joining Exeter, Matt was playing as a goalkeeper for Burscough, which included him goalkeeping in (and winning) the FA Trophy final in 2003. Matt moved to Team Bath in 2006, where he converted to a (full-time) centre-back. Former Burscough teammate Lee McEvilly noted his surprise when he lined up against the now-outfield Taylor in the Exeter v Cambridge matches in 2007, which included the playoff final."
Can you help?
"Currently harbouring the disappointment of watching Nottingham Forest Women lose the FAWNL playoff 0-1 to Watford. The playoff was between winners of the FAWNL Premier North (Forest) and South (Watford) to decide which team will take the one promotion spot to the Championship. A deeply unfair system that is finally being scrapped for the 2023-24 season, with winners of North and South both going up next season and two being relegated from the Championship," mopes Sam Williams-Duncan. "Excepting clubs barred from promotion due to stadium requirements, are there any other examples of clubs winning their league/division but not being allowed promotion, either through a similarly unfair playoff system or otherwise?"
"I was looking through the ancient history of my team, Gillingham, and noticed in the 1919-20 season they scored 34 goals and conceded 74, and then the following season they scored 34 goals and conceded 74 again," notices Chris Matterface. "Are there any other instances of teams finishing two consecutive seasons with completely identical goals for/against totals?"
"Dinamo Zagreb won their 24th league title this season," writes Cameron McGlone. "Since independence, Croatia has only contested 32 league seasons, meaning Dinamo have won 74.1% of all available titles in the country – is this the highest percentage?"