Yalla Shoot News
Yalla Shoot :Vinicius Jr racism: Spanish FA reduce Valencia fine and partial stadium closure on appeal | Football News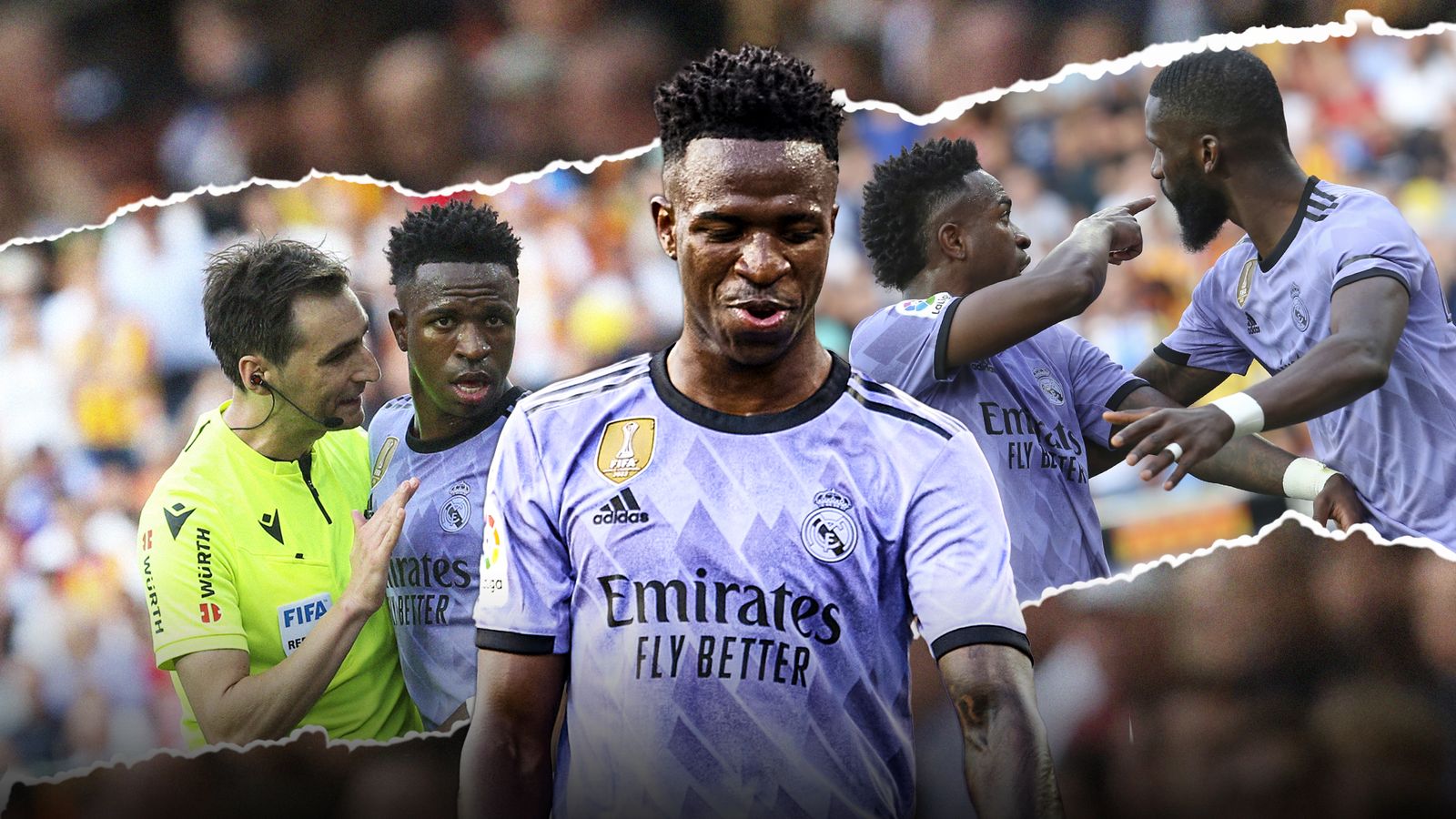 Valencia have had their partial stadium closure reduced to three matches and their fine cut to €27,000 (£23,500) following an appeal for the racist abuse of Real Madrid forward Vinicius Junior by fans.
The Spanish Football Federation appeals committee said that it had decided to "partially uphold" Valencia's appeal.
It means the partial closure of the Mestalla Stadium has come down from five matches, with an initial €45,000 (£39,000) punishment reduced by €18,000.
Vinicius threatened to leave the pitch in the second half of Real Madrid's LaLiga match against Valencia on Sunday after being subjected to alleged racist chants from the crowd and Madrid, who said the abuse constituted a "hate crime", filed a complaint with the Spanish State Attorney General's Office.
Valencia had 10 working days to file an appeal to the appeals committee. LaLiga players and officials called for racism to be tackled in Spain in the wake of Sunday's match.
Before Tuesday night's games between Real Valladolid and Barcelona, and Celta Vigo and Girona, players from both sides, as well as the match officials, stood behind banners which read "Racism, out of football".
Vinicius was set to serve a two or three-match ban after being sent off at Valencia, but Spain's competition committee – a body formed by one member from LaLiga, one from the Spanish Sports Council (CSD) and one from RFEF (Spanish FA) – has rescinded that red card.
Lewis Hamilton says it's devastating that racist abuse continues to exist in 2023 and has supported Real Madrid forward Vinicius Junior for standing up to it in recent weeks.

LaLiga, meanwhile, said it would request greater jurisdiction to punish clubs whose fans were guilty of racist abuse after feeling "powerless" at the lack of current sanctions in the wake of the latest Vinicius incident.
According to the country's law, LaLiga can currently only identify and report incidents, and punishment is rarely handed out.
Four people were arrested in Spain on Tuesday under suspicion of hanging an effigy of Vinicius off a bridge in January.
An inflatable doll dressed in a Vinicius shirt was hung from the railings with a banner that read 'Madrid hates Real Madrid' ahead of Real's Copa del Rey game with city rivals Atletico at the start of the year.
And Spanish police confirmed on Tuesday that four suspects had been apprehended.
Tebas claims LaLiga could eradicate racism in six months
La Liga president Javier Tebas gave a 90 minute press conference on Thursday in response to the racism directed at Real Madrid's Vinicius Jr but some of his answers have been branded 'embarrassing and out of touch'.

Speaking on Thursday, LaLiga president Javier Tebas claimed his organisation could eradicate racism from Spanish football in six months if given adequate sanctioning powers.
Vinicius Junior spoke out against both Spain and LaLiga after the abuse, highlighting "continuous episodes across several cities" and suggesting LaLiga "belongs to the racists".
Tebas gave a tetchy response to Vinicius on social media, for which he subsequently apologised, and at a news conference on Thursday he complained the league's hands are tied by laws which mean LaLiga can currently only identify and report incidents and punishment is rarely handed out.
"What we want is the power to do more things. With the power we are convinced within months this would be solved," he told the specially-arranged conference.
"We are going along the legal route, and I think in six months' time this will be at zero and we will be the best league in the world. The competencies we want are for those intolerable behaviours – racism, homophobia."
When challenged on his six-month solution claim, Tebas added: "We have been able to have economic control to stop our clubs going bankrupt so if we are given the competencies we can put an end to this because it is easier to stop than financial control."
Tebas 'embarrassing' and 'horribly out of touch'
Sky Sports News senior reporter Rob Dorsett on Thursday's press conference
"This was an extraordinary press conference. Tebas answered every question openly, but my interpretation was that some of those answers were embarrassing, some of them seemed horribly out of touch.
"There are, of course, cultural differences and language barriers at play here, maybe, but this felt like Tebas trying to backpedal and make amends for the hugely damaging comments he made towards Vinicius Jr where he diminished his experience of racism.
Real Madrid manager Carlo Ancelotti says Vinicius Jr is 'fine' mentally, after suffering racist abuse in Sunday's match against Valencia.

"There were one or two really uncomfortable moments where Tebas talked of the racist comments he heard in stadiums of the past, and he almost mimicked that language, using one word which was grossly offensive.
"It was a really difficult watch for the majority of those 86 minutes.
"Incredibly, he said he could solve the problem of racism in Spain 'within months' if LaLiga were given the powers to crack down on it.
"Tebas admitted the affair had been very damaging to LaLiga's reputation on the world stage and you couldn't help but feel there was a commercial aspect to this news conference, that Tebas was speaking as much to try and reassure sponsors as much as he was players like Vinicius Jr.
"Perhaps the most extraordinary comment from Tebas came at the end of the conference. His response, while laughing, of 'we don't count them', when asked how many black people worked with him at LaLiga was absolutely staggering and spoke volumes about what's going on at LaLiga at the moment."