Yalla Shoot News
Yalla Shoot :USA v Netherlands: Women's World Cup 2023 – live | Women's World Cup 2023
Key events
The Guardian network's profile writer, Steven Kooijman, says coach Andries Jonker ditched the 4-3-3 to run with a 5-3-2 with wingbacks. Today's formation is listed as a 3-5-2, but the difference between a 5-3-2 and 3-5-2 is really a question of attitude, isn't it?
Forward Lineth Beerensteyn will miss this game with an injury. Vivianne Miedema, sadly, will miss this entire tournament. Miedema ranked sixth in The Guardian's most recent listing of the top 100 players in the world.
GK: Daphne van Domselaar (Aston Villa) is No 95 on that top 100.
D: Stefanie van der Gragt, who is retiring after this Cup, has the difficult task of being the lone center back, flanked by Dominique Janssen (Wolfsburg) and the captain, Sherida Spitse (Ajax).
M: You can call Victoria Pelova (Arsenal), Esmee Brugts (free agent at age 19) "midfielders" or you can call them "wing-backs." Probably depends on how the game is going. Attacking force Jill Roord (Manchester City) and Danielle van de Donk (Lyon) are 60th and 75th on The Guardian's list, and they're joined today by box-to-box midfielder Jackie Groenen (PSG).
F: Katja Snoeijs (Everton) wins the honor of playing alongside Lieke Martens (PSG), who's ranked No 42 on The Guardian's list.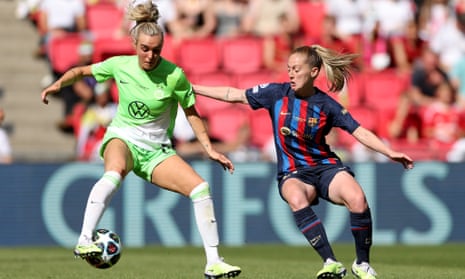 US Soccer notes that only four players in the starting XI also started the 2019 World Cup final – goalkeeper Alyssa Naeher, left back Crystal Dunn, center mid/center back Julie Ertz, and forward Alex Morgan.
Today, I happened to bump into a soccer coach I know who lives here but comes from the Netherlands. He would bench all four of those players. I reminded him that USWNT coaches who bench veterans tend to become former USWNT coaches very quickly.
The captain is once again midfielder Lindsey Horan, who's joined in midfield against by Andi Sullivan and the inexperienced but talented Savannah DeMelo, whose first start (and second cap) as a US player was against Vietnam.
Naomi Girma anchors the back line, where Ertz may need to join her from time to time rather than spending as much of the game forward as she did against Vietnam. Emily Fox is the right back.
The prodigies, Sophia Smith and Trinity Rodman, flank Morgan up front.
But first, I'm being asked for my thoughts on US Soccer president Cindy Parlow Cone …
I first met her in 1998? 1997? Somewhere in that vicinity? I was covering the NCAA women's soccer tournament. She was utterly dominant.
Since her playing days, she has coached at the pro level and served in many capacities in US Soccer.
During her presidency, she has overseen a budget bailout that her critics will say went too far or was misguided. Cutting the Development Academy (which was really a league rather than an academy) was a controversial move, though a lot of people – especially in girls soccer – found the DA was too overbearing.
She played a vital role in settling the US women's lawsuit and reaching a new CBA that has pleased both teams. But did she give the teams too much? People working at the grassroots, where US Soccer seriously needs to spend, would say yes. But did she have a choice? Given the one-sided pressure from the media, which has little empathy for players once they become "management" (even if they're unpaid volunteers, which the president is), maybe not.
Does that answer your question, more or less?
Happy to take anyone else's thoughts on the matter, but I'd also rather talk about the game (the US lineup is out, and it's unchanged from the first game) or whether Golden Earring is the best band ever to hail from the Netherlands.
Howdy everyone. Glad to be here for another session of commentary, and I promise not to be too cynical about the way the US women's national team and Women's World Cup broadcasts are marketed.
Yes, it's a rematch. But that matters less than taking care of business and getting through the group stage.
And both teams have plenty of questions to answer. The US wasn't really tested against Vietnam, who barely had the ball in the attacking third the whole way. The Netherlands looked unconvincing against Portugal, and injuries may keep a low ceiling on this team's potential here.
So it's a rematch third, a test of form second, and "taking care of business" first.
Let's watch, shall we?
Beau will be here shortly, in the meantime here's Jeff Kassouf in Wellington with a preview of today's match:
For nine months, players and coaches from the United States and the Netherlands have deflected questions about the impending rematch of the 2019 World Cup final. For nine months, they stressed that each team had a group stage match to play before they met, and that they would approach the tournament one game at a time.
Now, the moment has arrived, and there is no getting around it: Thursday's match in Wellington is likely to decide the group winner and, with it, the pathway if the teams are to return to the final. This is the game the teams – and fans around the world – have been anticipating since the World Cup draw in October.
"I'm sure it's going to be a challenge," the USA head coach, Vlatko Andonovski, said on Wednesday. "They are a great team, very organized, a very disciplined team. We saw in the first game that they played [a 1-0 victory over Portugal] that they are going to have a threat on every line. But at the same time, I want to say that we're ready for it. We've trained a lot, prepared a lot for this moment and especially this game and we're excited and looking forward to it."
You can read the full article below: