Yalla Shoot News
Yalla Shoot :Trent Alexander-Arnold vying for another start in midfield as England face North Macedonia in Euro 2024 Qualifying | Football News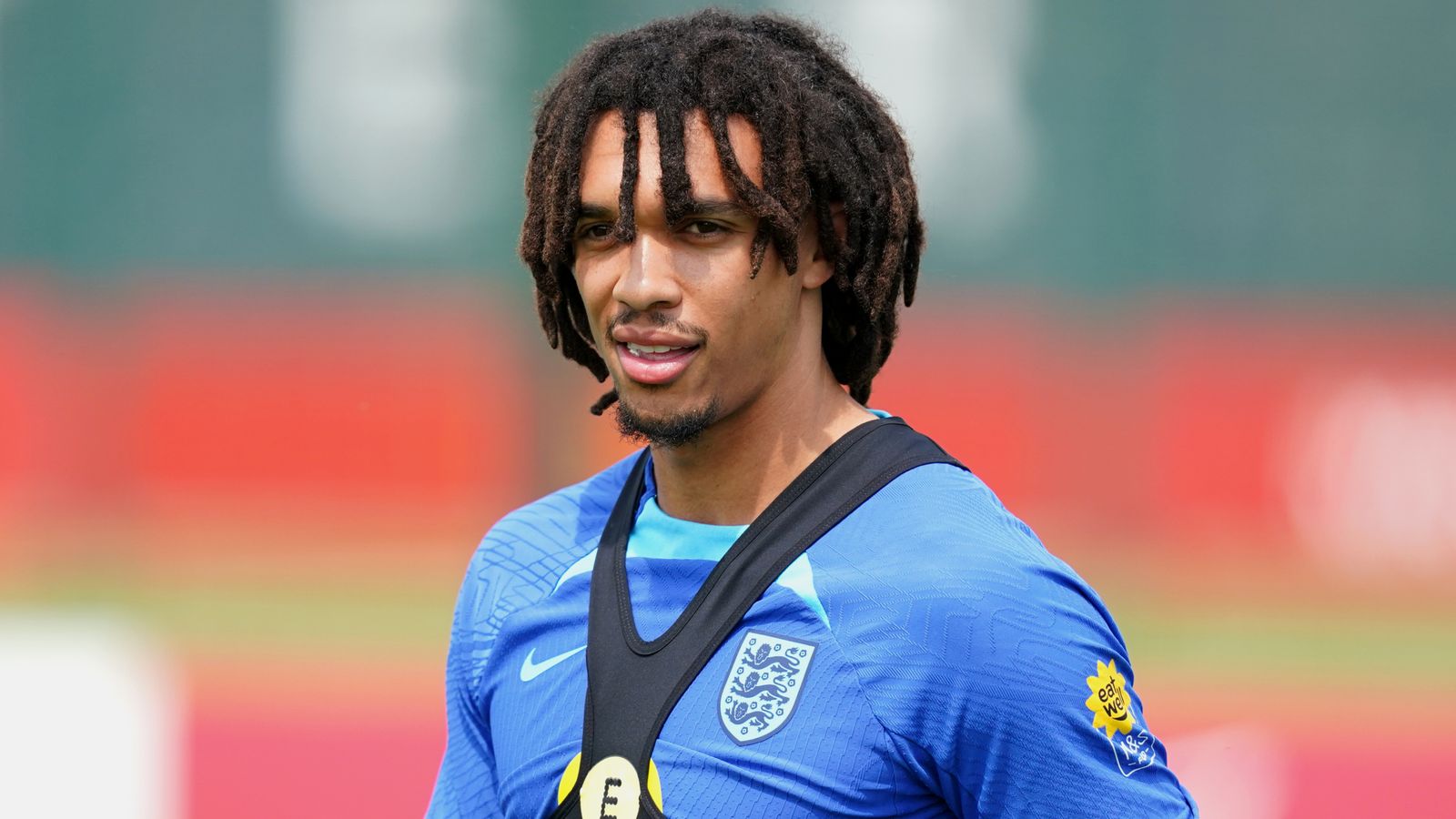 Trent Alexander-Arnold attracted widespread acclaim for his sensational goal and eye-catching all-round performance in midfield in England's 4-0 win over Malta on Friday night.
The 24-year-old, a peripheral figure at international level for much of Gareth Southgate's tenure, now hopes the change of role will help him secure a starting place. "It's about trying to be a regular name on the teamsheet," he said. "It's somewhere I enjoy playing."
Southgate was certainly encouraged by what he saw. "I've got no questions in my head; he can do it," the England boss said after the game. "He showed exactly what we think he could be capable of."
The question now is whether he sees Alexander-Arnold as the future of his midfield or just another option in the position.
Gareth Southgate jokes that his players have been 'tapping each other up' while they are together with England!

Southgate insists much will depend, in the longer term, on whether he continues to step into the role with Liverpool. But Monday's meeting with North Macedonia will offer another clue.
Should Alexander-Arnold continue there at Old Trafford, against a far better side than Malta, we will know for sure that Southgate is serious about this "project", as he termed it on Friday night.
Should Southgate revert to a natural midfielder, however, with Kalvin Phillips and Conor Gallagher among those who could step into the side, the temptation will be to conclude otherwise.
Southgate was certainly eager to talk up the threat posed by the North Macedonians on Sunday. "It isn't just a case of rolling on from Friday," he said. "It's a step up, in intensity and quality, and we've got to be right on our game to win the match."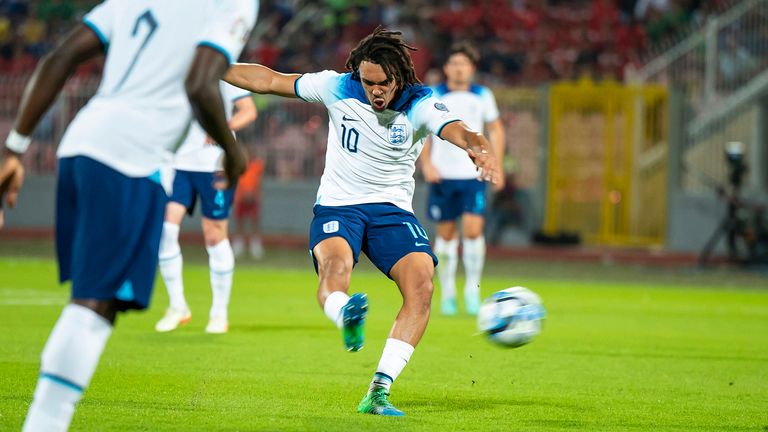 England have not won either of their previous two home games against North Macedonia, drawing 2-2 in 2002 and playing out a goalless draw in another European Qualifier in 2006. Under head coach Blagoja Milevski, they have shown pedigree more recently too.
Southgate felt they "should have won" their Group C fixture against Ukraine on Friday, when they squandered a two-goal lead to lose 3-2, while last year they famously overcame European champions Italy in a World Cup play-off tie in Palermo.
Southgate excited by Trent option
Gareth Southgate praised Trent Alexander-Arnold's performance against Malta and said he is excited by the option of using him in midfield.
"He played exceptionally well, so the first thing is that he deserves all the credit he's getting," said Southgate.
"It's another option. And as I said the other, day, it's an exciting one.
"We know the outstanding qualities that he has. I thought he adapted really well to the role. It is different to what he's been asked to do for his club to this point.
"But, as I said after the game, he was excited about that when we talked about it, and he delivered. So, great credit to him."
Southgate went on to highlight their "individual quality" on Sunday and it should be noted, from Alexander-Arnold's perspective, that much of that quality is found in central midfield.
Indeed, while the midfield he came up against in Malta on Friday featured two players who play in the Maltese league and one who plays in Belgium, North Macedonia's is likely to include Eljif Elmas, a Serie A title-winner with Napoli, and Trabzonspor's Enis Bardhi.
Elmas and Bardhi scored North Macedonia's goals against Ukraine on Friday and, together with some of their team-mates, they pose a level of attacking threat far beyond that of Group C minnows Malta.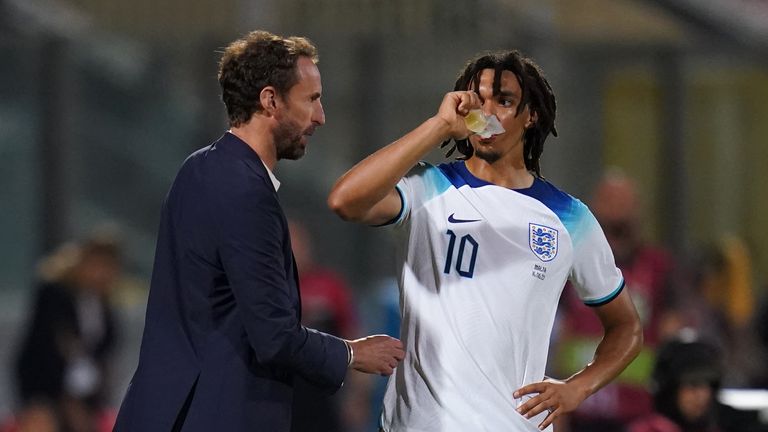 That means England's midfield is likely to be tested defensively in a way it was not against Malta – "they bring the game to you a bit more than we had the other night," said Southgate – and that is sure to be in the manager's thinking with Alexander-Arnold.
The England boss is in no doubt about the vision and creativity he can offer in the position – "we know the outstanding qualities that he has," he said on Sunday – but his perceived shortcomings defensively are the reason others are preferred at right-back.
Southgate therefore faces a choice: thrust Alexander-Arnold back into the role and see how he handles the other side of it against a stronger team, or play it safe, and revert to a more natural option in the position as England aim to make it four wins from four.
His decision might hint at his true intentions for Alexander-Arnold.
Southgate: Selection calls difficult
Alexander-Arnold is not the only player giving Southgate a selection dilemma ahead of Friday's game.
The England boss has a full squad to pick from, with Manchester City quintet Jack Grealish, Phil Foden, John Stones, Kyle Walker and Phillips available to start following their treble-winning celebrations and Bukayo Saka passed fit following an injury scare against Malta.
"It's always difficult picking a team because we've got some depth and players who have trained well," said Southgate.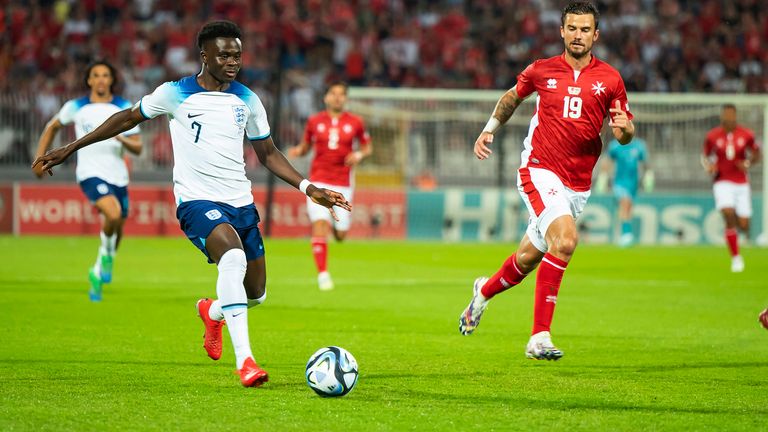 "As always, we're looking at the opposition, the best way to try and win the game and the attributes we need.
"So, not an easy decision, but we are very clear in our heads about where we need to head."
Asked if any of the Manchester City players could return to his starting line-up against North Macedonia, Southgate said: "It's possible.
"They are obviously some talented and important players for us, so it is difficult to name a team, there's no question about that.
"We've looked at the opposition as well, to make sure we get the balance right, but it's an important game for us and we want to play well."
Southgate: Onus is on us to entertain
Southgate and his players were booed by supporters when they lost 4-0 to Hungary in the Nations League at Molineux a year ago.
The England boss is hoping for a more positive reception at Old Trafford but feels the responsibility lies with them to ensure the supporters have reason to cheer.
"It's for us, always, to bring the crowd with us," he said. "The onus is on us to give the crowd something to be excited about and play well.
Southgate says it is England's responsibility to entertain the supporters when they take on North Macedonia in Manchester

"It's a great crowd up here anyway. When we went to Leeds a few years ago, that was an exceptional atmosphere, and I'm sure Manchester will be the same.
"The fact that it's a sell-out is exciting for us. It's exciting for the players and it adds an edge to the game. But, of course, our opponent will be lifted by that. They will want to put on a good display so we've got to be ready for them.
"But we want to play well and entertain our supporters, and, of course, we need to win the game."
Shaw: I'd fill in at centre-back if asked
Southgate was joined in his press conference by Manchester United left-back Luke Shaw, who talked up his relationship with the England boss and said he would happily fill in at centre-back, as he has with his club this season, if asked.
"I think my performances so far show I deserve to be in the set-up," he said.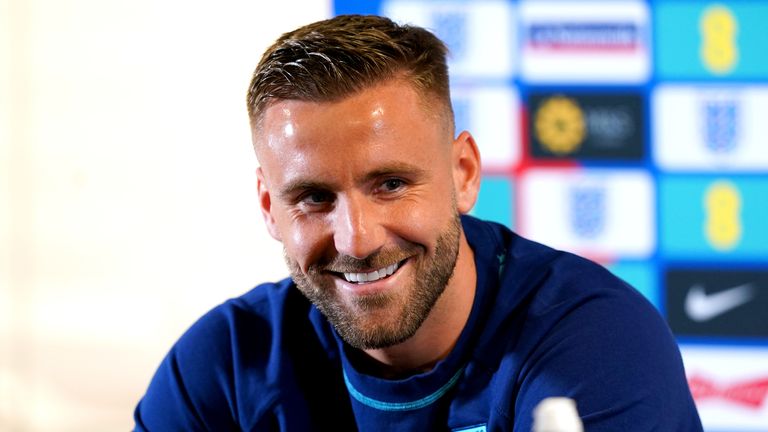 "We spoke about it before. Of course, I'm a left-back, but if I ever need to play centre-back here, I'm more than happy to do so.
"I learned a lot in the time playing centre-back [for Manchester United], in a new position, learning different things, and I really enjoyed doing that.
"First of all I'm a left-back, but I'm happy to play anywhere."
Shaw has become a mainstay under Southgate and could win his 31st cap for the Three Lions against North Macedonia.
"It always helps to have the support of the manager. There are a couple of injuries out there – especially Chilly [Ben Chilwell] – but it helps a lot knowing I've got his faith.
"We speak a lot. I feel really good here. Whenever I'm here, I'm happy and I enjoy it. Of course, that always helps."
Shaw says playing under Erik ten Hag for Manchester United has taken his game to another level, but insists there is more to come from him

Shaw, who signed a new long-term contract at Manchester United in April, also praised Erik ten Hag, saying the Dutchman has helped to improve him as a player since his appointment at Old Trafford last summer.
"I've been settled there for quite a long time now. I think this season the manager has definitely helped me. I think he's taken me onto a new level. He's pushing me every day.
"That's definitely what I need and what I want. I want to keep on improving and keep on getting better, as I still think I can, and push myself to an even higher level.
"With the people around me and the coaches I have, I feel like I can do that."