Yalla Shoot News
Yalla Shoot :Trent Alexander-Arnold: England star 'feels natural' in new midfield role after Malta display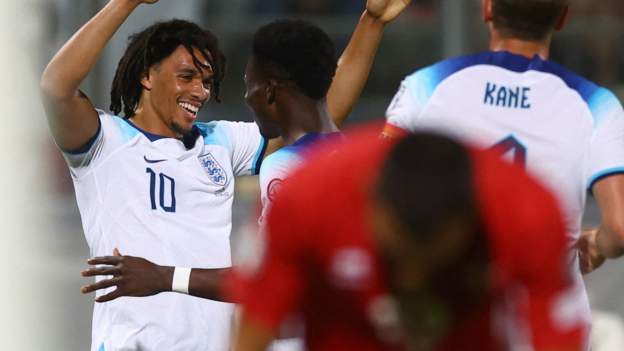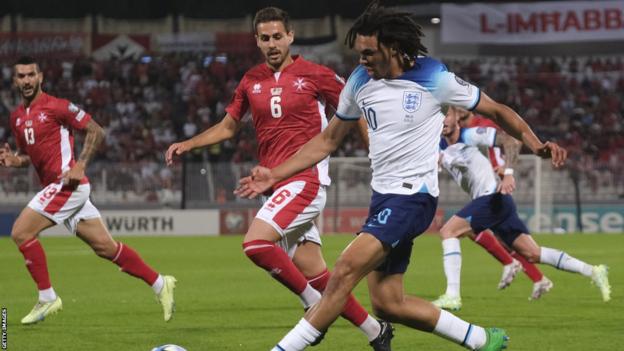 Some fans may have baulked at the sight of Trent Alexander-Arnold wearing number 10 – but, to the England full-back-cum-midfielder, it felt completely "natural".
Alexander-Arnold started in a midfield three alongside Declan Rice and Jordan Henderson for England's Euro 2024 qualifier in Malta on Friday.
It is not a completely new concept for the Liverpool player under Gareth Southgate, having played in that position in a September 2021 qualifier against Andorra, albeit with underwhelming results.
In Ta'Qali, however, England supporters were treated to a best of Alexander-Arnold compilation – pinpoint crosses and lofted balls, energy and skill in possession and a superb goal from 25 yards in a routine 4-0 victory.
"I haven't played it too much, but it feels comfortable," the 24-year-old told Channel 4 when asked whether this was a position he could see his future in.
"It feels natural, I will say that. It's somewhere I can see myself playing. I want to make sure I am regularly on the team sheet and that was a good foundation to build on.
"I think the role I've been playing with club football, it's a new avenue. It's still early doors, it's only one match, but it's important that when I get the opportunity, I take it."
This victory was among the easiest England have had for many years – Malta failed to have a touch in the opposition box, let alone a shot on target.
But there were signs in the link-up play between Alexander-Arnold and Bukayo Saka that this experiment could be worth persisting with in forthcoming tougher qualifying tests against North Macedonia, Ukraine and reigning European champions Italy.
Alexander-Arnold played a part in the eighth-minute opener. His pass over the top found Saka, whose cross was turned in by Malta defender Ferdinando Apap.
It gave England the advantage to avoid any chance of this turning into a stodgy, nervy night like so many in past qualification campaigns.
'He's shown what he's capable of'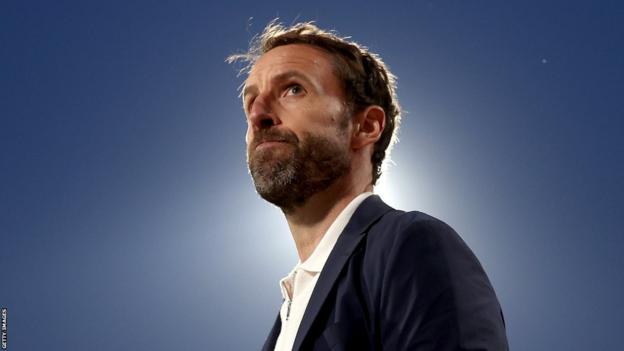 This was a continuation of Alexander-Arnold's role for Liverpool towards the end of the 2022-23 club season, where boss Jurgen Klopp unleashed him to effectively play as a free-roaming attacking midfielder when in possession with impressive results.
It caught the attention of Southgate, who allowed him to play with similar creativity here and without the need to revert to right-back, when out of possession as he does for Liverpool.
Southgate has rarely trusted Alexander-Arnold at full-back, preferring Reece James, Kyle Walker or Kieran Trippier in a position where England have strength and quality options.
However, he clearly wants to tap into the player's creativity, revealing he spoke with Alexander-Arnold a month ago about his plans.
"Inevitably a lot of what happens is going to be dependent on his club," said Southgate. "The fact he's been playing partly in there with the ball, albeit a bit deeper, has helped his transition.
"I've got no questions in my head he can do it, it's just learning some nuances of the role. He's very keen to do it, he's enjoyed the project, we talked about it about four weeks ago on the phone and he's been excited by it. He's shown exactly what we think he can be capable of."
Playing further up the field also allowed England to exploit Alexander-Arnold's long-range shooting ability, usually only seen at free-kicks.
Here, he found space in open play midway through the first half and curled an unstoppable effort past Henry Bonello.
Whether Alexander-Arnold remains England's number 10 for the future is debatable. Jude Bellingham, on return from injury, will surely move straight back into that role, but Southgate has options now.
'Everything good England did went through him'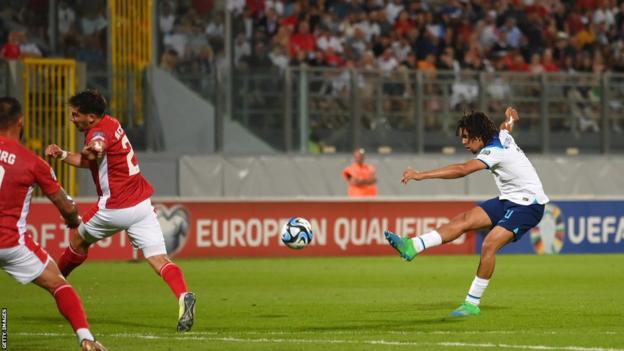 Former England midfielder Joe Cole, speaking on Channel 4, said "everything good that England have done has come through him" after an eye-catching first-half display.
"He's picked up great positions, he's probing with his passing, he's been the hub of everything that England have done," added Cole.
"You have to get a system around getting Trent into positions where he can affect the game – he'd be a joy to play with.
"In that position it gets the best out of the great qualities he's got. He can make things happen, he understands space in midfield and defensively he was very good.
"He looked very, very comfortable and he looked happy. It was a real top performance from him."
"He's loving it," former England goalkeeper Rob Green told BBC Radio 5 Live when discussing Alexander-Arnold's positional change. "Creating the options and space, he has clearly been given the freedom.
"From there he's just had the joy and just had moments when he didn't have pressure on him and picked the pass, he's picked the shot. What a moment for him.
"I think you're looking at something to say can he give you something different? You're used to seeing Rice, Phillips and Henderson in there, he certainly gives us something different.
"Whenever anybody's made a run in behind he can look. It's just a different option, a different angle for England to attack from."