Yalla Shoot News
Yalla Shoot :They were on the pitch and it was all over – how I wish I'd been there at Cambridge | Soccer
It is fascinating what football can do to you. Twenty minutes after the full-time whistle had blown in the final games of the League One season I was alone in silence in a tiny radio studio at 11.30pm in Melbourne with tears in my eyes watching Cambridge United players being held aloft by fans on the Abbey Stadium turf after they had avoided relegation.
I looked at those fans, running on the pitch in random directions like a mob of meerkats released from a pen. Going this way and that, hugging strangers, not really knowing where to go before congregating in a disorganised mass in the middle of the pitch. I wished I was there.
But more overwhelming was the sense of nostalgia. The memories of being there as a teenager and in my 20s. Winning the Third Division title in 1991 – we were on the pitch celebrating promotion when the PA announced the score from Roots Hall. Southend 0 Brentford 1. Champions.
Scott Rendell scoring in the 119th minute to overturn a 3-1 deficit to get to the Conference playoff final in 2009. Running on to the pitch and sharing quite a moving applause with those Stevenage fans in the away end who were still there. We lost the final.
Back then it felt as if I'd always be there for those moments. This time I celebrated in a WhatsApp group with champagne cork and party hat emojis. None of us was there. Life, work, love has taken almost all of us away from our home. I wanted to dive into the laptop and talk to those young fans like a tragic footballing Baz Luhrmann. It won't always be like this, savour it.
The ordeal of the previous two hours was broadcast on TalkSport in what can only be described as unprofessional and agonising radio, but I think all fans could empathise. Here was all the pain while loosely trying to concentrate on a review of yesterday's Premier League action. A lovely Nottingham Forest podcaster called Sandeep was discussing the signing of Jonjo Shelvey not quite working out as Sam Smith struck a Van Basten-esque volley with his wrong foot in off the far post.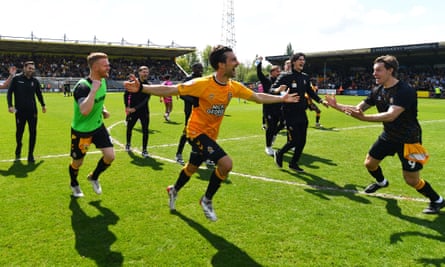 I let out an involuntary cry. "GET IN! Sorry". "Have you scored?" he asked politely. "Two-nil. Two-nil. Brilliant finish from Sam Smith. Sorry, you were mid-flow," I said, laughing and grinning. "That was really unprofessional, I do apologise." Sandeep understood.
Our game was won by half-time. Now to wait as Morecambe looked for something at Exeter and MK Dons searched for a goal at Burton. Superstition set in. I couldn't change anything on the screen. Exeter were ahead. Now it was all down to Burton. WhatsApp told me that MK Dons were peppering their goal. All I could see were the scores down the right side of the BBC Sport website. Burton 0 MK Dons 0.
The minutes ticked by. I wanted to see what was going on. But I also didn't, couldn't face it. Fans at the Abbey had stopped watching the game in front of them, instead finding dodgy streams on their phones of the Pirelli stadium.
Top comedian Justin Moorhouse joined the show for his weekly Guess the Attendance. Cambridge's game had finished. Morecambe were losing. "You don't want to know that MK Dons have just scored." My face went white. "Please don't tell me that" … pause … "No, they haven't" … exhale. "Mate, I don't think that's funny."
"I thought it was funny," replied co-host Barry Glendenning. Witnessing someone else's footballing pain can give anyone great joy. "I think in the interests of quality radio entertainment and hashtag content MK Dons have a duty to score in the next two minutes. MK Dons owe it to our listeners to score a goal between now and two o'clock."
Finally, I lose the power of speech. "We're into the third minute of injury time at Burton. Oh God, I can't bear this. I just wanna see. I just want. I just [deep exhale, silence]." I need switching off and on again.
At that moment a goalmouth scramble at the Burton end. I can't see what's happening. I can just hear Barry's voice reporting from the Sky Sports screens in front of him. I've watched that moment a thousand times since. The MK Dons keeper is up. It's cleared off the line twice. Heartbreak for them. Turns out they had 31 attempts at goal. The Burton keeper was man of the match.
Then it emerges my screen is on a minute delay. The reports of the pitch invasion come through. I won't accept it until it's there in front of my eyes. "I'm looking at live pictures, the players are just standing there looking at phones." And suddenly. "YES we've done. Come on. Get In. I don't want to swear." I yell, turning into a pound-shop Meg Ryan. "Yes. Yes. Yes. Come on. Come on. So good. Aaaaaaah." It's over. I am overwhelmed. Exhausted.
Going up or staying up, the emotions are identical. When it goes down to the last seconds, perhaps that is why we all do it. Your love, bestowed upon you at birth, you have no power over it. That love doesn't change whether you win or lose, whether you're in the Premier League or the National League. But when it's on the line, it takes you somewhere else, to a place impossible to articulate to those who don't follow it. It is a quasi-religious experience or certainly the closest I get. Eleven people running around in an amber and black outfit trying to put a round thing into a small area of grass as 11 others in green try to stop them while The accidents of birth that have led you to support who you support and that have led those players to be on that pitch at that time. Strip it back and it's ridiculous.
And yet here we are. Two weeks later and 10 of the squad have already left. In August, there'll be another set of humans who will dictate my mood from 10,000 miles away. My 14-month-old already has a Cambridge United kit. Wear sunscreen and support the U's. Only one of those things is guaranteed to be good for you.