Yalla Shoot News
Yalla Shoot :Shadow sports minister Lucy Powell calls for misogyny to be classified as hate crime | Football News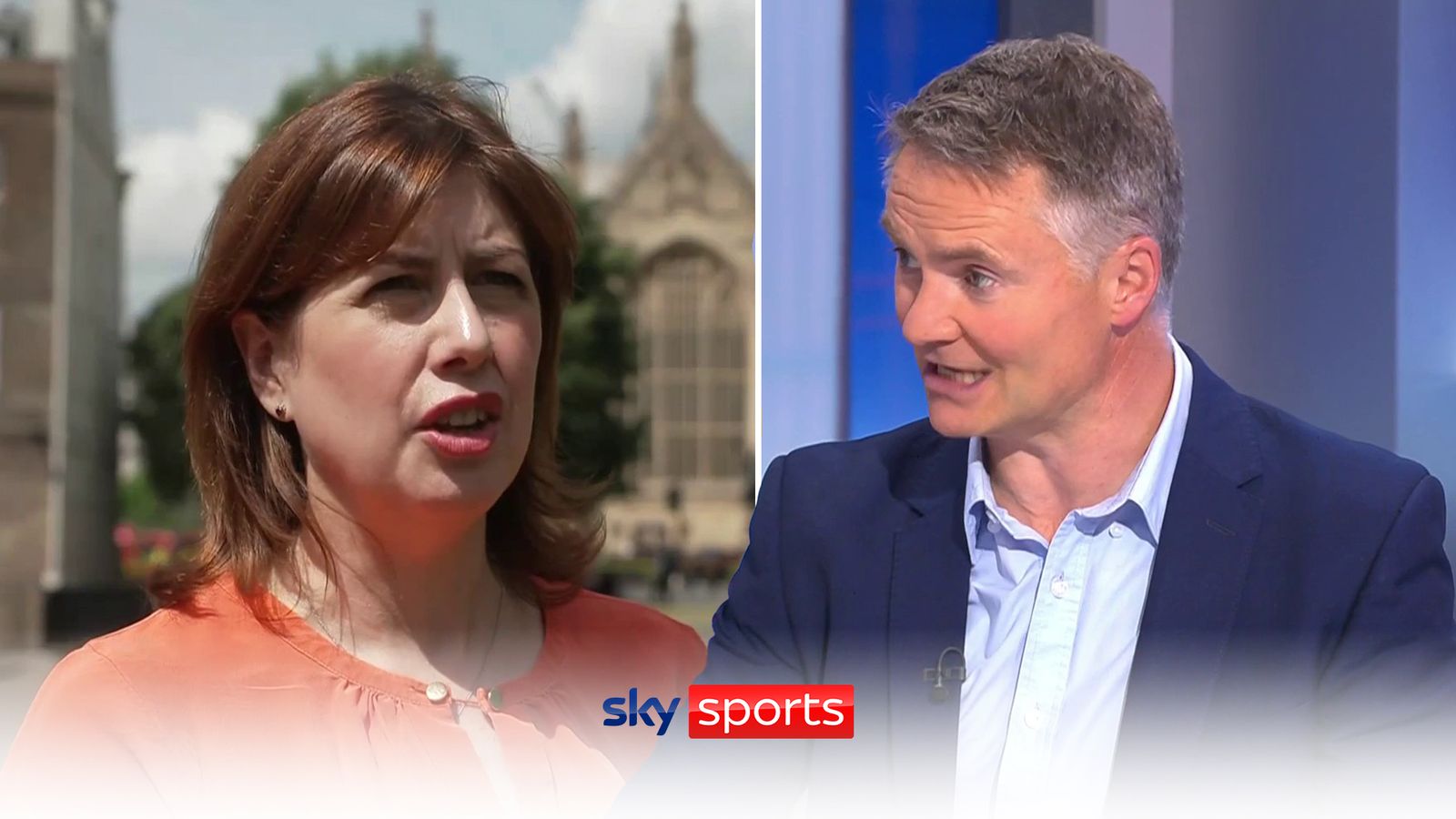 Shadow sports minister Lucy Powell has told Sky Sports News there needs to be a change in the law for misogyny to be classified as a hate crime so that it is treated as seriously as racism and homophobia.
Misogyny and sexism are not treated as hate crimes under UK law, meaning they are investigated differently by most police forces, and misogynistic offences are given more lenient sentences in court.
The campaign group Her Game Too has found that 92 per cent of 371 female football fans surveyed said they'd experienced misogyny or sexist abuse online directed at a female working in football.
Over half, 58.5 per cent, said they had personally experienced sexism at a football ground or while watching football in a pub.
A new report published on Wednesday by Kick It Out shows they have received a 400 per cent increase in reports of sexist behaviour and misogynistic abuse in the last football season alone.
"Women don't have the protection that they should have against this rising trend in misogyny," Powell told Sky Sports News.
"It has proliferated online. [Online influencers], really get that 'fresh meat' of young men whipped up about these issues and turning that into really horrible behaviour offline as well.
"Not only do we need to change the law but we need to have a really serious culture change here so that women can enjoy football and enjoy sport in the way that men can.
"There are some laws that protect women in these circumstances. We have the Equality Act that protects women in a workplace context, so there would be an expectation on a football club, for example, to take action if one of their employees were targeted in this way."
CEO of Kick It Out, Tony Burnett, admits that the high levels of discrimination that were reported last season are 'concerning', but encourages fans to 'take a stand' whilst welcoming the Online Safety Bill to force change.

Misogyny is defined as hatred or abuse directed towards women because they are women. Sexism is a prejudice against women, which may or may not be motivated by misogyny.
A special report from the Law Commission, a body which advises the government on how laws should be amended and modernised, suggests that making misogyny a hate crime could actually lead to a fall in prosecutions because the threshold for a successful conviction would be made that much higher.
Rape Crisis agrees, saying anything that might lead to a "two-tier" assessment of rape and sexual assault would be hugely damaging.
They say that it would be appalling to try to define one rape as a 'more serious' offence because it included misogynistic language, and another rape as 'less serious' because it didn't include hateful language. All sexual crimes are abhorrent.
'Separate legislation needed specifically about misogyny'
However, within the sporting sphere, many female sports stars feel that treating misogyny differently compared to racism and homophobia sets a dangerous precedent.
The fear is that, by not making misogyny a hate crime, it could be seen as less important or less damaging compared to other forms of hate, and so the respect for women in sport is belittled as a result.
Stephanie Hilborne, CEO of Women in Sport, told Sky Sports News: "The thing that makes misogyny unique is that we (women) are not a minority, and all of the legislation currently in place is there to protect minorities against crimes of hate. So we will need separate legislation which is specifically about misogyny.
"When you look at sport, it is almost viewed as one of the last bastions where you can still be a 'real man', it's a protected space for men, away from the influence of women that we are seeing in wider society.
"And when women do play sport, they are exposed because it is by nature, physical. So, we will often not have very much clothing on, and we will be using our bodies to extremes. Both of those things mean that misogyny in sport is particularly intense."
Culture Secretary Lucy Fazer added: "There is absolutely no place for abuse of any form in society and sport is no exception.
"The Government takes discrimination against women and girls extremely seriously and I'm aware of the impact misogyny can have on women and girls on the pitch.
"We will continue to work with national governing bodies in sport to help eliminate discriminatory and harmful behaviour, and to drive up participation in underrepresented groups."
Christiansen: Abuse keeps me awake at night
Arsenal defender Jen Beattie and former midfielder Izzy Christiansen recollect their experiences of online abuse, as Sky Sports News' Rob Dorsett discusses the Sexist Abuse in Football Survey

Former England midfielder and broadcaster Izzy Christiansen told Sky Sports News of her experience receiving sexist behaviour and misogynistic abuse.
"I'd be lying to say I didn't decide and pick up the phone to various people the week that I received this particular, well these particular messages," she said. "I was pretty upset and had some terrific support from the employer and also we got through it and to a point where I'm now like, 'OK I've had that now and whatever comes my way in the future I'll be able to deal with'.
"But I'm not gonna lie, I go home after a football match and if I've received some really nasty stuff online, that is going to stop me from sleeping that night but it is what it is and this is the world we're in.
"I look at it on the flip side, it's very very sad that somebody has felt the need to pick up the phone and do that because it's completely unnecessary.
"One of the saddest things for me is that grown men send private messages on Instagram, and they're not just a line or two lines, it's a paragraph of somewhat hatred towards you on your comments you've been paid to give your opinion on a football match. At first, it hit me hard.
"I know many people who have been involved in women's sport that have felt that sort of feeling come through where they have felt belittled by a male in, what has been, a male-dominated sport, but we've seen that success of our women's national team has brought parity up to speed.
"That is when people start turning their heads and respecting women more in football, but it shouldn't necessarily take success for us to get to some point where misogyny is reduced."
Beattie: Abuse shouldn't have to be accepted
Arsenal and former Scotland defender Jen Beattie says women shouldn't have to just accept the abuse they receive.
She told Sky Sports News: "I'll never forget a time playing at Tynecastle for the national team and seeing an article a few days later saying that Tynecastle should be torched because the women's team played there.
"You have to be thick-skinned, that is a term that could be used, but I don't think anyone who gets that sort of language put towards them is not hurt in some capacity. Maybe you get more used to it, but is that right? I don't think anyone should have to get used to it.
"It should be eradicated in any sense of the word and of course, it hurts. I think abuse would hurt anyone in that kind of language, or the lack of respect or lack of acceptance, because that's what it really is, it's lack of respect and acceptance. It would hurt anyone."