Yalla Shoot News
Yalla Shoot :Scott McTominay: Unloved at Man Utd, adored by Scotland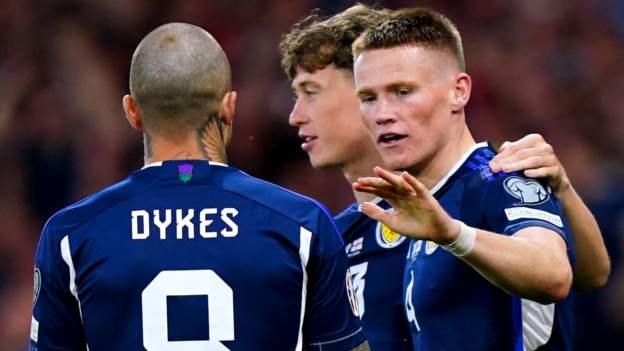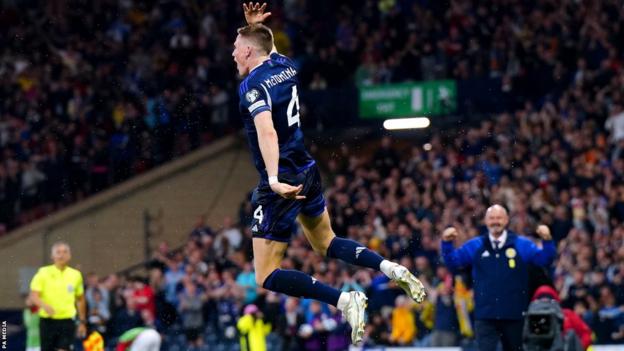 Just after 21:10 BST, when the monsoon had blown out of town and the squeegee warriors had made the pitch playable, Scott McTominay stood close to the touchline and stared down the tunnel.
There was no Georgia at that point. No white jerseys to be seen, but a few white flags. They were refusing to come out of their dressing room.
Didn't want to play. Too wet. Too slippy. Too many weird folk revelling in the rain, singing songs like they were loving it, treating the misery like it was some sort of party. Crazy folk, the lot of them. Unnerving for the visitors.
Had Georgia peeked outside they would have seen McTominay's look of thunder, as if the colour of the Glasgow sky had been transplanted onto his face. He wanted to play. He was desperate to play. And when he did, he was a powerhouse.
No wonder the Georgians wanted nothing to do with him. McTominay scored Scotland's second goal, and his fifth in this group. Erling Haaland of Norway? Khvicha Kvaratskhelia of Georgia? Both world class, both trailing in McTominay's wake in the scoring charts.
Everybody's trailing in Scotland's wake in this group. Everybody.
This was the weirdest of football matches on the longest of nights. Rain fell but it was met by the humour of the home crowd. No contest there.
The incessant delay was confusing, maddening, but also uplifting, not just in what Scotland did on the pitch but what the fans did before their team got to return to the field.
Credit to the squeegee brigade – there were 23 of them brushing madly, like Eve Muirhead on a melted rink – and credit to the supporters. The passage home of some or many was hopelessly compromised, but they remained in huge numbers to see a performance worth waiting for.
Four out of four in the group now. Germany is calling. Airline websites will report serious business in the coming days. Watch out, meine freunde, the Tartan Army is coming. From Hamburg to Munich, Dortmund to Berlin, you will hear them, see them, marvel at their numbers and their passion.
'Scotland's midfield now a serious thing'
This was a clinical victory. Controlled, comfortable, pretty straightforward. All of the best players were Scottish. Andy Robertson was a constant attacking threat. Callum McGregor banged in the opener, which by the end of the night felt like it had hit the net sometime in early May.
John McGinn basked in the occasion and splished-splashed his way through the night like a happy child kicking his way through puddles.
Billy Gilmour came into the team and was a Praetorian Guard in front of his defence. Economical with the ball. Alert. Accurate, Classy. The Brighton midfielder had a pleasing end to his club season but he's not had it easy for a long time.
Unwanted by Chelsea, regularly picked on by Norwich fans in an unhappy spell at Carrow Road, signed for Brighton by Graham Potter, who promptly left the club, inherited by Roberto de Zerbi who hasn't, until lately, found much game-time for him.
There was that business with the TikTok stalker as well. Unsettling to somebody with a fragile temperament. Gilmour, though, is a tough cookie.

The Brighton midfield of last season was a tough one to get into but, once he did – when Alexis Mac Allister and Moises Caicedo were given a break towards the end of the season – he showed his stuff.
De Zerbi said recently that, perhaps, he'd made a mistake by not giving the Scot more opportunities. Music to the player's ears, no doubt. If De Zerbi watched his boy patrol Hampden, he'd have enjoyed what he saw.
This Scottish midfield has become a serious thing in defence and attack. In four qualifiers, they have conceded one goal, and that was a penalty. It should have been two on Tuesday, but that would also have been a penalty.
When Clarke took over this team they couldn't stop conceding and couldn't score enough goals to win matches. Their world has turned.
'McTominay a colossus in team of giants'
McTominay was a dominant presence. A handful in front of goal, a physical presence in midfield, constantly running, forever driving his players on, popping up at one end one minute and at the other end the next.
People talk about his engine and his athleticism. We saw it again here. He was relentless. His finish for the goal was exceptional. Sharp as you like, accurate as you please. He banged it in the corner and put this game to bed.
McTominay is a player who is also going through some uncertainty in his club career.
Time was – and not that long ago – when Ralf Rangnick was eulogising him and suggesting that he was a potential captain of Manchester United. "His energy is amazing," said the then interim manager. "In a couple of years I could see him leading this team."
That's not going to happen. Erik ten Hag is not so sweet on McTominay, not so keen to give the games that others were before him.
He got seven minutes in the FA Cup final, 23 minutes against Fulham, four against Chelsea, four against Bournemouth. That's how his season at Old Trafford finished. There were rumours of him leaving, talk of Newcastle and Everton.
McTominay has Casemiro, Christian Eriksen and Fred as rivals in the United team. That's intense competition.
Who knows if he will stay and fight for more minutes or go in the hope of featuring more, but the fact is that he played 1,149 minutes in 2022-23 compared with 2,393 minutes the season before and 2,125 minutes the season before that.
That's an issue for another time. For Scotland, he's been a colossus in a team of giants.
Clarke's side are scaling new heights and not even the foulest weather and mind-numbing delays could put them off their stride. In an unforgettable downpour, they continued to ride the crest of a wave in the most thrilling way.