Yalla Shoot News
Yalla Shoot :San Diego FC: Tory treasurers, tribal leaders and a $500m California dream | MLS
A soccer commissioner, an Egyptian billionaire and a Native American tribal leader walk into a bar. Hmm, let's try that again. OK, they walked onto a stage in San Diego on Thursday to plant a flag in Major League Soccer's latest frontier: the city beat Las Vegas to become the 30th team in American soccer's top division beginning in 2025, after this ownership group paid a record expansion fee of $500m for the privilege.
The aforementioned Egyptian, Mohamed Mansour – a dual British citizen who is the senior treasurer for the UK's Conservative party – and the Sycuan Band of the Kumeyaay Nation, a local casino-operating tribe, partnering to launch a California-based football team sounds like something only Thomas Pynchon could conceive of, as clever people on Twitter have noted. It's not the movie star and athlete-leaden ownership group of the NWSL's Angel City FC in Los Angeles. But Mansour, who owns a global youth football development academy called Right to Dream, brings a unique proposition to the league. It was all feted at a splashy media event on Thursday at Snapdragon Stadium awash with local politicians, football supporters' groups, business leaders and an astonishing number of suit-with-dress-sneakers ensembles.
As these launch events tend to go, there was no club-name announcement in sky writing (for now there is only the inspired 'San Diego FC' placeholder); no coach, kit, or star-player reveals. This was simply a welcome party, a baby shower for that aging couple who were finally able to conceive.
Though MLS has expanded rapidly in the past decade, San Diego has been teased, talked about, leveraged and carrot-dangled as an expansion-team destination for even longer. But launching a sports team is rarely easy in big cities. When a stadium to play in was available here, various ownership groups couldn't earn the bid or backed off with the emergence of nearby Club Tijuana in Liga MX. Then when prospective ownership groups seemed to have everything in place, the necessary soccer-specific stadium couldn't materialize due to ballot measures and local political alliances that opposed it. A coupling of MLS and San Diego – which has steadily produced men's and women's US national team players for decades, and, by the way, sits right on the Mexican border – was a no-brainer that seemed impossible to consummate.
Eventually though, a new stadium was in place: San Diego State University's nine-month-old, 35,000-seat Snapdragon Stadium. It's controlled by powerful local stakeholders, is Goldilocks-sized for MLS, and located near the geographic center of the city, not the suburbs. The feel of this official launch, emceed by Fox Sports' affable TV host Rob Stone, was less of a self-aggrandizing gender-reveal party and more like relief, as if the wait was over.
Nonetheless, confetti was launched, Ice Ice Baby and Can I Kick It? made obligatory needle-drops over the sound system, hype videos were played, scarves were gifted and worn onstage. At one point, Stone turned to MLS commissioner Don Garber. "These never get old, do they, Don?" To which Garber flashed a smile and glow befitting a man who just secured a half-billion-dollar expansion fee.
What, then, will an ownership group that does not own the stadium they will play in get for that hefty initiation fee into this single-entity league? It's an intriguing question. The Mansour Group owns the Right to Dream player academy, which began in Ghana and expanded to Egypt, then Denmark. Right to Dream eventually purchased FC Nordsjaelland in the Danish Superliga – and you can guess from where that club stocks its roster.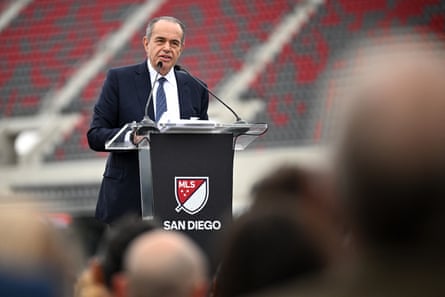 Mansour and 'San Diego FC' plan to establish a $150m Right to Dream academy in San Diego that can reach into Tijuana and beyond, taking advantage of Fifa rules that allow an academy located within 31 miles of a neighboring country to recruit within that country as well. The proposed academy will target players from this fertile soccer region at beginning at age 12, provide living quarters and education, with the eventual goal of stocking the San Diego team (and likely others) with its graduates. It seems an audacious but savvy business model, considering that MLS owns all its players' contracts and controls the player pool for the league.
There has existed one large elephant in the room amid the buildup to the announcement, and during it: San Diego already has a well-liked men's soccer team. The San Diego Loyal of the USL Championship was co-founded in 2019 by a local real estate scion and Landon Donovan, who lives in the area. (A curious subplot is that Donovan, before starting the Loyal, was part of a previous ownership group's attempt to land an MLS team.) The Loyal haven't only broken through in a city renowned for pro-sports apathy – the club is smartly run and has built a local soccer culture from the ground up in what many feel is the right way. And, being in San Diego, it has always seemed destined for bigger things if a partner with a lot more money were to come their way.
Though it wouldn't be the first time in America's so-called #SoccerWarz that MLS shoves a smaller club out of its own market, it would be a bad look for the well-moneyed out-of-towners – not to mention the Sycuan tribe, locals for the past 12,000 years who can probably feel the unfairness of getting turfed out more than most – to disregard the Loyal's significant groundwork. Various suits onstage at Thursday's event acknowledged the USL team and its supporters' group, and made pledges to "listen to the community" and such. Soon after, a small cadre of Loyal supporters broke into song.
But MLS isn't stupid, of course. They'd already unveiled a secret weapon to sway any wavering local support: baseball superstar Manny Machado of the San Diego Padres, who was revealed as a part owner of the team. (MLS has plenty of star co-owners around the league: Will Ferrell, Matthew McConaughey, James Harden, Patrick Mahomes and Kevin Durant, to name just a few.)
Now that MLS has finally checked a long overdue box and the confetti has fallen back to earth, it's fair to wonder what MLS will look like when San Diego FC' kicks off in 2025. The obvious answer seems to be … more of this. The $500m membership fee is further validation of what appears to be the league's actual business model. Its national TV ratings have always been modest. The energy and passion exists at the local level, at the stadium; people want to be soccer fans for a hometown team. And so MLS's biggest area of growth looks to be in actual growth. Expansion. More clubs, more cities. The league justifiably hypes its astonishing $250m per season streaming deal with Apple TV+. But now it can earn twice that in a stroke by adding just a single team. When potential owners are willing to pay at least $500m to join the league, why would MLS stop at 30 teams? It's no wonder these celebrations never get old.
"We can support even more teams in California," Garber explained afterward from the mixed zone, in response to a question about the number of MLS teams – four – now in the state. (On the topic of expansion, disagree with Garber at your own peril.)
After decades of waiting for MLS, San Diego finally has a due date. But for the next city – Las Vegas? Indianapolis? Phoenix? – it looks like it's only a matter of time. And money.