Yalla Shoot News
Yalla Shoot :Rubiales vows to fight on in Spain role over World Cup conduct: football news – live | Soccer
Rubiales stays on as head of Spanish FA
Here's a round-up of this morning's remarkable press conference.
Key events
Some football transfer rumours to flick about. While I bet Jude looks good on Zidane's floor, Eden Hazard could be about to tell Roy Hodgson 'I Wanna Be Yours' following his summer exit from Real Madrid.
In sharp contrast to what we've just seen, here's someone who IS an inspiration to female footballers. Great piece here from Mabel Banfield-Nwachi on the influence of Engand goalkeeper Mary Earps.
Time to just take stock and reflect on normal things such as selection dilemmas for Erik ten Hag.
Rubiales stays on as head of Spanish FA
Here's a round-up of this morning's remarkable press conference.
The speech is over. Luis Rubiales receives a mighty round of applause and blows kisses to the crowd before taking his seat. You couldn't make it up.
This is getting extraordinary. From both men appearing to be out of the door, we've now reached this…
Well, this is unexpected. Lots of news agencies and outlets have jumped the gun and released stories that Spanish FA president Luis Rubiales has resigned from his post. But apparently not. His ramblings weren't a resignation speech but a lengthy excuse on what he's done and how he won't be forced out.
Luis Rubiales not resigning
Luis Rubiales is NOT resigning!
He's still speaking… and making things even worse.
More on Rubiales…
It appears that Pedro Rocha has replaced Luis Rubiales as Spanish federation president. More details below from Semra Hunter, who was on Tuesday's Football Weekly podcast.
It looks as if Luis Rubiales, the president of Spain's football federation (RFEF), is announcing his resignation. There's a live video here. Spanish media are also suggesting manager Jorge Vilda may leave too.
As speculation on his future continues, Mo Salah has released this photo. What are we reading into this then? I'm not sure but it's a strong look; I like it.
England remain fourth in the Women's FIFA rankings after reaching last weekend's World Cup final.
Spain, who beat England 1-0 in the Sydney final, climb four places to second with semi-finalists Sweden taking over top spot for the first time from United States, who drop to third. Scotland are 23rd, Republic of Ireland 24th, Wales 29th and Northern Ireland 47th. (PA Media)
After a rather negative start to today's blog, let's change the mood. Have a read of this upbeat piece from Paul MacInnes.
Some injury news involving Manchester United and Chelsea. One has relevance to fantasy teams; the other surely does not.
Manchester United defender Luke Shaw will miss Saturday's Old Trafford encounter against Nottingham Forest and next weekend's trip to Arsenal. A club statement read: "Luke Shaw has sustained an injury which will rule him out of forthcoming games. The muscle issue is still being assessed but the England left-back is expected to be out of action for a number of weeks."
Down at Stamford Bridge, Mykhailo Mudryk is the latest Chelsea player to be crocked. The Ukrainian forward will miss tonight's home game against Luton. No news on what the problem is but boss Mauricio Pochettino doesn't seem overly concerned. "It's not a big issue. We need to wait one week or maybe a few days."
Get ready to be outraged. Oof, this could induce real pub-table-thumping outrage.
More from Klopp on the Saudi money flooding into the game and their transfer window which doesn't close until 20 September.
"It's not cool for us, that's clear. If we want a player from Wigan, say, we go there and we pay the price. Same in Bundesliga etc. Now there's a next level and it's not great but this is part of the business. Not sure you can change that.
"What makes it impossible to deal with is our transfer window closes and they stay open. Then we play until January 1st and this is our squad, we have that problem. I remember something like this in Russia a long time ago. That was not completely crazy money. It's new and challenging. I am pretty sure FIFA could [change their deadline] but I am not sure they want to."
Klopp plays down Salah speculation
Liverpool manager Jürgen Klopp has gone early with his press conference and no surprise to hear that the first question he had to field was in relation to new stories linking Mo Salah with a move to the Saudi Pro League. Some reports say Saudi champions Al Ittihad would be willing to make Salah one of the best-paid players in the world with a salary package worth around £1.5m a week. But Klopp insists Salah is "one hundred per cent" committed to Liverpool.
Dismissing the fresh speculation, Klopp said. "It's always a bit difficult to talk about media stories because there is nothing to talk about at the moment. We don't have an offer, Mo Salah is still a Liverpool player, obviously for all the things we do he's essential and will be. There's nothing there. If there would be something, the answer would be no. My life philosophy is I think about a problem when I have it. At the moment there's absolutely nothing. I said already if there is something, the answer would be no."
Luis Rubiales set to resign
Another major story today concerns Luis Rubiales, the president of Spain's football federation (RFEF). Reports suggest the 46-year-old plans to resign today after becoming the subject of Fifa disciplinary proceedings in relation to his conduct at the Women's World Cup final in Sydney on Sunday. The Spanish radio station Cadena Ser reported on Thursday that Rubiales will lose his job after he faced heavy criticism for kissing Spain's Jennifer Hermoso on the lips during the trophy presentation. We're expecting word on that sometime after 11am BST this morning as he's just gone to the RFEF meeting as we speak.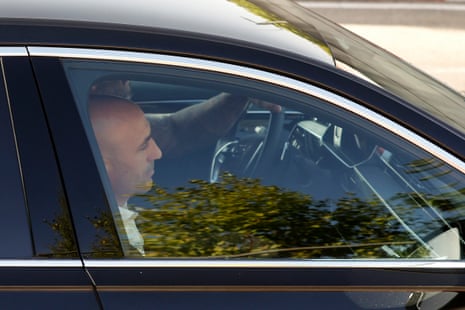 Ding Ding! Round three! It's the third week of Premier League action and just three clubs go into it with a 100% record. Manchester City and Arsenal – last year's 1-2 – are two of them to nobody's surprise. And maybe there aren't too many raised eyebrows at the other: Brighton. Once a team who played nice football but couldn't score, the narrative with Robert De Zerbi's current exciting crop has become which team will they stick four past this week? West Ham if you're asking.
In terms of Friday-Sunday scheduling, it's a 1-6-3 formation, with Chelsea v Luton tonight's 8pm offering. Arsenal host Fulham on Saturday (3pm), Brighton welcome the Hammers (5.30pm) later in the day while Manchester City travel to Sheffield United for a 2pm Sunday date. And it's all rounded off in blockbuster style as a global audience, which must surely include Kevin Keegan, tunes in for Newcastle v Liverpool in Sunday's 4.30pm game. All this and more coming up in your Friday blog. Let's go!