Yalla Shoot News
Yalla Shoot :Qatar World Cup organisers 'failed to protect workers,' claims Amnesty | Football politics
Amnesty International has accused Fifa and the Qatari authorities of failing to properly address a "pattern of abuse against migrant workers" at the World Cup, some of whom worked 12-hour shifts for up to 38 days in succession without any time off.
A new investigation from the human rights body also found that some workers who were hired as security guards and marshals had to pay illegal recruitment fees – that were never repaid – and had promised overtime pay and bonuses withheld.
Amnesty says the workers reported their treatment on the World Cup grievances hotline in November, but that no action was taken. In one case a worker claimed a manager threatened to fire him and others in retaliation for complaining.
The latest investigation was based on interviews with 22 men from Nepal, Kenya and Ghana, who were among thousands of migrant workers employed by the Qatar-based company Teyseer Security Services to work at World Cup sites, including the Khalifa International Stadium, fan zones and the Corniche.
More than a third of those interviewed said they had to work 12 hours every day and worked for up to 38 consecutive days without a day off, which breaches Qatari law. And all 22 accused Teyseer's representatives, or recruitment agents, of making false promises such as suggesting that they could take up more senior roles and earn an extra £220 a month.
Amnesty said hundreds of workers had protested in Qatar in early January to demand their unpaid overtime and a bonus be paid before their short-term contracts ended. But while both Teyseer and the government promised they would be compensated, the pledge was not honoured.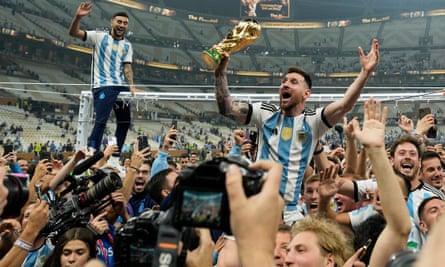 Steve Cockburn, Amnesty International's head of economic and social justice, said: "The World Cup organisers were well aware of the issues but failed to put in place adequate measures to protect workers and prevent predictable labour abuses at World Cup sites, even after workers raised these issues directly.
"Although six months have passed since the World Cup, Fifa has yet to effectively investigate the issue, or offer remedies. Workers have already waited too long for justice."
In a statement, Teyseer denied any wrongdoing and said: "As a company, we respect and follow labour laws and human rights in order to create a safe and fair work environment for our employees. We are appalled at the allegations, and we take every one of them very seriously."
It added: "We strictly follow ethical recruitment processes and standards and all our agencies abide by them. Every employee was paid the appropriate amount for the hours worked over and above the regular working hours as per the labour laws or the employment contract … and we provide a weekly day off to employees as it is their entitlement."
However Fifa confirmed that the Supreme Committee workers' welfare department had received "several complaints from Teyseer workers through its hotline and worked to address these together with Teyseer management".
"Fifa understands that there are different perceptions and views regarding some of the above points," football's governing body told Amnesty. "We will continue to be in contact with the SC's Workers' Welfare Department and other relevant stakeholders to obtain more clarity on these questions.
However it also added: "It is the primary responsibility of the respective companies as well as the Qatari authorities to rectify possible adverse impacts on workers."