Yalla Shoot News
Yalla Shoot :Norway's Ada Hegerberg: 'I don't think things will change without women standing up' | Norway women's football team
Ada Hegerberg knows what it means to take a stand. Her five‑year absence from Norway's national team, in protest over the attitude of the football federation to women's football, was costly. While the best fought it out for the World Cup in France in 2019, the then Ballon d'Or holder was absent.
Hegerberg felt pretty isolated in her decision, that there was a lack of understanding, but that has changed. There are far fewer questions asked of the Spain players, including Barcelona's Champions League winners Mapi León, Sandra Paños and Patri Guijarro, who have absented themselves owing to issues with the conditions under the head coach, Jorge Vilda.
Elsewhere, England players are frustrated with the Football Association over a dispute on performance-related bonuses, Canada players threatened strike again in February over a lack of support in a World Cup year, and Wendie Renard, Marie-Antoinette Katoto and Kadidiatou Diani stepped back from France before an investigation concluded that the manager Corinne Diacre should be let go and Hervé Renard was appointed.
Previously, it was the lower‑ranked and lesser‑supported nations that were forced into action. Now, alongside Jamaica crowdfunding to pay for accommodation and travel, Nigeria threatening to boycott World Cup matches over the distribution of tournament revenue, and South Africa players boycotting their final warm-up game on home soil over a pay dispute, the top-ranked nations are speaking out too.
"It can always only go further in my opinion," says Hegerberg, not long after arriving in New Zealand, who Norway will play to open the World Cup on Thursday. "What you see today is that whatever nationality, background, wherever you're from, we all face the same challenges. It's often teams facing federations who treat their women's players less seriously. It's always the same challenges. Now you start to see trends which should never be trends.
"From my point of view, these types of decisions are extremely tough and no one, individual or team, should be forced to make a decision like that.
"I played with Wendie, we talked about this all over many, many years. I'm very happy to see that people are starting to understand why these players are making these decisions. I was very alone in my decision, back in 2017, and that's not something I say out of pity for myself; it's just the way it was back then. Today, you see that there's many, many different nationalities who struggle with the same challenges and who are forced to just take a stand, and I have a huge amount of respect for that. I wish it wasn't like that.
"We're not even talking about equal pay here, we're talking about minimum conditions in order to feel that you're being taken seriously and so you can actually perform at the level you want and need to be at."
Hegerberg wishes she didn't have to speak up. As a fiercely competitive athlete she wishes she could focus her attention solely on performing. Time spent speaking up and standing up "takes a lot of energy from the game", she says.
"Honestly, on a personal level, all I want to do is perform and show people high-level football, because you shouldn't forget that we're here for one thing, and it is to entertain people. From that hopefully people see the value of it. We should be focused on performing our best, we shouldn't be having to deal with all these issues, but it's the reality of where we are. We will have to talk about these issues year-in and year‑out before we get change.
"I don't think things will change without women standing up. We've seen that in so many cases in society as well. So, we've just got to stick together and make sure we damn perform because without performance it's also tough to make change."
Hegerberg, who returned from injury to finish the season strongly and feels good, is no stranger to performing at the highest level. She has won the Champions League six times with Lyon and secured eight league titles and six Coupes de France there.
However, bar a runners-up medal at Euro 2013, international success has eluded her, and the European Championship last year didn't deliver the dream return to the international stage for which she had perhaps hoped. A 4-1 defeat of Northern Ireland was followed by a humbling 8-0 defeat by the eventual champions England and a 1-0 loss against Austria, meaning the most feared forward line failed to escape the group stage.
"It was tough," Hegerberg says. "I felt like we lost a lot of pride in those moments. It was a lesson, and something that I never want to experience again. I don't think anyone in this team wants to experience that again. Being brutally honest, we need to show a completely different face [at the World Cup]. Especially because we had a lot of people with us up to the Euros, even over there watching, and for them it was a tough one. You want to give your best for your fellow Norwegians, and we didn't.
"You have to be so on the same team at every moment. Every second you need to be thinking collectively in order to shine on an individual level, and we failed to do that."
Just over 12 months on, and with a change in manager – Martin Sjögren replaced by the 1995 World Cup and Euro 1993 winner Hege Riise – what will Norway look like in New Zealand?
"I feel like one year is not very much time when you look at what that means across a season, because you get 10 days together here and there," Hegerberg says. "It's not a lot of time to get something together.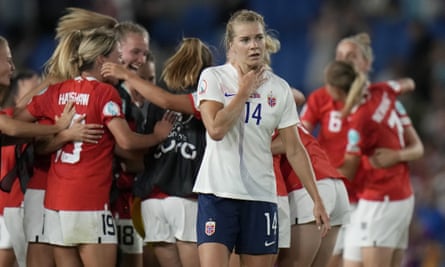 "If we really want to be ambitious, we need to be more stable in the way we play, in the way we defend. I take lots of good out of the last four games [two defeats and two draws but against top‑15 opposition in Denmark, France, Spain and Sweden]. We were very efficient in front of goal, we scored five goals in the last two games, which is a very positive sign.
"Now, it's all about finding those links both in defence and offence. We can't be satisfied conceding as many goals as we did and it's about teamwork – in the end it's always going to be about teamwork. It's all about finding that stability and knowing the roles of each and every one of us individually and putting that together in a very strong collective team. We've still got a way to go, but we've still got to be very positive.
"The first games will show where we stand. It is very important for us to go the extra mile; we want to fight for each other and for those who follow us."