Yalla Shoot News
Yalla Shoot :Norway v Scotland: Euro 2024 qualifier – live | Euro 2024 qualifying
Key events
25 min Odegaard's corner is confidently taken by Gunn.
24 min Tierney does well to stay with Sorloth and concede a corner. It's a lively enough game despite the heat, with Napoli's Leo Ostigard in particular looking for a row at every opportunity.
23 min Robertson roars down the left, past Ryerson, and cuts the ball back towards Christie at the near post. He tries to spin round Strandberg with his first touch, a neat idea but one with absolutely no margin for error. It's slightly too heavy and runs through to Nyland.
22 min A couple of corners in quick succession for Scotland, which gets the Tartan Army going. Nothing comes of either but that was a bit more encouraging.
20 min "Love McQueen's 'celebration' after his goal in Oslo," says Simon McMahon. "Firm handshake with a couple of teammates, brisk jog back and then restart the game. A different era indeed. And not just for celebrations. His 30 caps would be worth twice as many today."
Funny you should say that. I've recently been doing some emergency podcasts looking back at Euro 88, and we made exactly the same point about a number of players in that tournament. For example Igor Belanov, Ballon d'Or winner, played 33 times for the USSR.
19 min Norway appeal for handball in the area when the ball hits Porteous's arm. It deflected onto his arm, which was in a natural position, so VAR aren't interested. That handball law needs to be changed urgently; England's second penalty last night was another shocker.
18 min Meling's overhit cross turns into a decent pass for his fellow full-back Ryerson. He crashes a volley that is blocked in the six-yard box, then Odegaard takes too long to get a shot away on the edge of the area.
17 min Since you asked, Haaland has barely touched the ball. I'll let you decide whether that's an ominous sign for Scotland or a really ominous sign.
16 min Scotland are still struggling to keep the ball. As I type that, a TV graphic informs me that Norway have had 70 per cent of the possession so far.
13 min: Chance for Norway! Solbakken beats Hickey stylishly on the left and stands up an inviting cross. It's met by the towering Sorloth, who heads straight at Gunn from 10 yards. That was an excellent chance.
10 min There's a fine atmosphere in Oslo, with both sets of suppoters making a handy racket. Scotland haven't got going yet in attack, though they have been fine defensively.
9 min Odegaard releases Ryerson, an enthusiastic attacker from right-back. He teases Robertson and lifts a cross that beats everyone in the middle. All the Norway players, Beast included, had made near-post runs.
8 min "Greetings Rob," says Mary Waltz. "Being on this west side of the cold Atlantic pond, how does one decide who to root for in the Euros? Well, my Mom was 100% Norwegian and my Dad's grandparents were famine refugees from Ireland so I flipped a coin and Norwegian it is. I will wave the red and blue flag but I will not eat lutefisk, the most foul-tasting fish ever!"
Given events in Greece last night, you may have chosen well. That was such a disappointment.
6 min Ryerson beats Robertson to a huge punt from the goalkeeper Nyland. Robertson recovers well and Ryerson runs the ball out for a goalkick.
5 min See 3 min. Nothing much is happening.
3 min It's been a fairly slow start to the game, with lots of Norway possession in the middle third.
2 min Gunn is quickly off his line to beat Sorloth to a long, straight pass through the inside-right channel.
2 min Incidentally the other game in this group, Cyprus v Georgia, is being played tonight.
1 min Peep peep! Norway, in their red strip, kick off from right to left as we watch. Scotland are wearing their white change kit. It is roasting in Oslo.
The Scotland players will wear black armbands in honour of the mighty Gordon McQueen, who died on Thursday.
McQueen actually scored the last of his five international goals in a European Championship qualifier in Oslo.
Steve Clarke's pre-match thoughts
Norway will give us different problems to Cyprus and Spain, but hopefully we can produce a good performance and get more points to add to the total. Haaland's had a wonderful season. It's up to us to limit his chances, and hopefully he has an off night.

[On Jack Hendry's inclusion] He's got good experience, as does Liam Cooper on the bench. It shows what we've been trying to build. We're trying to get better and give more depth to the squad. For me, the next stage of improvement is to start picking up points in the big games away for home. [On the heat] It might affect the pace of the game, though I don't think it'll affect the pace of the game at the start. Hopefully there will ll be a water break. That's really all you can do – take on more fluids and keep running.
Pre-match optimism
"I'd take a draw right now, Rob," says Simon McMahon. "But that's only because I know we're going to lose. Scotland just don't do straightforward qualifications, which is what a win in Oslo would mean. So it ain't happening. And you can take that to the bank."
That's the thing – if they do win today, they will be in a glorious position: eight points ahead of their main rivals for the second qualification place with five games to go. Here's the group table as things stand.
Norway v Scotland isn't often played in 33-degree temperatures, but it's boiling in Oslo tonight. Not sure how that will affect the game.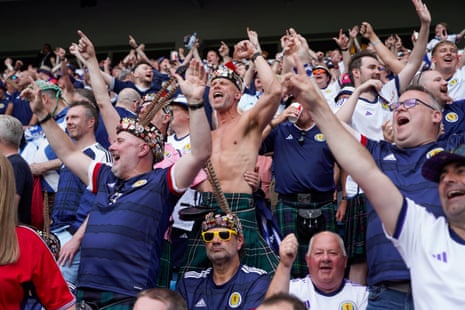 Scotland's last trip to Oslo, a World Cup qualifier 14 years ago, was one to forget.
A bit of pre-match reading
Team news: Haaland starts
Steve Clarke makes one enforced change from the win over Spain: Jack Hendry replaces the injured Grant Hanley in defence.
Erling Haaland starts for Norway, seven days after completing the Treble with Manchester City. This is his first game in the group; he missed the matches against Spain and Georgia in March with a groin injury.
Haaland replaces Mohamed Elyounoussi in one of two changes from the draw against Georgia. Borussia Dortmund's Julian Ryerson is in for Marcus Holmgren Pedersen at right-back.
Norway (4-3-3) Nyland; Ryerson, Strandberg, Ostigard, Meling; Odegaard, Berg, Aursnes; Sorloth, Haaland, Solbakken.
Substitutes: Dyngeland, Selvik, Gregersen, Wembangomo, Vetlesen, Berge, Elyounoussi, Thorstvedt, Daehli, Finne, Larsen.
Scotland (3-4-2-1) Gunn; Porteous, Hendry, Tierney; Hickey, McTominay, McGregor, Robertson; Christie, McGinn; Dykes.
Substitutes: Kelly, Clark, Hyam, Shankland, Gilmour, Cooper, Armstrong, Ferguson, Nisbet, Jack, Taylor, McLean.
Referee Matej Jug (Slovenia).
Hello and welcome to live coverage of the European Championship qualifier between Norway and Scotland in Oslo. It's the clash of two of the world's great goalscorers: Erling Braut Haaland and Scott Francis McTominay.
When the group got under way in March, McTominay was in Boy's Own form. He scored four times – more than any other team in the group, never mind any other player – including both goals in the stirring victory over Spain.
It's not easy to keep track of qualification these days, because there are different routes to tournaments. But Scotland are in a very good place, and a draw today would be an excellent result. Norway, by contrast, really need a win after a poor start to their Group A campaign. Losing in Spain was a par result; drawing in Georgia was not.
Kick off 5pm BST, 6pm in Oslo.