Yalla Shoot News
Yalla Shoot :Newcastle United Women: Third-tier side turn professional following promotion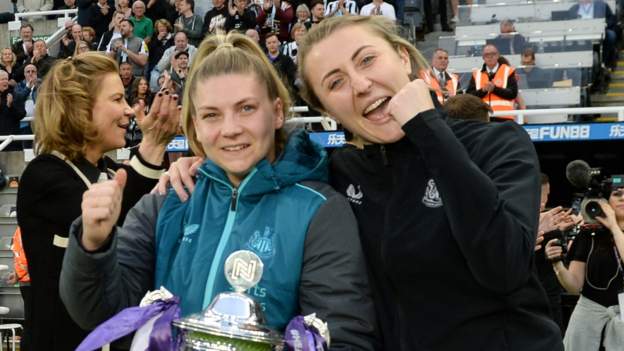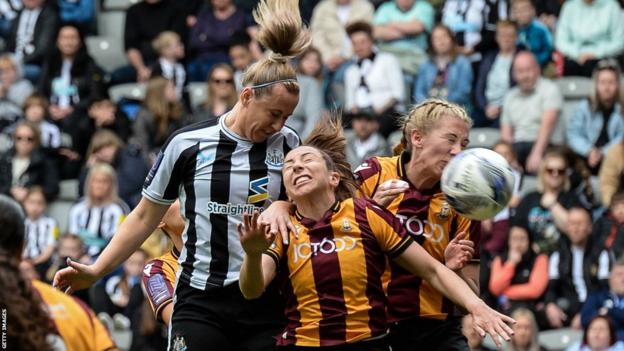 Newcastle United have become the first English third-tier women's team in 23 years to turn professional.
The north-east side were promoted to the FA Women's National League Northern Premier Division last season.
Newcastle, who have have played three times at St. James' Park, turn full-time one year after becoming officially affiliated with the men's team.
Fulham were the previous women's third-tier side to turn professional, doing so in 2000.
"This is a monumental moment," said head coach Becky Langley.
"We hope to be a leading light in the movement towards professionalism in the women's game and inspire women and girls who dream of pursuing a career in football.
"We have worked incredibly hard to get here and I'm so excited to work with the players as we help them to be the best athletes they can be."
Newcastle sporting director Dan Ashworth said: "The success of Newcastle United Women is an integral part of our sporting objectives and we are delighted to support the team's progress by building a professional model around them.
"Becky and the players have shown incredible dedication, and turning full-time will enable them to fully concentrate on their careers and the next chapter of Newcastle United Women as fully supported professionals."
Newcastle, who won the Division One North title last season, have drawn large crowds to their games at St. James' Park.
In 2021-22, 28,585 watched their game against Barnsley Women, a record for a fourth division game in England.
Newcastle United are owned by the Public Investment Fund of Saudi Arabia, where women were first allowed to attend football matches in 2018.
The professionalisation of the women's team comes as PIF make significant investment in the club, particularly the playing staff of the men's team.