Yalla Shoot News
Yalla Shoot :'Monumental change': football tackles the impact of periods on performance | Women's football
Midway through the 2019 Women's World Cup in France, several members of the United States team came together for a selfie – taken by star striker Alex Morgan. Gathered on the pitch during a familiarisation session, the players each held up four fingers. To an outsider, this might have signalled the team's winning intent – the Americans would go on to win the World Cup for the fourth time.
The signal was in fact far more personal. Due to a cutting-edge sports science program, the players knew that they were in the fourth phase of their menstrual cycle – a phase which can be disruptive to peak physical performance. But by deploying tailored interventions backed by scientific research, the US women's national team had sought to gain the upper hand – over rival teams and their own bodies.
It worked. One player sent the selfie to Dawn Scott, at the time the team's fitness coach. It came with a defiant caption: "Phase four – we don't care anymore." Team co-captain Megan Rapinoe later tweeted: "We get periods. Whatever. Might as well [do] everything you can about it to maximise performance."
The US team pioneered menstrual cycle monitoring and intervention strategies at the 2019 tournament, helping them win the World Cup. The team then went public about their sports science innovations, in an effort to break down stigma around the topic.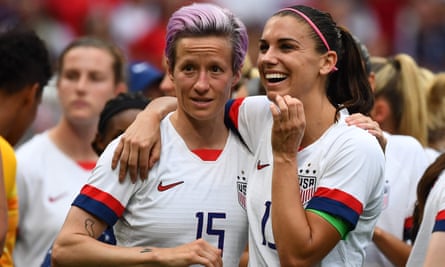 In the subsequent years, players across a range of sports have been increasingly open about the impact of the menstrual cycle on athlete performance. Two-time world champion surfer Tyler Wright revealed she was hospitalised before a competition due to excruciating pain, while Australia and Manchester City prodigy Mary Fowler recently spoke out about the importance of ending the taboo. Earlier this year, the Irish women's rugby team swapped from white to navy shorts over period concerns.
With the Women's World Cup just weeks away, how far have sporting teams and scientific research come since 2019 in addressing the performance implications of the menstrual cycle? And how far is there to go in incorporating women's health into sports science?
---
"Obviously a lot has happened in four years." That is the immediate reaction from Dr Georgie Bruinvels, a senior sports scientist and female athlete lead at consultancy Orreco. Bruinvels worked with Scott to deploy the American team's approach to managing the menstrual cycle during the 2019 World Cup, and has been at the forefront of applied research and innovation in the area ever since. "The game has massively grown, particularly in Europe with England winning the Euros," she says.
But it has not all been smooth sailing. The pandemic hindered research efforts, particularly for quantitative research with lab studies, hormone collection and so on. "We're progressed a bit, but definitely not as much as we would like to have done," says Bruinvels. "However, many more people are very keen to research in this space – the interest is significantly greater."
With decades of sports science research focused on male athletes, and the ongoing inequitable funding of women's sport, there is much catching up to do – both in the lab and on the ground. "We still have a long way to go to really get to a point where we have enough people trained to support our female athletes properly, and we have the infrastructure and the finances to really develop this area," says Bruinvels. "But overall, there has been a monumental change [since 2019]."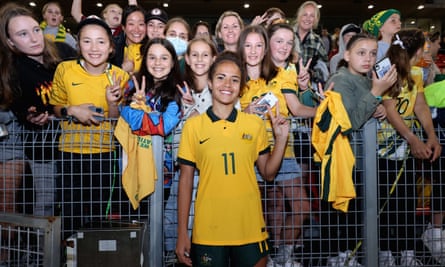 Many of the top teams at this year's Women's World Cup will deploy strategies similar to those used by the US in France – Bruinvels and Orreco are consulting to a number of national teams, and clubsides in Europe and North America (she is also working with Fifa on projects across many international member associations). But the willingness to tackle the potential impact of periods on performance is not universal.
"I do know one [national] team whose ethos is just to put all of their athletes on a pill that delays menstruation, during the World Cup, so they don't need to worry about periods," Bruinvels says. "That's just crazy."
Another challenge Bruinvels faces is changing the narrative around the performance impact – through a positive rather than negative lens. "How do we change the narrative and enable rather than disable people with this? We know that if we work with it, we can empower players.
"Everyone has to train and play on any day, but how they get there and how they recover from that is totally modifiable. So whether it's nutrition, recovery, sleep, what they're doing in their movement programs, their rehab, their prehab, that is all modifiable. And so my big thing is – let's build an understanding of each and every individual and help them to do that."
---
One indication of the greater focus on women's health in sport can be found in Campbelltown, on Sydney's outskirts, at Western Sydney University. Ahead of the Women's World Cup, the university partnered with Fifa and Orreco to fund a PhD student focused on the menstrual cycle and athlete performance. Last July, Chelsea Oester arrived in Australia from Zurich, where she had previously worked in Fifa's medical department, to begin developing a screening tool to help identify players who are at risk of a perceived decrease in performance during their cycle.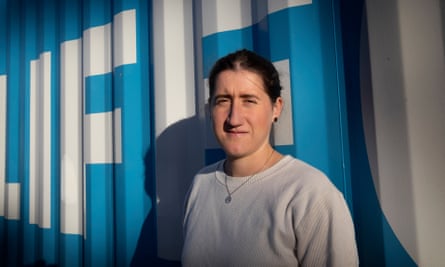 "It's interesting because, to us women, we have our cycle every month, but when I speak about my research topic with my friends, they don't really know what's going on," says Oester. "It's interesting how little most women know about the cycle. So a big focus for those funding the research, Fifa and Orreco, is just to increase awareness for players."
The hope is that Oester's research will make the sport science more accessible for grassroots athletes, too. "Georgie is really following an individual approach – that's what you have to do right now," she says. "But most people can't afford to have a Georgie who helps them. So if we can have some simple tools – if a red flag is raised, then there might be some simple interventions. Maybe try to sleep more, or eat this – simple things that can help."
Oester, who hails from Switzerland, hopes the 2023 World Cup will be a further boost for women's sport in Australia, and continue to break down barriers around periods.
"A lot of studies have looked at the communication between athletes and coaches, and about two-thirds of athletes don't feel they can speak about it with their coach. One aspect is the gender of the coach – at the elite level, it's usually a male, and women might not feel comfortable or think he won't understand," she says. "It remains a big issue."
If these problems are still confronting elite athletes – the tip of the iceberg – the scale of the wider challenge at all levels of the football pyramid is obvious. Bruinvels says she thinks about it in terms of both breadth and depth – going beyond the menstrual cycle to think about women's health in sport more broadly, and at all levels of the game.
"It's so much more than just focusing on menstruation, specifically; it's all about what does everything mean for females," she says. "While I can sit here and say we're moving so far ahead, in all reality on the ground with some teams they are so far behind. So scalable, accessible solutions are so important. And occasions like the World Cup provide an opportunity to shine a light on these issues."