Yalla Shoot News
Yalla Shoot :Meticulous Sarina Wiegman learns plenty for England's flight path | England women's football team
When it comes to foreign travel there are two types of people. The first leaves things late, hits the check-in desk just before closing, takes foreign currency from the airport cash point and forgets to print out the car hire voucher. The second, well, suffice to say that this group would include Sarina Wiegman.
A friendly stalemate in the benign surrounds of Milton Keynes is unlikely to offer much in the way of insight as to how the Women's World Cup will pan out when it kicks off this month. But it did show the England head coach placing an emphasis on match fitness and flexibility before her team step on the plane to the antipodes. It seems inarguable she'd also leave enough time to get through airport security.
In terms of the team, there's no point ignoring the injuries. It's a credit to Leah Williamson and Beth Mead that they were in the stands of the Stadium MK for the send-off game despite missing out on the squad. With the travelling Millie Bright also watching on, Wiegman was forced to put out an unfamiliar team, one that hadn't played since the club season ended a month ago.
Not only were players unfamiliar with each other, they were out of acquaintance with themselves, but while some were rustier than others and some innovations more effective, each player and each combination offered different possibilities to the team, something that is a strength in tournament football.
As it's England and as the result was not a 10-0 rollover with every goal a rabona, let's start with the disappointing bits. The first half was a ponderous, disjointed affair that could have seen England in trouble had Portugal been more effective on the counterattack. The fresh centre-half pairing of Jess Carter and Esme Morgan were assertive and alive, but allowed that keenness to lead to positional drift, which opened yawning gaps behind them. The pace of Carter and deputy left-back Alex Greenwood bailed them out, but in a do-or-die encounter outcomes could well have been different.
Going forward, the starting quartet of Lauren Hemp (left), Lauren James (right) Ella Toone (No 10) and Euros left-back turned WSL golden boot winner Rachel Daly (up top), worked in glimpses. The gaps were too big between them, the play largely circumvented Toone and Daly was too tightly marshalled to have what would be considered a clear opening, at least beyond the fifth minute when she met a deep curling Hemp cross with a smart header that Inês Pereira scrambled behind.
The deliveries in that first half, from open play at least, were good though, and varied too. There was the sense that Hemp and James can provide the service that a forward, like Daly, who offers an aerial threat can make use of. With no Ellen White to depend upon, Wiegman may have to mix up her strikers in Australia and New Zealand, and though Daly had the No 9 on her back here, she was withdrawn at half-time for Alessia Russo, who provided a very different kind of threat.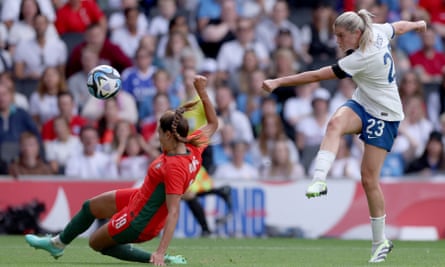 Mobile and happy to take a touch in tight spaces, Russo immediately had an impact in changing the dynamic of the game. Suddenly, the spaces seemed smaller and with Chloe Kelly introduced for Toone at the same time with James shifting inside the forward unit started to click.
Hemp was dangerous on the right, Kelly offered a goal threat from the left and in finding little pockets of space and the right pass to make use of them James thrived as the team's playmaker.
Had Russo been more decisive in her finishing England would have wrapped up this match in a 15 minute spell after half-time. Instead the game finished with Kelly hammering the ball against the ground in frustration, which seemed a little excessive.
It's tempting to get drawn into what-might-have-beens over the result but certainly over the squad Wiegman could have taken to the glittering tournament ahead. But England still have riches and the Dutch coach can surely be relied upon, not only to get the best out of them but use them at the right moments. She'll probably make sure to get to the gate early too.