Yalla Shoot News
Yalla Shoot :Lydia Williams: 'People put athletes on pedestals sometimes … but we're just humans' | Women's World Cup 2023
Matildas goalkeeper Lydia Williams' sporting heroes hailed from a different football code when she was growing up in a frontier mining town in the Western Australian desert, on the traditional lands of the Wangkatja group of peoples.
"I grew up playing footy when I was in Kalgoorlie, and my idols when I was really young were Peter Matera and Gavin Wanganeen, and all of those guys [from] the [AFL's] West Coast Eagles," she says.
It wasn't until Williams moved to Canberra when she was 11 that football took over her life. At 15 she was called up to the Matildas squad for the first time, debuting two years later in 2005. Last year, the Noongar woman became the first goalkeeper and the second Indigenous player to reach the milestone of winning 100 Matildas caps, after Anaiwan and Biripi woman Kyah Simon earlier in 2022. In July she hopes to appear at a fifth World Cup.
Williams tells her story, from running around barefoot in Kalgoorlie to playing football in big cities in her children's books, Saved!!! and Goal!!!, showing how sport helped a shy girl from the desert come out of her shell. She says in the last few years there has been more recognition of Indigenous people in sport and, importantly, more appreciation of their cultures, which has helped anchor her own identity.
"It's something I got to reconnect with, and it was really lovely for me," she says. "Everyone's always been so supportive of everyone that's come in and had a different background or had something unique about them. I think sports really helped me, I guess. It feels like a safe space for me to really talk about it and explore it more and still understand and grow in it."
And that increased visibility and support of Indigenous women across all sport is important for the next generation to see.
"Hopefully that's inspired them and made them feel really proud of their culture and who they are," she says. "It's actually exciting to see that any women's sport in any code is growing and developing. Unfortunately, we always had W-League when AFLW was on so we couldn't really see many games. But it is exciting to see how it's growing."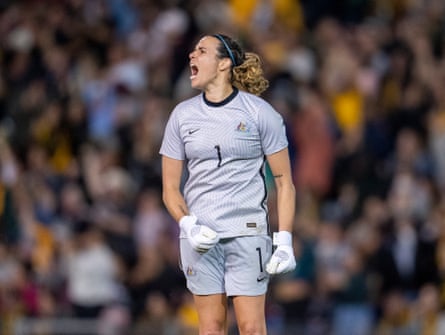 Williams thinks football can learn from Australian rules when it comes to raising the sport's profile and breaking down the barriers Indigenous children face to participate in sport.
"[The] AFL do it really well in going out in remote communities and kicking a ball around with them," Williams says. "I think football getting out there and creating relationships with really remote communities is a first step, and then, bringing in programs or just introducing a football and some goals will be great. It's all about relationships and showing support for Indigenous people and really caring. I think once that relationship has been made, then you can really demonstrate that through sport."
After spending most of her football career away from home, Williams hopes to head back to Western Australia and reconnect with her Aboriginal culture after the upcoming World Cup on home soil.
"Growing up in the desert, obviously I was really in touch with my Aboriginal side and living out in the bush, my dad teaching me everything," she says. "When he passed away and moving away from Kalgoorlie and then playing overseas, I haven't really had that opportunity to be home and until recently kind of relearn and learn new things about the desert and about cultural life.
"To actually spend some more time back there would be great and go down to Esperance and up to Broome and see everywhere that I grew up and travelled around, that would be really nice."
---
With much attention fixed on the referendum for an Indigenous voice to parliament, Australia's major sporting bodies in May confirmed their support for the yes campaign. Football Australia said it was "uniquely placed to play an important and significant role in Australia's reconciliation journey." Calls for sport to stay out from political and social debates inevitably followed some of the announcements, but Williams says athletes are "like anybody else" and should be able to support the causes that are important to them.
"I think people put athletes on pedestals sometimes … that we need to speak out either about everything or about nothing," she says. "But at the end of the day, I think we are just humans and normal people, and if [there is] something that we believe in, we feel strongly about I think we will talk about it.
"The one thing with being in a team is that there's 20 to 30 of us that can talk about it in a really safe space. And then decide collectively if this is something that we want to support or speak out about. If it's something that's going to be released, that's maybe a bigger statement."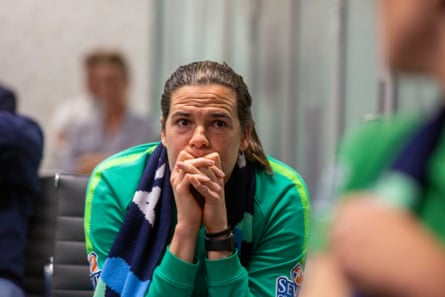 By her own admission, Williams has had a "pretty crazy year". In the space of seven months, she ended a two-and-a-half-year stint at Arsenal, made two appearances for Paris Saint-Germain and then returned to the Women's Super League with Brighton & Hove Albion – all with the Women's World Cup looming on the horizon.
Yet the rather circuitous route the veteran has taken to get to football's biggest stage has not diminished her focus and Williams's ambition, now just weeks out from the tournament, remains crystal clear. "I want to win the World Cup," she says.
That final leg of the journey – the move back to England with Brighton – has helped put the 35-year-old a step closer to selection in Tony Gustavsson's final 23-woman squad to be announced on 3 July by providing her with the game time that had been sorely missing during her time at Arsenal and PSG.
"[I was] trying to make sure that I was in the best place leading into the World Cup," she says. "You do have to chase what's the priority, and it ended up being here in Brighton."
As if two international moves weren't tumultuous enough, she landed at Brighton as the club was teetering on the edge of the relegation zone. She wasn't the only new arrival though; American Melissa Phillips took charge in April and helped steer the team to safety.
"The team was going through a little bit of trials and tribulations at that time," Williams says. "But I think we came out the other end of it, we're safe this year. Which is a good thing, we can rebuild for next year. So you do have those ups and downs. It's just … you never know with football."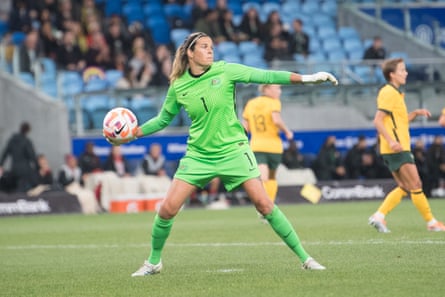 Williams's most recent Matildas appearance was in the international friendly defeat to Canada last September. Since then coach Tony Gustavsson has opted for Mackenzie Arnold or Teagan Micah in goal, but the impending selection battle doesn't shake Williams' resolve for the tournament.
"Whoever Tony picks is who he thinks and believes in that moment is going to do the job," she says. "I think we have a really good group and we're all really supportive of each other and we push each other. At the end of the day when it comes down to who plays, the other ones are always supportive of whoever that is.
"I want to be with that team in whatever capacity that is and contributing in whatever way. I think our team is pretty unique in that every single person contributes and even if they see the field or they don't, they've felt supported and loved by the team and they've contributed in that journey."