Yalla Shoot News
Yalla Shoot :Luis Rubiales: Spanish FA activates 'sexual violence protocol' after Jenni Hermoso kiss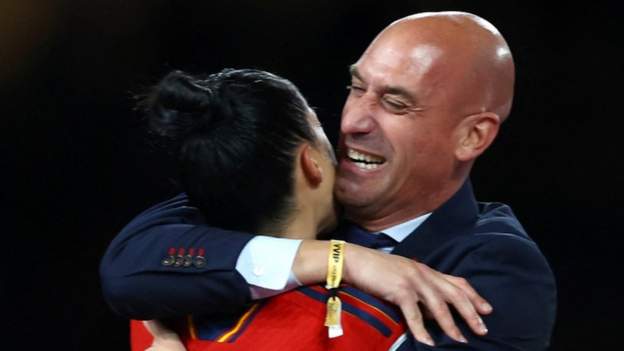 An internal investigation has been launched by Spain's football federation after its Sexual Violence Protocol was activated.
Federation president Luis Rubiales has been suspended by Fifa after kissing forward Jenni Hermoso on the lips after Spain's Women's World Cup win.
Hermoso, 33, has said the kiss after last Sunday's game was not consensual.
Maria Dolores Martinez Madrona, the protocol's protection delegate, said the matter is now being investigated.
"Our protocol is currently activated and in the midst of investigating the events, thus we demand the utmost respect for the right to privacy and dignity of all individuals involved," she said in a letter published by the federation (RFEF).
"As the protection delegate for sexual violence, my duty is to adhere to the protocol and safeguard the privacy of those affected by this incident and of the Sexual Violence Advisory Committee."
The protocol is activated once a complaint is submitted and means the protection delegate, a position currently held by female referee Madrona, will investigate and send her findings to the Sexual Violence Advisory Committee.
On Saturday the RFEF threatened legal action against Hermoso.
More to follow.