Yalla Shoot News
Yalla Shoot :Lionel Messi: Destiny – new documentary goes inside Argentina's World Cup win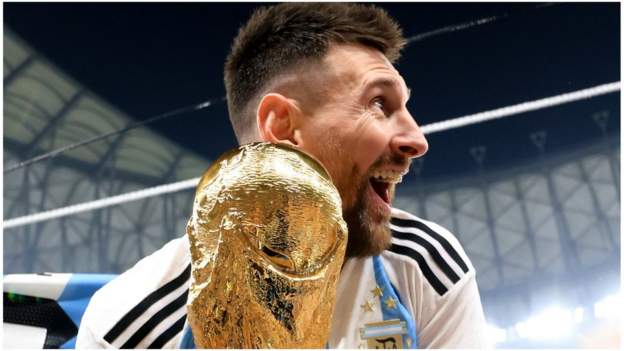 Watch Lionel Messi: Destiny on BBC One on Saturday, 3 June at 22:20 GMT, and on BBC iPlayer
A new BBC documentary tells the inside story of how the great Lionel Messi finally won the World Cup.
In an hour-long film, the BBC delves into that success with input from some of those involved – including players Emiliano Martinez, Alexis Mac Allister and Julian Alvarez, and manager Lionel Scaloni.
Here are a few takeaways from Lionel Messi: Destiny…
A sleepless night followed defeat by Saudi Arabia
Argentina went into the tournament as one of the favourites, and on the back of a 36-game unbeaten run.
But their confidence was rocked as they lost their opening Group C game 2-1 to Saudi Arabia in one of the biggest World Cup shocks of all time.
"It was the hardest night of my life – I couldn't sleep," recalls goalkeeper Martinez. "I was afraid of getting knocked out of my first World Cup."
The Aston Villa player, 30, compares the game to a boxing match in which one person gets knocked out. "We couldn't fight back," he says.
Mac Allister played 'like he was in his back garden'
Brighton midfielder Mac Allister was one of the surprise stars in Qatar – and topped the BBC Sport player rater as Argentina beat France on penalties in the final.
The 24-year-old flourished alongside Messi, Enzo Fernandez and Angel di Maria.
"He's a complete midfielder," says former Argentina right-back Pablo Zabaleta.
Scaloni is also full of praise for Mac Allister, saying: "He showed us something that we didn't know about him – he doesn't feel pressure.
"It's like he's playing in his back garden."
Argentina's players felt at home in Qatar
Scaloni did a great job of creating the right atmosphere for his players in Qatar – including importing some home comforts.
At the time, it was reported the squad had 2,000lbs (900kg) of meat flown over from South America.
"Everything was perfect," says Mac Allister. "It felt like home. We played cards and drank [caffeine rich] mate tea… and even had Argentine meat!"
Zabaleta says those three things are "like a religion" for Argentines.
Messi became 'that bad boy' against the Netherlands
Argentina came through a particularly fiery quarter-final that featured 18 yellow cards – two of which resulted in the sending-off of Netherlands defender Denzel Dumfries.
After the final whistle, the Argentina players taunted their opponents, with Martinez – who saved two penalties in the shootout that followed a 2-2 draw – shouting at Netherlands boss Louis van Gaal.
"I heard Van Gaal saying that in a penalty shootout they had the advantage," he said after the game. "I think he needs to keep his mouth shut."
Even the typically mild-mannered Messi took issue with a comment from Van Gaal, who had said the Argentina captain did not "participate much" when his team lost the ball.
When Messi scored during normal time, he ran straight to the Dutch bench and cupped his ears.
That celebration, as the film explains, was inspired by former team-mate Juan Roman Riquelme, who felt badly treated by Van Gaal at Barcelona.
But many were surprised by this new side to Messi.
"We are more aggressive than the national team he had before," says Martinez. "He was probably becoming a little bit more like us – that bad boy."
Martinez is like 'a child on the pitch'
Martinez was Argentina's shootout hero once again in the final as La Albiceleste beat the defending champions.
His antics drew plenty of comment, as he threw the ball away, danced, and celebrated in front of France's players.
Referring to the jig he did after Aurelien Tchouameni missed France's third penalty, he says: "I never danced the way I danced after the second pen that they missed. Never in my life.
"That's me. I'm a child on the pitch. I don't see what's going to happen next."