Yalla Shoot News
Yalla Shoot :Kick It Out: Record-high reports of discrimination up 65% in 2022-23 season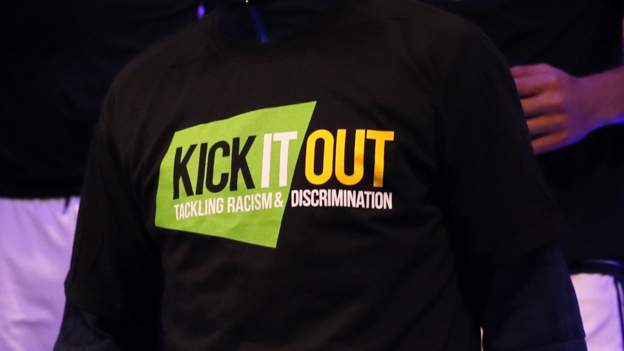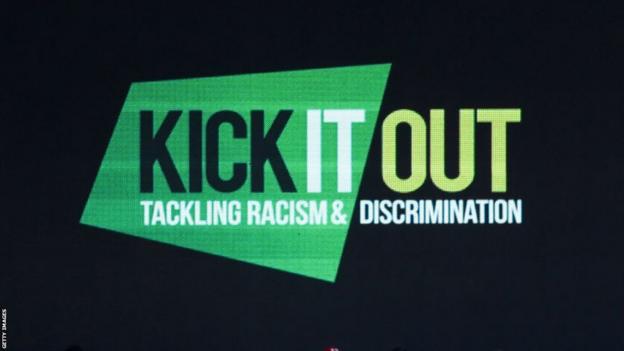 Anti-discrimination charity Kick It Out received a 65% rise in reported incidents of discriminatory behaviour during the 2022-23 season.
The organisation says it received a record-high 1,007 reports from grassroots level, the professional game and across social media.
Kick It Out chief executive Tony Burnett said supporting the victims of abuse remains the "utmost priority".
"The significant increase in reports across the game is alarming," he said.
"And it strengthens our resolve to tackle discrimination in all areas of football.
"Behind each of these statistics is somebody who has sadly experienced discrimination, and supporting the victims of abuse remains Kick It Out's utmost priority."
The report found:
A 65.1% rise in reported incidents of discrimination on previous season

Racism remains the most commonly reported form of discrimination, accounting for nearly half of all reports (49.3%)

Reports of online abuse rise from 74 to 281 – up by 279%

Reports of sexist behaviour/misogyny rise from 16 to 80 – up by 400%
However, Kick It Out also suggests the rise in the number of incidents could indicate an increase in awareness and a greater willingness for fans to report discrimination.
Burnett added: "While we continue to work tirelessly to 'kick it out', we call upon fans, clubs, leagues and governing bodies to help us with this cause, and we are encouraged that the number of reports per incident continues to increase, suggesting that people are becoming less tolerant of discriminatory behaviour and more likely to report abuse when they see it."
"Our figures provide a snapshot of what is happening across the game, but we still don't know the full picture because clubs, leagues and governing bodies aren't currently mandated to share their reporting data.
"This underscores why football urgently needs a centralised reporting mechanism to collate and monitor reports. Only once that happens can we understand the full extent of the problem within football and tackle it with the full force of the sport."
The report was published a day after the two-year anniversary of the Euro 2020 final, which saw England trio Marcus Rashford, Bukayo Saka and Jadon Sancho receive online racist abuse for missing in the penalty shootout defeat by Italy.
The figures are in line with reports of discrimination also seen in other countries last season.
In Spain, seven people were punished for acts of racism towards Real Madrid's Brazil forward Vinicius Jr.
Four men were fined 60,001 euros (£51,700) and given a two-year stadium ban for hanging an effigy of Vinicius near Real's training ground in January, while the other three people were fined 5,000 euros (£4,300) and banned for one year for making racist gestures during Real's game at Valencia on 21 May.
In a recent report by Fifa, almost 20,000 abusive social media posts were aimed at players, coaches and officials during last year's World Cup.
Of 20 million posts scanned by moderation software developed by Fifa and players' union Fifpro, 286,895 were hidden from public view.
The biggest spike in abuse came after England's quarter-final loss to France, when Harry Kane missed a late penalty.
Meanwhile, in cricket an Independent Commission for Equity in Cricket (ICEC) report published last month said racism, sexism, classism and elitism were "widespread" in the English and Welsh game.
Earlier this year, a Rugby Football Union investigation found claims of racism in the sport by former England international Luther Burrell were true.