Yalla Shoot News
Yalla Shoot :Josh Magennis column: 'Denmark and Kazakhstan games prove how cruel football can be'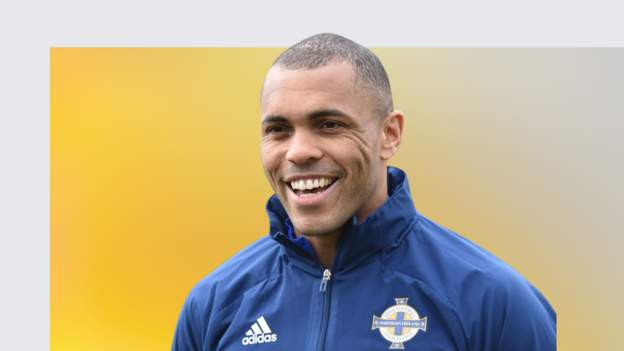 In his third BBC Sport column, Northern Ireland striker Josh Magennis – who is currently out injured – discusses the cruel nature of the team's defeats by Denmark and Kazakhstan.
As a Northern Ireland player, this international window has really hammered home just how cruel a game of football can be.
The margins are so tight at this level and coming away from the Denmark and Kazakhstan games empty-handed is hard to take, knowing how much work the lads did in training.
At this level, you can feel like you're in complete control of a game only to have a result taken away from you in an instant.
That's what happened against Kazakhstan. We were in control, dominated possession and created some good chances. I really felt the breakthrough was coming but it was just one of those nights.
Unfortunately, we couldn't take our chance before they scored on the counter-attack with just a couple of minutes remaining. It was a real kick in the teeth.
Kazakhstan were happy to sit back and let us have possession. Then, in the blink of an eye, their player ran through on goal and couldn't believe his luck as he slotted home the winner.
That was particularly gut-wrenching given how the Denmark game ended – when we thought Callum Marshall had scored a late equaliser to earn an important point away from home, only for it to be ruled out for offside.
You even saw the devastation in the Denmark players' faces, thinking 'oh my goodness, I can't believe we've let them back in the game'. In the end, we were the ones left devastated.
But Northern Ireland took a lot away from that experience in Copenhagen. We know we can recover from going a goal behind and still put high-quality teams under pressure and create chances.
Against Kazakhstan, we had a few clear-cut opportunities but unfortunately we were unable to take them. At the end of the day, it is hard to shut a team out for 90 minutes at that level. Teams are always likely to create at least one chance and Kazakhstan managed to take theirs at Windsor Park.
Frustration really sets in when hard work doesn't lead to results. You're pouring everything you have on to the training pitch and trying to reflect that in games, but I truly believe we managed to do that against Denmark and Kazakhstan.
Especially against Kazakhstan, we dominated the game but just couldn't get the win. You can see the progression in how we are playing, but we're just not getting the results at the moment.
You just have to trust the process and we certainly do. As I said, you can see what Michael O'Neill and the lads are trying to do.
I went down to the dressing room after the Kazakhstan game and, as you'd expect, there was a lot of disappointment. But we all really believe in each other and the direction in which we're heading. We're still in the early stages of Michael's second spell so I'm confident things will turn around for us.
'Northern Ireland will not dwell on defeats'
Being injured, this window has obviously been a different experience for me. I've been fortunate in my career in that I've never really been out for that long with injury.
I've missed games for Northern Ireland in the past but they have usually been at the end of a campaign – when qualification was no longer possible – or friendlies.
So, watching the last two games, with so much riding on them, has been a strange and frustrating experience.
Watching the Denmark game on TV was hard enough but being at Windsor Park for the Kazakhstan defeat was even tougher. You get wrapped up in the atmosphere and occasion, and you just want nothing more than to see your team-mates celebrating and picking up three points.
But it does you no good to dwell on things in football and Northern Ireland won't. We have two important games coming up in September and that's going to be our focus from here.
One of those games will be against Kazakhstan so we'll have the opportunity to gain a bit of revenge when we travel there. Slovenia away will also be a big challenge but we certainly have the quality to bring three points away from that game too.
I'm excited by the prospect of being fully fit for the September window. It's been a frustrating spell for me with the injury but I can see the light at the end of the tunnel now.
Once I'm fully fit, I'm determined to push myself and earn another Northern Ireland call-up so I can help put a few more points on the board.
And that's something I'm really relishing. It's been a long time since I've been in a Northern Ireland camp where there's been so many new faces.
We've been blessed with great continuity for a long time, but now we've had an injection of exciting younger players. The aim now is for the more experienced players to gel with the new lads and take Northern Ireland to the next level, starting with six points in September.