Yalla Shoot News
Yalla Shoot :Hampden Park rebuild 'not going to happen' – SFA chief executive Ian Maxwell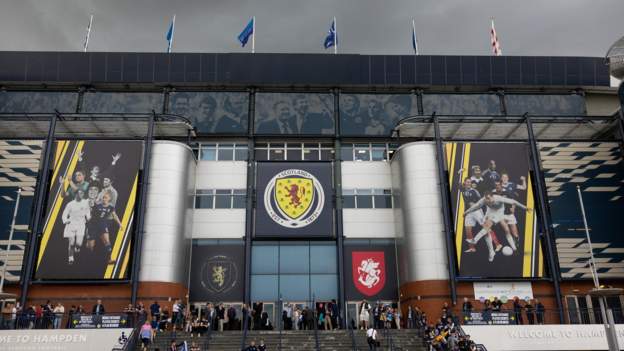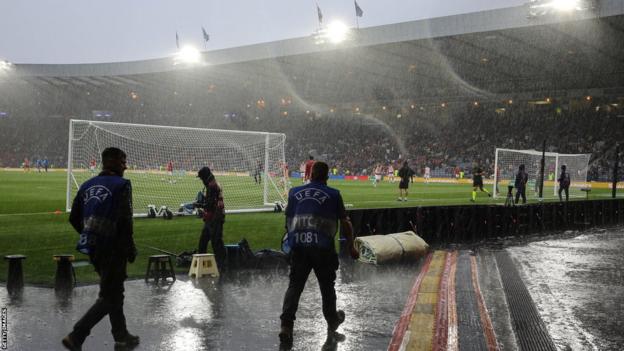 Redeveloping or reconfiguring Hampden Park is "not going to happen" in the current economic climate, Scottish FA chief executive Ian Maxwell has said.
Hampden Park is one of the venues included in a joint UK and Ireland bid to host the Euro 2028 finals.
And Maxwell is confident of success when governing body Uefa chooses between that and Turkey in October.
But he says "it's about doing what we can with what we've got" when it comes to patching up the current Hampden.
The national stadium, which is in its 120th year, had its last major redevelopment in 1999.
BBC Scotland revealed this month that architects had drawn up plans in 2020 for a rebuild that would have increased Hampden's capacity from 52,000 to 65,000 as part of an eventually abandoned UK World Cup 2030 bid.
"We talked previously about redevelopment and reconfiguration and bringing the ends in," Maxwell told BBC Scotland's Sportsound when asked about the project that would have brought the west and east stands closer to the pitch.
"That was in the context of a World Cup 2030 bid and, at that point, we thought we might be able to raise some significant income from the UK government or otherwise.
"I think it was Stuttgart that brought their ends in and that cost them approximately 90m euros, but that was pre-Covid and that's now 100m-plus.
"And, with the best will in the world, if someone can give us 100-odd million euros, we have far more important things to do with that in terms of growing the game and opportunities to play and transforming lives than doing the stadium."
The condition of Hampden came under the spotlight again on Tuesday, when there were leaks in the roof as torrential rain fell during the Euro 2024 qualifier against Georgia.
Maxwell said repairs are "an ongoing process".
"A stadium of that size at the age Hampden is at needs a lot of money to be spent on it," he said. "We are probably getting close to £2m per year. Just on keeping the stadium going, trying to fix roof leaks, trying to keep the lights on. It's a big operation – it's a big beast.
"The strategy for us is we've got changes and upgrades we need to do. We know we have a problem from a roof perspective."
Using other stadiums 'not on radar'
Maxwell dismissed suggestions that the SFA could scrap Hampden and instead use Glasgow's two other top-class stadiums – Celtic Park and Rangers' Ibrox Stadium – for national team games and major cup ties.
"If you did that, I am not actually sure it would save you an awful lot of money," he said. "Between venue hire, there would be a significant cost in that as well and that would come out of the game.
"We've got some big projects we need to do over the next three to five years. Once we get through them, hopefully we can settle down and the financial contribution can reduce slightly and we can put that into more worthwhile parts of football."
Maxwell also said taking men's internationals to smaller stadiums around the country was "not on the radar at the moment" because the current success of national team meant they needed Hampden's capacity.
UK bid 'strong, competitive and compelling'
Maxwell expects good news on 10 October, when Uefa's executive committee chooses who will host the Euro 2028 finals.
"The bid information's in, all the documentation's been submitted," he said. "We've had some initial feedback from Uefa, the same as Turkey.
"We're confident we've got a really strong bid, a really competitive and compelling bid.
"The UK has a reputation for delivery from an event perspective that's unrivalled arguably across Europe. We know what we're doing. We know how to get big events and big games on and do it really well.
"Obviously there's a huge appetite for football in the UK and we're confident the bid will be selected."