Yalla Shoot News
Yalla Shoot :Haiti's Melchie Dumornay: 'We're proud to be able to bring joy to people' | Women's World Cup 2023
When England kick off their Women's World Cup campaign in Brisbane on Saturday, the reigning European champions will do so as one of the tournament favourites. Players such as Keira Walsh and Lucy Bronze, Champions League winners last season with Barcelona, are major names in the game.
Yet their opponents, Haiti, playing in the World Cup for the first time, have a star of their own, the 19-year-old Lyon attacking midfielder Melchie Dumornay. Quick, skilful and fearless, Dumornay is the linchpin of a young team determined to make their mark. In 2022 Goal.com identified her as the best young female player in the world.
Dumornay's journey to Brisbane began in Mirebalais, a small town around 35 miles from Haiti's capital Port-au-Prince, where she grew up with her widowed mother, sister and four brothers. "It's a peaceful place, very calm," she says, "with lots of rivers, nature and mountains." Though other girls in the neighbourhood enjoyed games such as skipping, Dumornay always wanted to play football, beginning with her brothers but soon taking on all comers.
"I played with boys who were much older than me, but I didn't mind because I felt good. Football was what made me happy." When she was 10, the game took her to the national centre of excellence just outside Port-au-Prince, and before long she was representing Haiti at junior levels.
When she was 12 she played for the national under-15 side in the 2016 Concacaf championship; two years later she was player of the tournament at the Under-17 Concacaf championship and played in the Under-20 World Cup in France.
There she caught the eye of scouts from the top European clubs, including Lyon, but international transfer regulations meant she was not eligible to move until she was 18. When she did so in September 2021 it was to a lower-profile French club, Stade Reims, whose manager, Amandine Miquel, had kept in touch with her.
"She went all out to sign me," Dumornay says. '"She had a lot of confidence in me and put a lot of trust in me even though I was new to the team." Miquel helped the young midfielder develop new aspects of her game, allowing her "to recognise my own abilities, which I didn't know I had".
The move to France was difficult, particularly in the first months as she adapted to the environment and culture, but she never doubted the decision to go. "When I was in Haiti, all I wanted was to develop [my game] elsewhere. I felt really happy to have this opportunity and I made the most of it." After two successful years with Reims, Dumornay finalised her move to Lyon this month.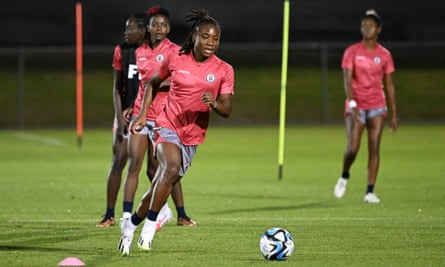 Dumornay is modest but unashamedly – and justifiably – ambitious. She hopes to emulate the two biggest stars of the international men's game of recent decades. "Nobody can copy Messi," she says with a laugh, "but I try to have that intelligence that he has in his game." At the same time, she says, in her strength and speed she perhaps resembles Cristiano Ronaldo, another player she greatly admires.
These qualities were evident in Haiti's World Cup qualifying playoff against Chile, with Dumornay scoring both goals in a 2-1 win, the first after a one-two with Roselord Borgella, in which Dumornay's deft touch and pace took her past the last defender before she finished sharply in the far top corner.
"I was overcome with emotion," she says when recalling the match. "I can't describe it. It was all a blur in my head because I was so happy. We made history," she starts to say, before correcting herself: "We've taken a step forward in history and we're going to keep working to go as far as we can in this tournament."
She cites adaptability as one of the team's strengths – the coach, Nicolas Delépine, who likes to adjust the formation to match the opposition, has made the same point – along with speed, intensity and skill. They will need all these qualities against England, along with what the Haitian journalist Harold Isaac identifies as a great sense of togetherness. "They seem to have more fun than the men," he says.
"We know their level," Dumornay says of England. "They're a great team [but] we're going to try and impose our game on them. I think it's going to be a very interesting match. We like these kinds of fixtures so we can see how we measure up."
Haitian football has been through turmoil and scandal in recent years. Violence has disrupted the domestic league, and the national teams play outside the country. In 2020 the then president of the Haitian Football Federation, Yves Jean-Bart, was banned for life by Fifa over sexual abuse allegations – this ban was recently overturned by the court of arbitration for sport and Jean-Bart denies wrongdoing. In this context, Isaac says: "It's nothing short of a miracle they got so far. Whatever happens, Haiti has already won in a weird way."
Not that Dumornay or her teammates are happy merely to have qualified. If all goes to plan, she reckons, the quarter-finals could be a realistic goal. Or perhaps further. "We're going to do our country proud," she says, "and we're proud to be able to bring joy to all those people who believe in us and who continue to support us. And in passing, I'd like to take this opportunity to thank them."