Yalla Shoot News
Yalla Shoot :Euro 2024 qualifying: Ex-Wales striker Iwan Roberts criticises Robert Page's 'slap' response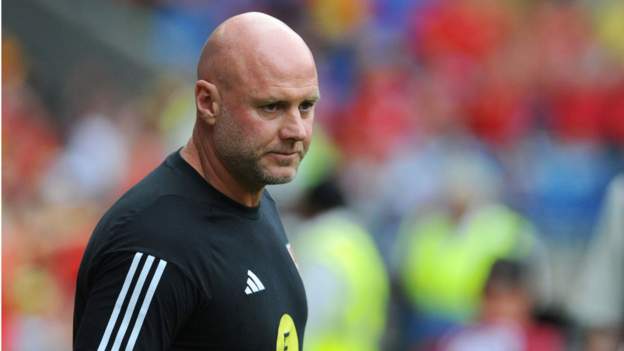 Ex-Wales striker Iwan Roberts has rounded on manager Robert Page's tactics and response to the shock Euro 2024 qualifier defeat by Armenia.
Page described the 4-2 loss in Cardiff on Friday night as the "slap we need".
But Roberts said he was stunned by that assessment to such a "shocking" display that has left Wales facing an "almost impossible task" to qualify.
The result saw Wales drop to third in Group D before Monday's crucial match away to leaders Turkey.
"I don't agree with Rob's comments… why do Wales need a slap in the face?" Roberts told BBC Radio Wales Breakfast.
"We've only got eight games in this campaign. It's not a league season of 46 games where you can afford one or two blips. It was a shocking result.
"We started well and scored a good goal but then for some reason, as an XI, we just got deeper and deeper, gave away possession far too easily and gave Armenia a pathway back.
"We've just made Armenia look like Argentina."
Wales lost a wealth of experience before this campaign with the international retirements of Joe Allen, Chris Gunter, Jonny Williams and talisman Gareth Bale.
Roberts said: "The player we missed most was probably Joe Allen. The way he would break up the play in midfield, it really protected the centre-backs.
"Aaron Ramsey did the role but nowhere near as good as Joe. We have got to find a way in the next two days to sort that out."
Shaky defence
Before Friday Wales had conceded 10 goals in their previous 24 qualifying matches and were unbeaten at the Cardiff City Stadium in European qualifiers since 2010.
"Our success has been based on a solid defence – not just the back – but we've gone away from that. We've only kept one clean sheet in the last 11 games," said Roberts.
"I felt sorry for Ben Davies and Conor Roberts because Joe Rodon and Chris Mepham didn't take responsibility for the men they should have picked up, so the wing backs were getting dragged in too narrow, which gave Armenia too much time and space."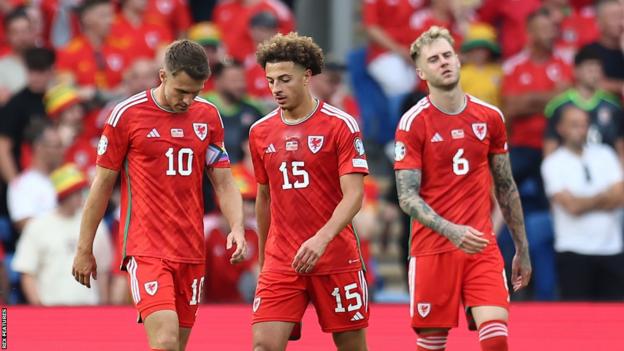 Tactics
Manager Page said he took full responsibility for Wales' lacklustre display at the World Cup in November but received a vote of "complete confidence" from Football Association of Wales CEO Noel Mooney in December.
Roberts said: "Rob has been in charge for 33 games and for 95% of those he has played a back five. During the World Cup qualifying campaign, against Austria and Ukraine in the play-offs, in the Nations League campaign, always a back five.
"Now all of a sudden he's moved away from what brought success and gone to a back four and I don't know why.
"I just don't think you can play a back four with Rodon and Mepham because they're miles off the pace because they're just not playing enough for their clubs."
Roberts said Wales are paying the price for having too many players who are not regular starters for their club sides.
"I don't know where Rodon's career is going. He's had three managers at Spurs who have not played him. He's gone to Rennes for game time but started one of their last 14 games," Roberts said.
"It's the same with Kieffer Moore, who hasn't stated for Bournemouth since mid-January and he's our main man up front.
"It was the same at the World Cup. We looked miles off the pace in those three games and the same last night."
Moore is suspended for Monday's game against Turkey in Samsun.