Yalla Shoot News
Yalla Shoot :England v Haiti: Women's World Cup 2023 – live | Women's World Cup 2023
bonuses</a> to the <a href=\" viability of Mary Earps' shirt</a>. None of these problems are insurmountable, though, and the mood music will change very quickly if England start winning games.</p>","elementId":"2a42b87f-2e75-4ff8-bae5-eda59dccac15″,"_type":"model.dotcomrendering.pageElements.TextBlockElement","html":"<p>They start their campaign against the World Cup debutants Haiti, who are ranked 53rd in the world. Haiti have a number of France-based players, including Lyon's marvellous teenage midfielder Melchie Dumornay. But it will be an almighty surprise if England don't win today.</p>","elementId":"44797090-3a0c-4a71-a67f-e91ca5da2269″,"_type":"model.dotcomrendering.pageElements.TextBlockElement","html":"<p>Denmark and China are the other teams in Group D, so England are favourites to go through as winners. Australia, Canada, Nigeria or the Republic of Ireland would be their opponents in the last 16. A statement win today would remind everyone that England are serious contenders to win this thing.</p>","elementId":"d69e6c42-fc65-497f-93d2-a2446e0fd7b9″,"_type":"model.dotcomrendering.pageElements.TextBlockElement","html":"<p><strong>Kick off</strong> 10.30am BST/7.30pm AEST.</p>","elementId":"ed3b11a8-c434-4f47-8880-463802c8ed7b"],"attributes":"pinned":false,"keyEvent":true,"summary":false,"blockCreatedOn":1690012807000,"blockCreatedOnDisplay":"04.00 EDT","blockLastUpdated":1690012505000,"blockLastUpdatedDisplay":"03.55 EDT","blockFirstPublished":1690012807000,"blockFirstPublishedDisplay":"04.00 EDT","blockFirstPublishedDisplayNoTimezone":"04.00″,"title":"Preamble","contributors":[],"primaryDateLine":"Sat 22 Jul 2023 07.15 EDT","secondaryDateLine":"First published on Sat 22 Jul 2023 04.00 EDT"],"filterKeyEvents":false,"format":"display":0,"theme":2,"design":11,"id":"key-events-carousel-mobile"}">

Key events
79 min Bronze cross towards Daly, who heads the ball a millisecond before Theus punches it away. I don't know whether that counts as a save or not; I'm pretty sure Daly got to it first.
78 min: Haiti substitution Roseline Eloissaint replaces a weary Roselord Borgella, who worked extremely hard and missed a great chance at 0-0.
76 min: England substitution A change up front, with the prolific Rachel Daly replacing Alessia Russo.
75 min England are having their best spell of possession in the second half. James beats Petit-Frere majestically on the left, only to cross too close to Theus.
74 min Kelly's cross just evades Russo. They've been England's most dangerous attackers. Ella Toone has had an odd game – not bad so much as anonymous.
73 min "I'm in France where, as you can imagine, they're covering every match on terrestrial, as they do with the 6 Nations," says Jeremy Boyce. "All the same, the match isn't the most exciting so I'm mostly watching the Manchester rain on Geoff Lemon's over-by-over commentary. Hard to tell which is the most/least interesting."
I'll take that as a compliment.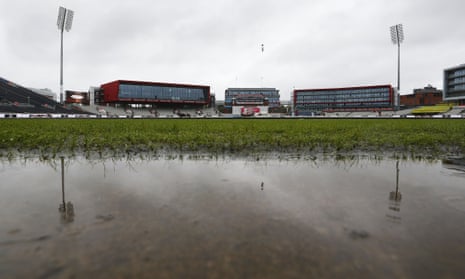 72 min England pass the clock down for a couple of minutes, and why not.
70 min Walsh plays a lovely pass to find Kelly in space on the right. Her pass to the overlapping Bronze is blocked, but Kelly collects the loose ball and shoots wide from the edge of the area.
67 min Although Russo will be frustrated that she hasn't scored, her hold-up play has been superb, particularly since half-time. She's so good with her back to goal.
66 min For all Haiti's threat on the break, and the lingering feeling that England haven't played well, they still lead 8-1 when it comes to shot on target.
65 min The resulting corner ricochets around the area before reaching Bright, 12 yards out. She wallops a left-footed volley over the bar. As with Stanway's shot in the first half, the ball wouldn't come down for her.
64 min Stanway's heading cross is met by the backpedalling Russo, who strains her neck muscles to force a looping header towards goal. Theus leaps to tip it over the bar, a pretty good save.
63 min Bright angles a fine lofted pass over the Haiti defence. Kelly controls it deftly on the run and cracks a shot that is well blocked by the substitute Mathurin.
63 min Lauren James has started on the left wing, with Kelly moving back to the right.
62 min For the umpteenth time tonight, England lose the ball in a dangerous position, Carter this time. Dumornay leads a three-on-one break, but her pass is slightly behind Mondesir and the attack peters out. Mondesir was offside anyway.
62 min: England substitution Lauren James replaces Lauren Hemp, who wasn't at her scintillating best.
61 min "I want an Earps goalie shirt even more now!" says Carolyn Harris.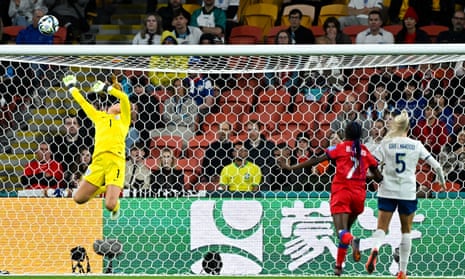 58 min: Theus denies Russo again! That was brilliant centre-forward play. Stanway drove a flat, angled cross towards Russo, back to goal in the area. Her first touch was magnificent – she chested the ball around the corner and turned Tabita Joseph in the same movement – and the second was a crisp low shot that Theus pushed round the near post.
58 min: Good save by Theus! Russo takes the ball off Batcheba Louis on the left edge of the area, cuts inside and drives a low shot that is saved at the near post by the diving Theus.
57 min "Of all VAR's many crimes against the game, I really can't be done with the effective rule change for keepers at penalties," says Tom Hopkins. "The rule might have said 'can't come off your line', but it really meant 'don't take the rise'. Penalising a little hop forward as the taker swings their foot is for the birds.
"I also wonder how much of an extra advantage this micromanaging gives the better resourced sides. If you haven't had specialist coaching on dragging your back foot along the line, do you even have a chance of saving a penalty any more?"
56 min Haiti are starting to boss the second half. Bright's crossfield pass goes straight to Mondesir, who tries an extremely snapshot ambitious from 35 yards. Goalkick to England.
54 min Walsh makes a vital tackle on Dumornay, who was charging at a backpedalling England defence. For a 19-year-old, Dumornay is absurdly good.
53 min "Everyone in Canada thinks we need to top the group to avoid England.," writes Gerard Kennedy. "Not sure about that but all the big sides look average so far. First-match jitters maybe."
51 min Hemp is booked for a very poor tackle on Mondesir. It was a hack, essentially, and Mondesir is limping heavily when she gets to her feet. She should be able to run it off.
51 min "Re: predictions – don't rule out Sweden," says Tor Turner. "The USA looked beatable against Vietnam, and Sweden are a team capable of great things if it clicks on the night. It's a tough ask, but they could well have the beating of them. Brazil are challengers too, should reach the semis and as we know, anything can happen…"
50 min: Good save by Earps! Dumornay bounces Bronze off the ball to give Haiti and a four-on-three break. She cuts inside from the left and whips a fierce curling shot from the edge of the area. Earps leaps to push it away, though the speed of the shot almost knocks her off her feet.
49 min The Haiti keeper Theus drags the ball confidently past the onrushing Russo. Her opposite number Earps did something similar in the first half.
48 min "Dumb question," says Tom Stratford promisingly, "but is the general consensus goalkeepers come off their line at penalties inadvertently or because they do think they might be able to get away with gaining a marginal advantage by shuffling out a bit at the last minute? Previously I'd have said the latter but with VAR it now feels almost impossible to actually get away with it."
Yes, I'm pretty sure it's inadvertent. A lot of these keepers have had very little experience of VAR, so their muscle memory probably needs a bit of work.
46 min Kelly and Hemp have swapped wings at half-time. Kelly, now on the left, nicks the ball just outside the area and drags it stylishly away from Tabita Joseph. Her cross hits a defender and bounces into the arms of Theus.
Chloe Kelly
46 min No changes on either side at half-time. Haiti's Roselord Bogella gets the match underway.
Half-time correspondence
"Here in New Zealand," writes Dave Butler-Peck. "Trying to juggle putting my tired 12-year-old to bed whilst reading the updates on the app – feeling nervous in my England top as always!"
"I know it's not all about individual players, and it's wrong and simplistic to say that a team is missing individual players," begins Charles Antaki, "but at the the moment it's all about England missing individual players. Is there some cryogenic advanced rehab/treatment to get Leah Williamson and Beth Mead back in time for the next game?"
"Williamson is a big loss, she's a cultured player with the ball, a great reader of play, has great positional sense and instills calmness, like a certain Mr B Moore (no, not Bryan) used to be for the men back in the day," writes Jeremy Boyce. "She's a complete package that is difficult to replace."
"Haiti have really surprised me here," says Mark Harrison. "And on Dumornay – it's a good thing for England that there's only one of her, because she's been the best player on the pitch by a distance so far. I'd also like to express some appreciation for the World Cup of Proper Stoppage Time 2 – Electric Boogaloo. It improves the viewing experience immensely."
"The crowd was booing (28 mins) because we had no idea why the individual brilliance from the underdog was waved off," says Sam Litster. "Instead we got a VAR replay of a VAR penalty when we're keen to watch some football!"
"I'm with the MBM 'cos I'm following from Spain," says Chris Fowler, "and the national broadcaster's commitment to the Women's World Cup is not on the same planet as the men's equivalent. Definitely a case of hunt the match. They gave us Zambia-Japan this morning, but no England-Haiti, and a fair number of the matches are on some platform called RTVE Play or something. In November-December you sometimes got the feeling that nothing was happening in the world but the World Cup, but the coverage of the women's version makes you think that they asked the teaboy to organise it in his spare time."
Half-time reading
"Go on then Rob, give us your picks," says Jack Roe. "Winners, dark horses, surprise package?? Personally I'd love to see an England-Ireland second round and I think it'll take something special to beat Spain."
With the caveat that I'm no expert, I can't see beyond Spain or the USA for the winners. Dark horses: Japan. Surprise package: China.
Half time: England 1-0 Haiti
First, the good news: England lead through Georgia Stanway's twice-taken, VAR-awarded penalty. But they have struggled to open up a determined Haiti defence, and were grateful for Roselord Bogella missing a great chance at 0-0.
We shouldn't be too critical, especially as it's the first game of the tournament after a two-month break. But there were a few worrying signs in that half. The defenders were nervous and the attackers impatient. It didn't feel like we were watching Sarina Wiegman's injury.
England! I meant Sarina Wiegman's England!
45+9 min Stanway is booked for a late challenge on Pierre-Louis.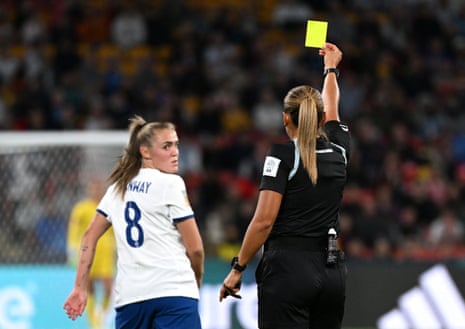 45+9 min There's been an unusual lack of subtlety in England's attacking play. Ella Toone, the team's chief wit, has been very quiet.
45+6 min I'd love to know how many touches Keira Walsh has had in this half. It feels like she hasn't been involved at all. I know I keep going about it but that is a real problem for England. They may need to think about playing with two No6s if it continues.
45+5 min This is Haiti's best spell of the game. Dumornay surges into space down the right – England thought she fouled Greenwood – before looking up and lofting a cross towards Borgella near the penalty spot. She heads over under pressure from Bronze.
That's Borgella's third sniff of goal tonight, through only the first one was a clear chance.
45+3 min "It's a full house here in Manchester, venues have opened up early for fans and are doing a roaring trade in sneaky pints and full English breakfasts," writes Tor Turner. "I've never seen so many people drinking lager at 10am (this is a lie, I regularly attend the cricket).
"We are SHAKY at the back. Plenty of firepower up front, but our back line seems very disorganised. Our backstop is Mary Earps, who I consider to be a goalkeeper without compare (esp as a United fan), but there's only so much she can do if the back line crumbles. Fingers crossed we sort ourselves out in short order."
Yes, they've been very jittery in defence. We shouldn't forget that it's Millie Bright's first game since March. Even so, England are mmissing Leah Williamson's influence as much as her ability.