Yalla Shoot News
Yalla Shoot :England 7-0 North Macedonia: Hat-trick hero Bukayo Saka on 'special night'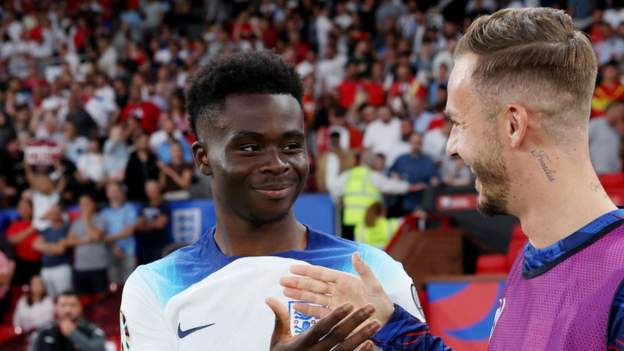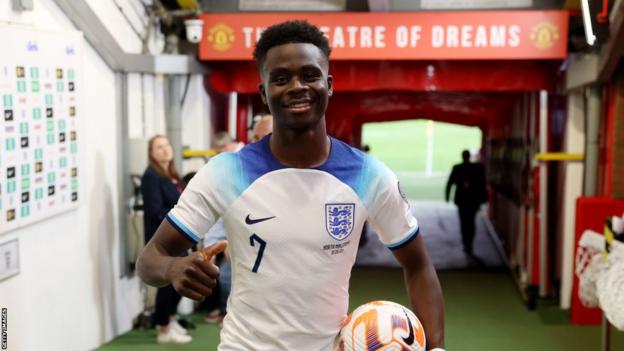 It was a night Bukayo Saka will never forget.
The 21-year-old Arsenal winger scored his first career hat-trick on Monday evening as England continued their perfect start to Euro 2024 qualifying with a 7-0 rout of North Macedonia.
Saka gave the Three Lions a 2-0 lead in the first half before netting twice in four second-half minutes – including a magnificent long-range second – to complete his treble, earning him a standing ovation from the adoring home crowd inside Old Trafford.
"I will probably frame the match ball but I'll probably hold it in my arms for a few days first," Saka told BBC Radio 5 Live after a stellar display which manager Gareth Southgate says will "live with Saka forever".
Speaking to Channel 4, former Chelsea and England midfielder Joe Cole described Saka as the "face of English football's future", with ex-Three Lions captain Steven Gerrard adding: "The scary thing is he's only going to get better."
'A really special display'
"It's a special night, a big win and [to score] a first hat-trick is really special," continued Saka, who had registered eight goals in 27 England appearances before Monday night's game.
"I don't remember the last time I scored three, even at junior levels. It's a decent scoring record but there is always room for improvement."
Saka's second of the match – a magnificent left-footed drive into the top corner – came from a sensational pass by Trent Alexander-Arnold, who kept his place in midfield after impressing in that role in Friday's 4-0 win in Malta.
"He's a top player," Saka said of the Liverpool man. "At half-time he said to me he was going to do that pass. When I scored I was looking for him to thank him. I didn't have to break my stride."
Saka, who was one of three players to receive racist abuse after missing a penalty in England's shootout defeat to Italy in the final of Euro 2020, was full of praise for the rest of his colleagues, too.
"Tonight was a really special display. We went out with me and Rashy [Marcus Rashford] down the wings. Sharp, direct. They couldn't handle us.
"It's been a really long season. I couldn't have ended it in a better way. Now it's time to relax and have a break."
'All the credit lies with Saka'
The 7-0 win caps a perfect international break for Southgate, who had admitted he was "conflicted" over whether to carry on with the England manager role in the wake of the Three Lions' World Cup quarter-final defeat by France last December.
"I thought there was a fabulous atmosphere in the stadium before the game and that gave everybody a huge lift. It was a brilliant night to play football," the England boss said.
"What pleased me the most was that every time we lost the ball the hunger to win it back really set the tone for the performance. Then the quality of the play was good and the finishing was ruthless.
"It's a group of players and staff that's a privilege to lead and our performances since the World Cup have been impeccable."
Southgate added that Saka had been dealing with an Achilles problem.
"I'm delighted for him," he said. "He's had it for a few weeks and it's an injury that just needs managing, but it would have been easy not to appear.
"I think when you then have probably one of the best nights of your life, it's a reminder to everybody that it's worth going through those things.
"He works incredibly hard. He's talented, he's humble, he's hugely popular with all of the players and all of the staff – and I have to say his finishing has been like that all week.
"All the credit lies with him."