Yalla Shoot News
Yalla Shoot :Endo can be a success at Liverpool – and a better buy than Caicedo | Liverpool
Some have suggested it was a panic buy. Sky Sports said that you had to feel for Liverpool's fans and one UK newspaper talked of "an initial sense of shock mixed with hints of ridicule and even despair". It reflects a fairly underwhelming response to Wataru Endo arriving at Anfield. After missing out on Moisés Caicedo the move may have lacked a certain glamour and excitement especially when it involved a 30 year-old player but it also does not help that he is Asian and from a part of the football world still underrated. If Endo had been Argentinian, German or French it is likely there would have been far more fanfare.
Yet the versatile defensive midfielder is a top-class player, one of the best in the Bundesliga with Stuttgart. In the last two seasons in Germany he won more aerial duels than any other player in his position, had more clearances, more headed clearances and ranked highest for possession won. If that wasn't impressive enough he was second in terms of touches, tackles and passes. It should also be mentioned that being the captain of a club in one of the big five European leagues – no mean feat for an Asian player given the huge cultural differences they encounter on and off the pitch – shows a certain level of professionalism, leadership and determination.
No wonder that his exit to England, while understood, is lamented. "From the club's point of view, we speak of an economically good package," said the Stuttgart coach, Sebastian Hoeness. "From a sporting point of view, of course, I'm not thrilled. Wataru is an important player both athletically and personally. He's our captain. He has played in 99 of 102 possible Bundesliga games. He was always there in important moments."
Endo has been a standout in Germany despite playing for one of the smaller clubs. He is also the captain of Asia's best national team and a side capable of beating anyone on their day. Japan reached the knockout stages of three of the last four World Cups and in every second round appearance should have gone further. The Samurai Blue defeated Germany and Spain in Qatar and are still kicking themselves for not seeing off Croatia to book a quarter-final clash with Brazil.
Despite the efforts and talents of Son Heung-min at Tottenham and Kaoru Mitoma at Brighton, Asian football still does not always get the respect it deserves. Son is often described as the most underrated player in the world, a double-edged compliment. The continent is still not seen as a place where top-quality players come from and Japan are still not universally seen as what they are – a genuinely strong football nation.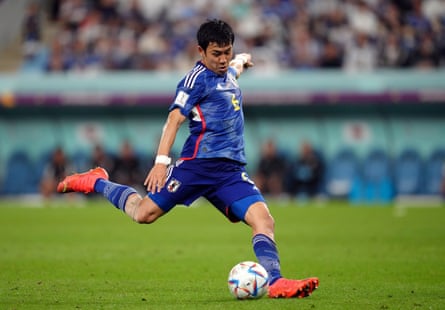 In some ways, the underwhelmed reaction is progress of sorts from the past when every Asian arrival was greeted by wild talk of shirt sales and armies of new fans. That was how Park Ji-sung's signing for Manchester United in 2005 was seen. Park did work wonders commercially but that was due to his exploits on the pitch. Yet during his seven years at Old Trafford, he was often reduced to the Asian stereotype: a hard-working team player and a coach's dream. He was those things but "Three-Lung Park" was also a technically gifted, skilful and quick attacking talent.
Son is more recognised for his skills but there are plenty of articles that make his humility, a supposedly strict upbringing and his demanding father major themes in a way that rarely happens with players from other parts of the world, as if none of these had parents who made huge sacrifices in terms of time and money in order to help them succeed.
In truth, Asia itself could do better at promoting itself. Even Japanese and Korean clubs look for foreign imports, often Brazilian, to score goals, on the assumption that they are more exciting, creative and devastating in front of goal than homegrown players. K-League and especially J-League teams have traditionally gone out of their way to help their best players move to Europe and settling for, at times, very low fees which undervalues seriously talented stars on the international stage from the get-go. And, perhaps worst of all, few Asian fans, media or broadcasters pay much attention to what goes on elsewhere in their own continent so if they don't show much respect to their own region, it should not be a surprise if others don't either.
Endo has an excellent grounding at European level and could turn out to be a real bargain and, yes, a much better buy than Caicedo. He may not be a household name in England but then, until recently, the 21-year-old Ecuadorian wasn't either. It was through Premier League performances that his reputation grew. That will be the target for Endo now.