Yalla Shoot News
Yalla Shoot :Dutch football may turn to 'English model' in push to tackle hooliganism | Eredivisie
The Dutch football season finished this month with a narrow victory for Twente against Sparta Rotterdam. It was a notable encounter for two reasons: first, because thanks to the Eredivisie's playoff system, it meant Twente qualified for European football next season; and it also passed without incident, provided a reassuring end to what had been a troubling year.
Six weeks earlier at the league fixture between Twente and Rotterdam, supporters had hurled objects at players from the stands. Both clubs have had matches called off because of hooliganism in the past year, as have Utrecht, Go Ahead Eagles and RKC Waalwijk.
Among multiple other incidents, there was a barrage of smoke bombs at Ajax v Groningen, the arrest of 150 Ajax and AZ Alkmaar fans for antisemitic chanting and a notorious incident in April when Ajax's Davy Klaassen was assaulted by a Feyenoord supporter.
The Dutch justice minister, Dilan Yesilgöz-Zegerius, described the attack on Klaassen as an "all-time low point" for the sport in her country. But it was, of course, followed by the attempted attack on the friends and family of West Ham players by Alkmaar fans after the Europa Conference League semi-final second leg in May, a traumatic incident that could have ended in tragedy and earned international attention.
The Dutch football association, the KNVB, notes that the Netherlands is not the only country facing problems with hooliganism. A series of sanctions were imposed this week by Uefa against Roma, Basel, Bayer Leverkusen, Fiorentina and West Ham, in the latter's case for the throwing of objects at Fiorentina's players during the Conference League final. But the levels of disorder in the Netherlands have been so unsettling that they have sparked a national debate.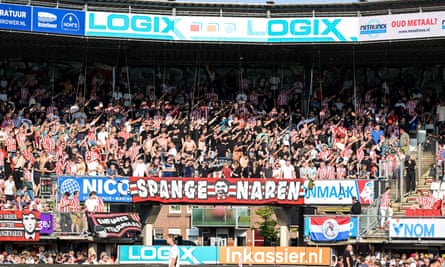 "During Covid, when clubs weren't able to take in fans, a lot of older ultras said: 'I'm just going to watch these matches on telly and I won't go to the stadium any more'," says Jan Brouwer of the University of Groningen, one of the Netherlands' leading authorities on public order.
"So after Covid a lot of youngsters presented themselves within these supporters clubs, and they became quite dominant. The young people were also looking to acquire status among their peers. There was a kind of anarchy in these groups."
Dutch football did not see an end to Covid restrictions until February 2022, more than half a season after English crowds had been allowed a full return. According to Matthijs Keuning of the national fan group Supporterscollectief Nederland, that extended period of time brought about more than just a change in the make up of ultras.
"After almost two years of no football, it was a kind of a new start not just for young people but for the police and for football clubs," he says. "There were a lot of people who worked with the police or at clubs who went away during Covid times or they had other priorities. So the police also didn't have a good view of the groups any more.
"Also maybe you saw in society as a whole more anti-government sentiment, a bit more against authority. There was more polarisation and people maybe more have their own truth, so that there's a bigger chance that you are in a certain bubble with people who only think like you. It was highlighted in society so you see it in football as well."
It took until this April for authorities to act, the Klaassen incident the turning point. The prime minister, Mark Rutte, described the continuing violence as "intolerable". The KNVB announced new measures to curb missile throwing and pitch invasions, essentially ruling that games should be either paused or brought to an end by the referee depending on the severity of the incident.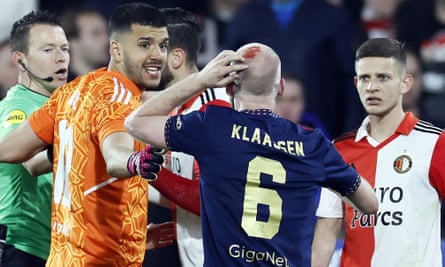 Disturbances continued, however, with the Twente-Sparta match one fixture that played on despite the rule changes. According to Brouwer, meanwhile, young ultras were simply not aware of the possible punishments – including prison – that could follow disorder at matches. "I've talked to a lot of people who have misbehaved in the post-Covid era and they all told me: 'If I had known what severe sanctions would have been issued I would have behaved quite differently'," he says.
A lack of effective communication has also been paired with broad-brush punishments for all supporters, according to Keuning. "The bad thing about the Dutch approach is that it's quite incident-driven and we have a lot of punishments for everybody," he says, with restrictions on away fans the most common.
"We have a lot of 'bubble games', where you could only travel by car, for example, or even only by bus to and from your own stadium. We just got the numbers in from last season and 90% of games in the Eredivisie had some form of restrictions."
The hope and expectation is that a decline in post-Covid tensions and clarity over sanctions will see a return to pre-pandemic behaviour, which the KNVB describes as "well under control" (an opinion shared by Keuning). Until then, however, there may yet be more politicking and a particular fascination with what is known as the "English model", a perception that disorder is dealt with more commonly by criminal law.
Brouwer says he turned down a request to write an official report on the English model, partly because the report had a four-week deadline, but also because the Dutch already have all the legal powers necessary to act like the English.
"Our system is far more severe than the English system," he says. "But still the politicians react with 'we need the British model'. I think it's a phrase that means something to people when they say it or hear it, but they don't have the knowledge; neither of the English system, nor the Dutch system."
A group comprising Dutch politicians and representatives of the football authorities is expected to visit the UK this summer, to better understand the details of the English model. When asked about the trip, the KNVB said: "We visit or host several FAs every year for exchanging knowledge on different subjects."