Yalla Shoot News
Yalla Shoot :Darren Moore: Sheffield Wednesday boss leaves by mutual consent after two years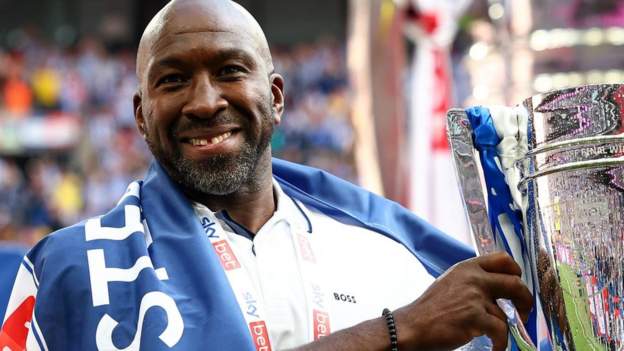 Sheffield Wednesday manager Darren Moore has left the club less than a month after guiding them to promotion to the Championship.
In addition, Moore's backroom staff have also left Hillsborough.
"Both parties believe that now is the right time we go our separate ways," chairman Dejphon Chansiri said.
"The journey of Sheffield Wednesday with Darren has been in many ways unique and always as a team. In the football industry, journeys come to an end and now is that time, which we both agree.
"The mutual respect we have for each other is immense on a personal and professional basis and I offer my sincere thanks for the dedication and commitment Darren has given to our club."
The Owls reached last season's play-off final despite losing 4-0 to Peterborough in the first leg of their semi-final.
They went on to put together one of the greatest comebacks in the English Football League to win on penalties in the return leg and set up their place at Wembley.
Prior to their victorious return to Hillsborough, no team had ever overcome more than a two-goal deficit.
Following their victory at Wembley, Moore said that their last-minute extra-time win proved that "the impossible can be achieved".
"I would like to take this time to acknowledge the chairman, Mr Chansiri, for giving me the opportunity to manage this great football club in Sheffield Wednesday, it's been a journey in every sense," Moore said after his departure from the club.
"Both the chairman and myself have been determined to get this club back into the Championship. I'm delighted this has been achieved, and I hope the football club continues to develop and will soon fulfil the dream of mine, which was to take them back to the Premier League where they belong."
Analysis – 'His stock has risen enormously'
Former Sheffield Wednesday manager and BBC Radio Sheffield summariser Brian Laws
It has shocked me just as much as anybody else, I have to say.
Darren has done an incredible job over the past 18 months. When you look at last season, they got 96 points and still didn't get promoted.
The task was to get promoted. It's been an incredible journey. The fans will have loved the last week of the season.
His stock for me has risen enormously. He's kept his faith and honesty about himself, he's kept the players' mentality high and they liked him.
All the indicators were they were looking forward to the Championship season and were rebuilding to reach the Premier League.
There's something not quite gone according to plan.
He's got to be congratulated on the job he's done and we've got to wait and see what Dejphon Chansiri will do. Has he got somebody else in place? All these things will clearly happen in the coming days, I would think.
Whoever they appoint has to get cracking.