Yalla Shoot News
Yalla Shoot :Champions League: Istanbul final not 'perfect' for fans – Uefa president Aleksander Ceferin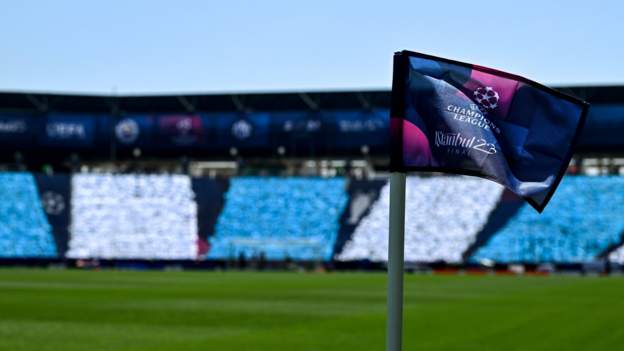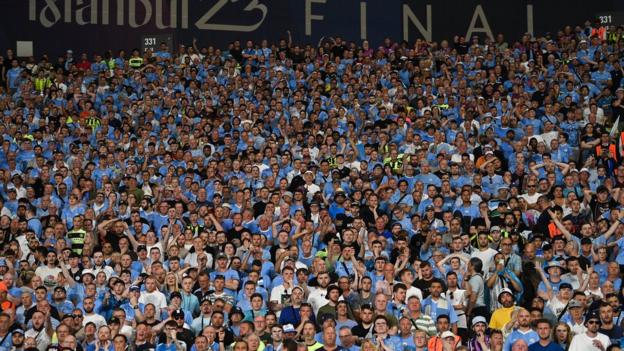 Uefa president Aleksander Ceferin has accepted "not everything was perfect" for fans after criticism about the Champions League final in Istanbul.
There were reports of fans having to walk extended distances along busy roads, queue for hours for transport to and from the stadium and being left without water as Manchester City beat Inter Milan on 10 June.
Uefa previously apologised after Liverpool fans were penned in and teargassed before last year's final in Paris.
European football's governing body had not previously addressed the issues experienced by supporters in Istanbul.
However, at the opening of the four-day European Football Fans Congress in Manchester, Ceferin accepted problems had arisen in Turkey that needed to be addressed.
"Given what some of you experienced recently, I would understand if I got a cold reception tonight," he said.
"We are well aware that in Istanbul not everything was perfect. I am certainly not playing down the problems encountered by some.
"But let us continue working together to improve what can we improve.
"I'm thinking in particular transport links to and from stadium, the hosting of the stadium supporters and access to water and toilets for everyone."
Football Supporters Europe is collecting fan accounts from Istanbul to present a report to Uefa.
Ceferin said Uefa's other major finals in the men's and women's games had passed without significant issues.
The showpieces in 2024 – when Wembley will host the Champions League final and Germany the European Championships – will be a "unique experience" for fans, he added.
Ceferin apologises for Paris failings
Ceferin used his opening address at the National Football Museum to praise fans for protesting against the proposed European Super League in 2022, saying: "You were the captain and led the team in the match of our lives."
However, memories of the chaotic scenes in Paris remain fresh in the mind, as do the initial attempts by Uefa and French authorities to blame supporters for events outside the Stade de France.
Uefa's own review concluded European football's governing body bore "primary responsibility" and it was "remarkable" it had not led to loss of life.
The review added that attempting to blame ticketless fans was "reprehensible".
"I have come here to say sorry," Ceferin said. "We would love to erase events that happened last year from our memories.
"Last year everyone welcomed our decision to move the final from St Petersburg to Paris and in the end we all know what happened.
"Good intentions are many times not enough. We know that and we are sorry for that."
'We must rid ourselves of idiots'
Earlier this week, West Ham were stopped from selling tickets to fans for their first Europa League group game next season due to the behaviour of fans at the Europa Conference League final in Prague.
Premier League referee Anthony Taylor was also verbally harassed at an airport in Budapest last month following the Europa League final, leading Ceferin to address fan behaviour.
"We must shout, call out and rid ourselves of these idiots, who discredit both football and the fans," he said.
"Let's rid ourselves of those who pour out the hate towards football officials, the referees, Uefa staff, federations and leagues.
"They are fans like you. They love football like you and they have families like you. And they make mistakes like you and me.
"I will never accept the kind of threats and intimidation and violence that some people are subjected to as we saw just recently."