Yalla Shoot News
Yalla Shoot :Carlos Carvalhal interview: Survival with Celta Vigo, his coaching epiphany, and talk of Sheffield Wednesday return | Football News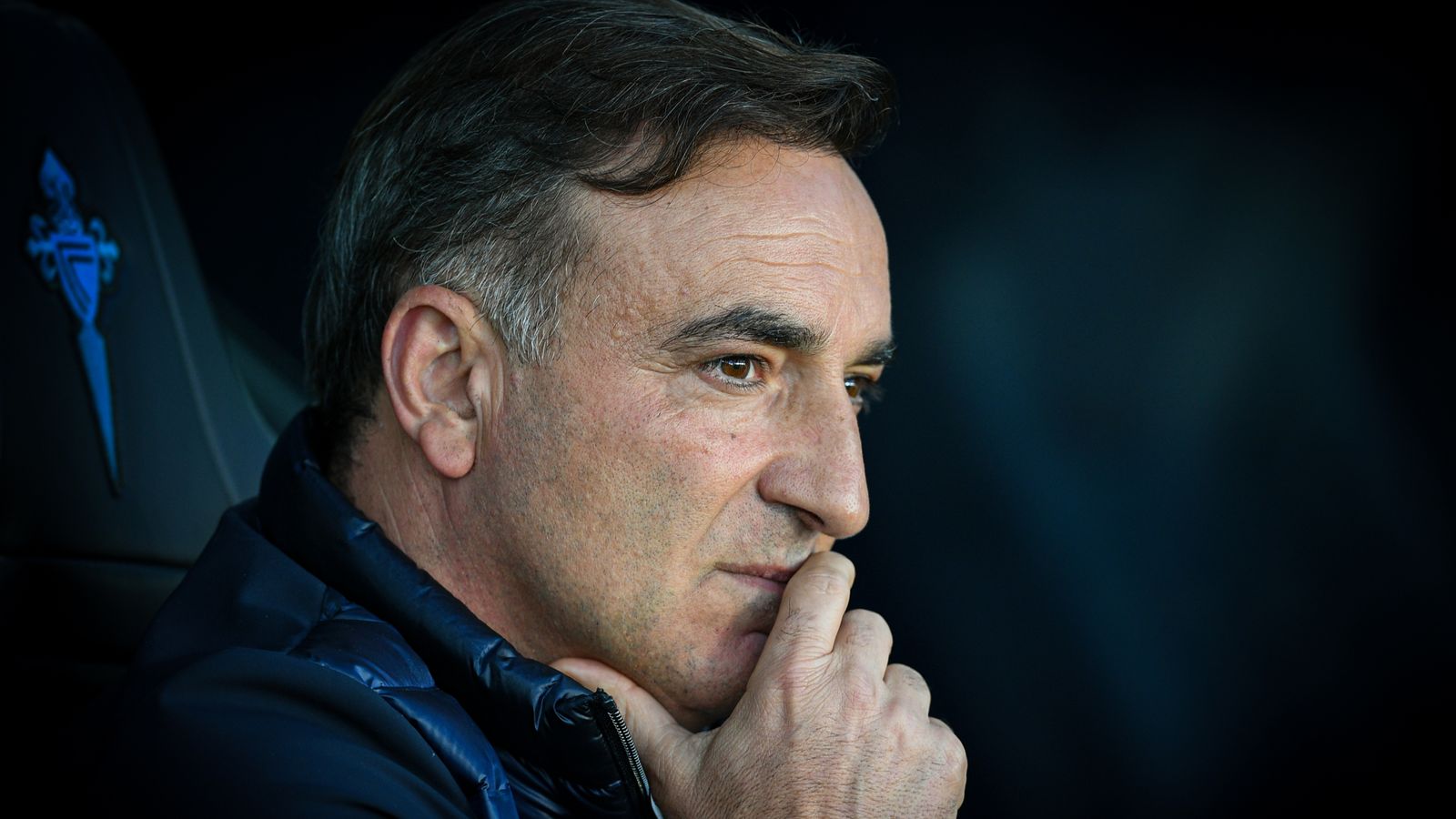 When Sheffield Wednesday won promotion back to the Championship, they had a vocal supporter in Iberia. "I celebrated with my family," Carlos Carvalhal tells Sky Sports. "But I wanted to be at Wembley. I still love Sheffield Wednesday."
Their old boss has been on a wild ride since leaving the Owls, working in the Premier League with Swansea before transforming himself as a coach with success at Rio Ave, silverware with Braga and survival with Celta Vigo by beating Barcelona on the final day.
For all his success at the highest level in recent years, Carvalhal has a secret he is willing to share. The man who once dropped down to Portugal's third division and took Leixoes all the way to the cup final is still swayed by sentiment. "I am a romantic," he says.
Sheffield Wednesday owner Dejphon Chansiri on his decision to sack Darren Moore

"I want to tell you about that. I have had a lot of friendly messages from Sheffield Wednesday fans and someone asked if I had received an invitation to go back to Sheffield Wednesday this season. I have had no contact but there is something I will tell you.
"I was ready if Sheffield Wednesday did not go up to go back there and try to win promotion back to the Championship. I would have made myself a candidate for that job. I do not care about the money. If the club had needed me, I would have been there."
Carvalhal will not need to look elsewhere in League One. His reputation has rocketed since his time in England. It is not just those three cup finals with Braga or the turnaround that he oversaw at Celta this past season, it is the manner in which it has been achieved.
He should be an inspiration for other coaches who are at a crossroads in their career. After departing Swansea, he spent a year out of the game, studying and reassessing. The conclusions were clear. "We were blind. We were only focused on our way."
Carvalhal insists that he and his staff "did not want to copy anybody" but a more open approach to learning helped him to find another way. A more ambitious approach at Rio Ave was rewarded with a fifth-place finish. The trajectory of his career changed.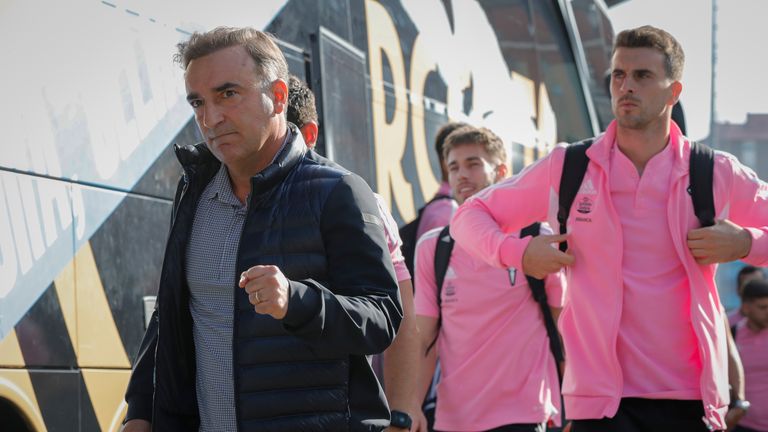 "The teams making the difference in football are the teams with coaches who are creative and prepared to be different. We tried to create something. Our goalkeeper at Rio Ave ran seven kilometres a game because we wanted him to connect with the defence.
"Probably 60 to 70 per cent of the time, the goalkeeper is there in the defensive line because it is important to create that numerical superiority. Now, we have started to use one of our centre-backs to attack the opposition on the right side.
"This is because we noticed that teams had become so compact and hard to beat. Where is the space now? The players with the space to play are the centre-backs and the goalkeeper. The evolution of the game is changing the characteristics of those players.
"They must be able to bring more to the game now because that is the space. The goalkeeper must be able to join the defensive line. The defenders must be good defenders but they must also know how to play, how to change the direction of the attack.
"It is all about this dynamic. If the opponent gives you the spaces, you must exploit the space. If they do not give you the space, you must create the space. It is always going to be the players who are free who must go forward to the opponent and open those spaces.
"It sounds easy but the rotations we are talking about cannot mean chaos because chaos means disorganisation and then you concede goals. This movement is important but players need to scan all the time to see where each other are. This is the evolution of football.
"It is about clever players. If a player is not clever but has good individual skills, maybe he can play on the wing but not in the middle of the pitch. A player who does not understand the game at centre-back, midfield or No 10? It is not possible in our team."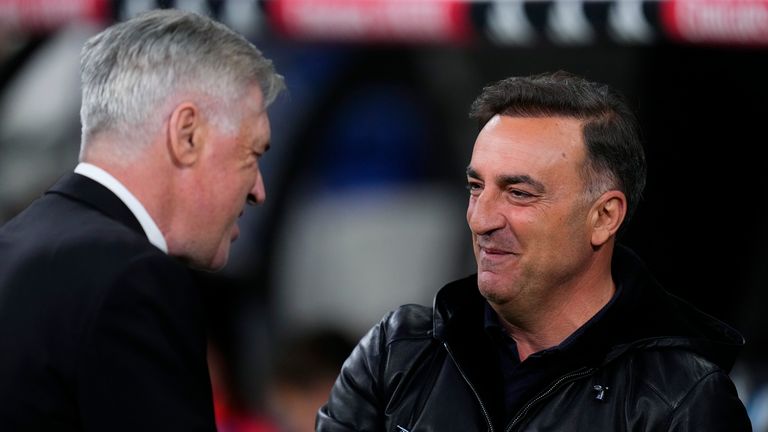 This philosophy was successful enough to engineer a sharp turnaround in fortunes at Celta. "When we arrived in November, we were in a very bad situation." Only bottom club Elche had conceded more goals. Set pieces were proving a particular problem.
"The first step was to organise the team defensively. The team had usually been pressing very high so we waited a little more for the opponent, defending compact, not opening spaces between the lines, making sure the team moved as one. We started to improve."
After the World Cup, there was more time to work on the offensive side of the game and Celta went on a run – picking up the third most points of any team in La Liga between Christmas and the start of April. "The team started flying."
Injuries brought a dip and so congested was the table that a result was needed against champions Barcelona to guarantee survival on the final day. Incredibly, on a crazy night at Balaidos, two goals from Gabri Veiga secured a 2-1 win to finish 13th in the table.
"It was unbelievable. Epic. Very special. The bus to arrive to the stadium took a lot of time because the streets were full and the fans were screaming. It was fantastic. There was a lot of pain in those final minutes but after the pain came the celebrations."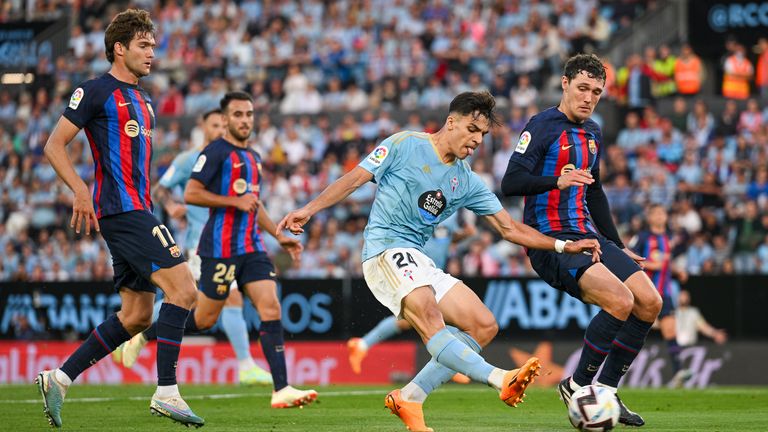 Perhaps surprisingly, Carvalhal walked away after the excitement. "We shook hands and finished on friendly terms. We achieved what the club wanted and there is an open door in the future. It was a pleasure to be at Celta but we have different ideas."
His plan is for another break, not as long, perhaps, as his previous sabbatical upon leaving Swansea but hopefully just as fruitful. "I spoke with my staff and we agreed it was a good idea to have a break of a few months, like we did five years ago."
He already has his eyes open this time.
"There are teams, of course. Manchester City play differently. Brighton play a little differently. In LaLiga, Girona do different things. Fluminense in Brazil played with a kind of chaos under Fernando Diniz. That is very interesting to see. We look. We like.
"But we will do things our own way. I will continue to look to the Premier League because I think we have unfinished business in England. And the Championship is the hardest league in the world. We will be calm. And we will choose the right project."