Yalla Shoot News
Yalla Shoot :Bournemouth's ruthless O'Neil sacking is a gamble history shows could work | Bournemouth
On Monday afternoon it was difficult not to flash back to the surprising chain of events on the other side of the New Forest on 18 January 2013. A decade on from Southampton replacing Nigel Adkins with Mauricio Pochettino, when the club dumped the double-edged news in an ice-cold statement, Bournemouth informed Gary O'Neil he was no longer their manager and promptly – well, just two and a half hours later – named Andoni Iraola as his successor.
Southampton were lampooned for dismissing Adkins, accused of disrespecting a manager who had taken the club off the canvas in League One and to the bright lights of the Premier League, via successive promotions, and of, frankly, making a ludicrous decision. O'Neil's journey at Bournemouth, whom he joined as a first-team coach under Jonathan Woodgate in February 2021, was a more rocky reign but the job he did to avoid relegation with a degree of comfort this season rightly put him in the conversation for manager of the season.
Only that seemingly absurd decision to part with Adkins, a man who would often describe the room for improvement as the biggest in his house, and appoint Pochettino, a suave Argentinian, did not turn out too bad. He steered Saints to safety in style, from the moment he secured his first win against the then champions Manchester City, and led the club to eighth in his only full season, paving the way for a move to Tottenham. The grand stages of Paris Saint-Germain and Chelsea have since come calling.
It was Ralph Hasenhüttl, who would later sit in Pochettino's old seat in the St Mary's dugout, who said if a club wanted a guarantee then they should buy a washing machine. That line of thinking applies here, as Bournemouth attempt to effectively upgrade a reliable, steady saloon for a swish, all-singing all-dancing coupe. Brighton took a similar step when replacing Chris Hughton with Graham Potter. The grass is not always greener but there are examples where a club has reaped the rewards for making, in crude terms, a ballsy decision.
Iraola has always maintained he does not mind chaos. He may have to put up with a bit of a circus initially. These kinds of decisions usually irk people. Many are allergic to change. There was great consternation around Adkins's dismissal at Southampton and when Pochettino walked in with a translator by his side, some, weirdly, saw red. But Pochettino, with a large dollop of charisma, slowly mastered English and, better still, he got results and could develop players. Luke Shaw is perhaps the best example. Adam Lallana, Nathaniel Clyne, Morgan Schneiderlin and Victor Wanyama went to new heights.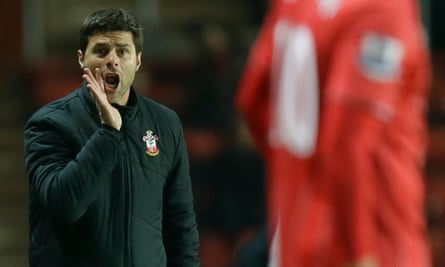 When Potter was headhunted by Chelsea last September it would have been difficult to entertain the idea that his successor, Roberto De Zerbi would help Brighton kick on again. Losing Potter was painted as a significant blow, but it has proved a blessing in disguise of sorts. Brighton did not regress but progressed and De Zerbi made light of any supposed ceiling to lead them into Europe for the first time in their 122-year history. O'Neil also won admirers last season, far beyond the Dorset coastline, and suddenly a young coach with a fine reputation is a free agent.
Iraola, who left Rayo Vallecano this month after turning down a new contract, represents a brave but exciting appointment and is the club's first foreign manager. It is not as kneejerk or sudden a decision as it may look from the outside. Iraola was on Bournemouth's shortlist last autumn, when they appointed O'Neil permanently, as was Marcelo Bielsa, a revered coach Iraola considers an inspiration and visionary after playing under him for two years as a right-back at Athletic Bilbao. Bournemouth also tracked De Zerbi from his days at Sassuolo, but Brighton would beat them to the punch.
Interestingly, Bournemouth's fanbase were never enamoured of O'Neil, who initially took caretaker charge after Scott Parker labelled the squad ill-equipped for the Premier League after a 9-0 drubbing at Anfield. O'Neil galvanised the group, with the help of his assistants, the popular former Bournemouth defenders Shaun Cooper and Tommy Elphick, who are set to stay. Although O'Neil did not play liquid football, he made a mockery of Parker's comments, with a little help from £60m-worth of new faces in January. Bournemouth are planning a busy summer in the transfer market.
Bournemouth are due to return to training on 1 July and their Premier League campaign begins at home to West Ham in less than two months, when Iraola will be expected to hit the ground running. He arrives a highly rated coach but will instantly be under the microscope through no fault of his own.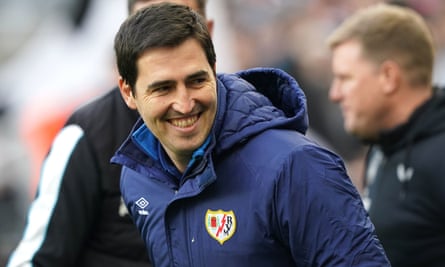 Always advance, never retreat is the mantra of Bill Foley – the Bournemouth chairman who also owns the Vegas Golden Knights ice hockey team – and in ruthlessly removing O'Neil and appointing Iraola he believes he has taken a significant stride. Foley is fiercely ambitious. Upon taking over last year he acknowledged he would upset his rivals and soon after confidently declared Bournemouth would not be relegated. He would be proved correct, largely thanks to O'Neil.