Yalla Shoot News
Yalla Shoot :Bournemouth v Tottenham: Premier League – live | Premier League
Key events
39 min "I must respectfully disagree with Jeremy," says Joe Pearson. "Richarlison's demeanour, his anger, seems to be the defining and indeed empowering aspect of his game. He plays with such fire! If Postecoglou can get that channeled into performance, Richarlison could become a great asset for Spurs."
'Could' is the operative word here. Richarlison, in the parlance of our time, has a high ceiling and a low floor.
37 min The ball hit Kelly's hand as he slid towards Richarlison, but he was falling so it's not a penalty.
36 min: Chance for Spurs! Semenyo is challenged on the edge of the area – Bournemouth thought it was a foul – and Spurs break thrillingly. Maddison beats his man in midfield and slides a killer ball through to Richarlison. He could shoot first time but instead cuts back inside the sliding Kelly. That takes him too close to Neto, so he tries to go round him as well. In the end it all gets too tight and Rothwell makes a desperate clearance.
35 min The free-kick is swung to the far post, where Billing heads straight at Vicario. He had to fight just to get to the ball, so it wasn't much of a chance.
34 min Udogie gives away a silly free-kick on the right wing, pushing Aarons over when he was going nowhere.
33 min Spurs are playing through the Bournemouth press with increasing confidence. They've been very impressive so far.
31 min Sarr is receiving treatment, though it's nothing major. While u wait, here's that lovely goal from James Maddison.
30 min "Yeah," writes the Mac Millings, "you all think you're old, watching the sons of former players, but just wait till you're a teacher teaching the kid of one of your former students…"
29 min That's nice play from Bournemouth. Semenyo, found on the right side of the area, twists back inside a defender and whacks a shot that hits Sarr (I think) and spins away from a throw-in.
28 min Can anyone explain why Yves Bissouma was so mediocre last season? He was fantastic at Brighton and he has started this season brilliantly. He'd certainly cost a lot more than £30m now.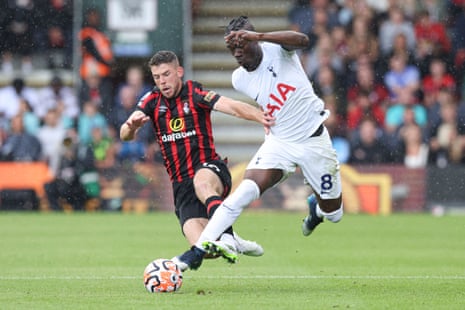 27 min "Mary is, of course, correct," says Matt Dony. "She is far wiser than me. I will even overlook the fact that her loyalties lie the wrong side of Stanley Park. And on topic, sometimes you just take to footballers. I have no connection to him as a person, to Leicester, or to Spurs, but I really, really like James Maddison. I hope he has a great season. It was a shame to see him struggle so much last year."
Couldn't agree more. His interviews are great, he never hides, he's a darts fan and, best of all, he pretty much always looks like he's having fun. I bet he'd be great company over a pint, or even an oat flat white.
26 min Maddison's corner is headed away to Son on the edge of the area. He flicks the ball up with his left foot and hits a dipping volley that goes a few yards wide of the far post.
25 min Kulusevski runs onto Richarlison's flick-on and dances elegantly into the area to win a corner. Maddison comes across to take it.
24 min Spurs are playing very well here, dominating midfield and moving the ball about with a lot of confidence. Bissouma and Sarr look very good in midfield.
24 min "I'm not sure Mary should be so surprised about Richarlison," says Jeremy Boyce. "It's one thing being a big player in a poor team (sorry Mary, Everton have been poor for a while now) but another thing altogether achieving 'bigness' in a big team. Yes, Spurs are theoretically a big team, or at least that's how they'd like to see themselves. It's a big challenge filling the space allocated to you by your reputation and the size of your transfer fee. Even more challenging when you have big boots to fill/replace. He needs to step up, or step out and let someone else have a go. I don't think he helps himself with his surly expressions and attitude, he needs to channel his inner Pele, who rose to greatness through his joy of playing the beautiful game."
Brazil are quite a big team, no? That said, I know what you mean. But I do think he needs a run at centre-forward before we judge whether he's a good fit for Spurs.
23 min Another chance for Spurs! Maddison releases Son on the left. He moves into the area and lays the ball back to Sarr, who shoots tamely towards goal from 12 yards. Neto falls to his left to make a comfortable save.
22 min "Yes, it is awful for us middle-aged football fans when we see that there are now sons of our idols playing football at the highest level," says Bogdan Kotarlic. "But the most striking thing as far as these players are concerned is when I saw that Ian Wright`s grandson plays senior football. I am 51 and when I read that it made me feel even older."
How do you think Maria Branyas Morera feels?
20 min James Maddison is such a likeable footballer, and he already looks so comfortable playing as Spurs' chief creator.
19 min Bournemouth almost respond straight away, with Semenyo miskicking an attempted volley. I think it came to him at an awkward height.
Spurs have been playing some lovely stuff, and now they are ahead. After a patient build-up on the right, Bissouma quickened things up with a sudden swerve around Christie. He fed the ball infield to Sarr, who angled a beautiful through ball into the area. Maddison timed his run perfectly and sidefooted the ball past Neto on the run. Lovely goal.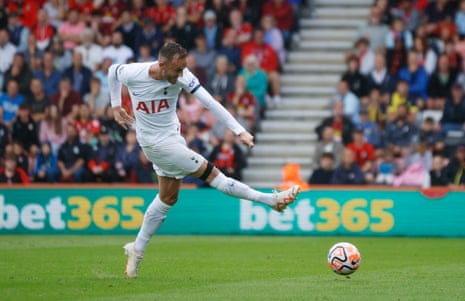 GOAL! Bournemouth 0-1 Spurs (Maddison 17)
Spurs take the lead with a fine goal from James Maddison!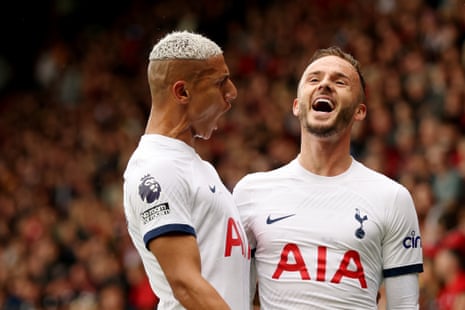 16 min: Chance for Spurs! Neto's risky pass hits Maddison and deflects to Son. He hurries it back into the area for Maddison, whose low shot is well saved by Neto. The ball rebounds to Richarlison, whose looping header is comfortably saved. Maddison's was the big chance.
14 min "Dear Matt, you are in the denial phase of the ageing process," writes Mary Waltz. "The sooner you can reach the acceptance phase the better. No one can stop the slow march to creaky, old-person status, If you fight it you will wear down. There is humour to be found in it and since there is no stopping it surrender will allow you to make the best of it. Even Pete Townsend eventually rejected his 'hope I die before I get old' attitude."
13 min Kluivert's flat, driven corner is headed away at the near post.
13 min Kluivert plays in the overlapping Kerkez, whose cross deflects behind for a Bournemouth corner. Kluivert will take it…
11 min Romero lands awkwardly after winning a header, and there's a break in play while he receives treatment. He's fine.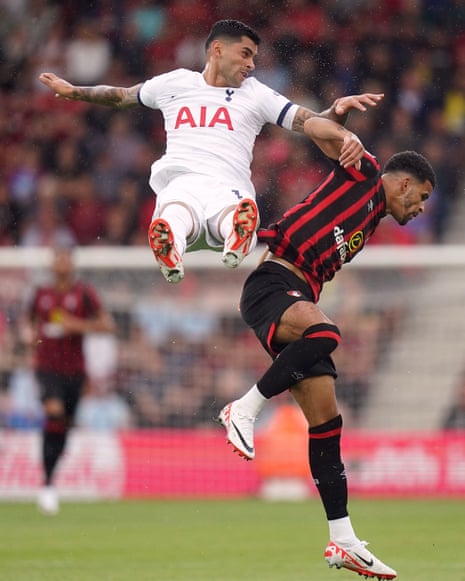 11 min Udogie surges thrillingly into the area and drives a cross that is put behind by Billing. The corner is cleared at the near post.
10 min Maddison is starting to get on the ball. His mishit shot hits Aarons on the bicep, though there are no big appeals for a penalty. I think his arm was by his side anyway.
7 min Spurs play through the Bournemouth press for the first time. Maddison finds space and waves an outside-of-the-boot pass towards Richarlison that is cut out by Zabarnyi (I think).
5 min Spurs again try to play out from the back. Bournemouth swarm all over them, but then Semenyo fouls Udogie to give Spurs a bit of respite.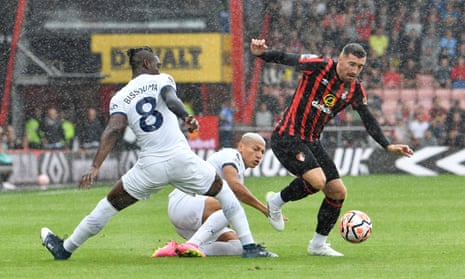 4 min "No," says Matt Dony. "Nope. No. Footballers who I enjoyed watching can not have children old enough to play professional football. Because that would mean I'm not young and vital. Justin is clearly Patrick's (slightly) younger brother. Maybe a cousin. Haaland, Thuram, Maldini et al, it's like all these guys exist purely to make me feel old. And they are succeeding."
3 min Son plays a nice one-two with Maddison on the edge of the area. He skips past the last defender, but his touch takes him too wide and the attack peters out. It's been a lively start from both teams.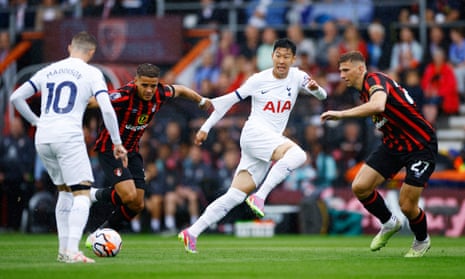 2 min Christie's corner is headed away at the near post.
2 min Bournemouth press Spurs very effectively to win an early corner.
1 min Peep peep! Bournemouth kick off from right to left as we watch.
A reminder of the teams
Bournemouth (possible 4-2-3-1) Neto; Aarons, Zabarnyi, Kelly, Kerkez; Christie, Rothwell; Semenyo, Billing, Kluivert; Solanke.
Substitutes: Radu, Mepham, Hill, Senesi, Cook, Brooks, Traore, Moore, Anthony.
Tottenham Hotspur (possible 4-1-4-1) Vicario; Porro, Romero, Van de Ven, Udogie; Bissouma; Kulusevski, Sarr, Maddison, Son; Richarlison.
Substitutes: Forster, Sanchez, Emerson Royal, Davies, Skipp, Hojbjerg, Perisic, Lo Celso, Solomon.
Referee Tim Robinson
Ready? Then let's get cracking. It's still hosing down at the Vitality Stadium.
"Scott, I am still surprised that Richarlison has not shown his Brazil/Everton form with Spurs," writes Mary Waltz. "He saved my Toffees from relegation and his determination to do anything to help his team win made him my favourite."
Last season was tricky for a few different reasons, but this is his big chance. Unless they sign Brennan Johnson, in which case he might go back to being a spare part.
"Morning Rob," writes Gerry Scott. "I miss Ange at Celtic and am more invested than I expected in the prospect of him succeeding at Spurs. It's not just the style of football and the trophies he won but the sense that he gets not just that football is important to people but the ways in which it is important. He requires players to try from the first minute to the last and clearly won't accept anything less but he didn't hesitate to withdraw Romero when there was a possibility of concussion. He's also a compelling speaker on the subject of football and if the BBC or ITV don't have an eye to booking him for the next World Cup they are missing a trick."
Everything about him is refreshing. He's the grown-up in the room, isn't he? I suspect we may see a different side of his personality if/when the media turns on him, but that's the same with everyone. He has definitely joined Brendon McCullum, Ben Stokes and Sarina Wiegman on the list of sportspeople I'd really like to work for.
It's a gorgeous day – in Kings Cross, where we are based. In Bournemouth, alas, it is pelting down.
Max Rushden is in love, and here's why.
Tyler Adams chats to TNT Sports
Team news: Kluivert starts
Justin Kluivert makes his full debut for Bournemouth, one of two changes from the defeat at Anfield. Lloyd Kelly also comes in, with Jadon Anthony and Marcos Senesi omitted. The new signing Tyler Adams is unfit, though he should be available after the international break.
James Maddison is fit to start, which means Spurs are unchanged.
Bournemouth (possible 4-2-3-1) Neto; Aarons, Zabarnyi, Kelly, Kerkez; Christie, Rothwell; Semenyo, Billing, Kluivert; Solanke.
Substitutes: Radu, Mepham, Hill, Senesi, Cook, Brooks, Traore, Moore, Anthony.
Tottenham Hotspur (possible 4-1-4-1) Vicario; Porro, Romero, Van de Ven, Udogie; Bissouma; Kulusevski, Sarr, Maddison, Son; Richarlison.
Substitutes: Forster, Sanchez, Emerson Royal, Davies, Skipp, Hojbjerg, Perisic, Lo Celso, Solomon.
Referee Tim Robinson
Hello and welcome to live coverage of Bournemouth v Lads, It Might Not Be Tottenham Anymore at the Vitality Stadium. Spurs have made an exciting start under Ange Postecoglou, drawing at Brentford and beating Manchester United. Their desire to play out from the back, with two inverted full-backs, will get a good test today from the Bournemouth pressing machine.
It's way too early to draw conclusions about either team, though it's fair to say there is legitimate cause for excitement at both clubs. Bournemouth played pretty well in their 1-1 draw with West Ham and caused Liverpool problems last weekend. But Andoni Iraola would like to get his first win sooner rather than later, especially as they have a very tough run of fixtures.
One thing's for sure: with the way these teams play, there's no chance it'll be 0-0. Not a prayer. Nope.
Kick off 12.30pm.