Yalla Shoot News
Yalla Shoot :Bordeaux-Rodez Ligue 2 match abandoned after fan attacks player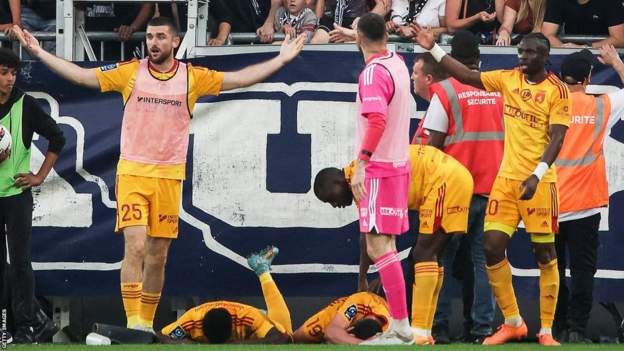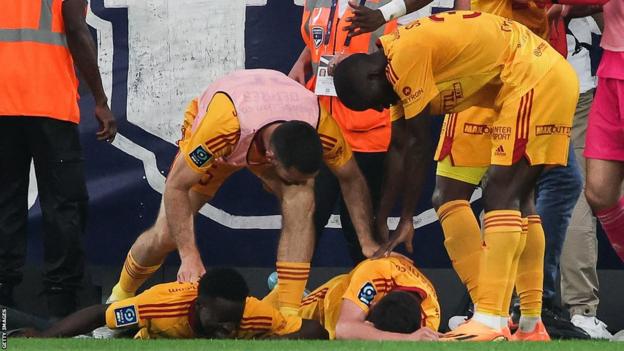 Bordeaux's hopes of promotion from Ligue 2 are in doubt after their final match of the season was abandoned after a Rodez player was attacked by a fan.
Midfielder Lucas Buades was pushed over by a pitch-invader as he celebrated giving Rodez a 22nd-minute lead.
He was taken off on a stretcher and the referee abandoned the game, saying Buades had suffered a concussion.
Bordeaux needed to better Metz's result to win promotion, while Rodez needed a victory as they sought to stay up.
With the final round of Ligue 2 games taking place at the same time on Friday, Metz beat Bastia 3-2 to move into the second promotion spot behind champions Le Havre.
That result means Bordeaux would have to beat Rodez by four goals to go up on goal difference.
However, Rodez were on course for the win that would have seen them stay up because Annecy lost 1-0 at FC Paris.
Referee Nicolas Rainville said: "The elements are conclusive, the player cannot resume because [he is] concussed. We have respected the rules, namely that the match will not resume."
The disciplinary committee of French football's governing body will meet on Monday to decide what action to take.
"I'd like to see this played out in sporting terms on the pitch, it's still football," said Bordeaux president Gerard Lopez.
"We'll be present at the committee meeting on Monday and we'll assert all our rights, as well as appealing if need be."
Rodez chairman Pierre-Olivier Murat said: "Resume or replay the match? I've never seen matches played after the last day."