Yalla Shoot News
Yalla Shoot :'Anything can happen': Ireland plot Women's World Cup upset ahead of Matildas clash | Women's World Cup 2023
On an overcast Monday on the outskirts of Brisbane, Ireland manager Vera Pauw pauses deep in thought – trying to recall the exact dimensions of a football pitch. "It's the same 105 metres by 68 metres, the same size goalposts," says the Dutchwoman, leaning on a fence at the side of Meakin Park's training field.
Pauw's Republic of Ireland side make their Women's World Cup debut on Thursday. As if that moment was not significant enough, Ireland's opponents are co-hosts Australia, in the Matildas' opening match of their first home World Cup. The Irish players will walk out to a record-breaking crowd at Stadium Australia, with most of the 81,500 fans anticipating a home victory.
But Pauw and her players have other ideas. In their last training session in camp at Football Queensland's headquarters, before the team travel to Sydney to begin final preparations, the Irish are plotting what would be an almighty upset.
"We're getting closer and closer," says the experienced manager, who has previously coached the Netherlands, Russia, South Africa and the Houston Dash. "The last dots on the 'i' and then we're ready."
With such a monumental task awaiting, Pauw is trying to keep perspective. Hence the pitch dimensions. "It's not an ordinary game," she admits. "But we have to bring it back to the tasks of the game. At the end, it's the same pitch as what we have back home. Pitches everywhere in the world have the same dimensions – and that is what this actually is.
"But of course I'm not saying this is a normal game. It's not a normal game."
Ireland's warmup was interrupted last Friday, at the same time as Australia were beating France, when a closed-door clash with Colombia was called off over concerns about rough play.
Midfield stalwart Denise O'Sullivan suffered a shin injury in the training match, with initial fears that it could prematurely end the 29-year-old's World Cup campaign. But on Monday there were hints of optimism, with O'Sullivan shedding her moonboot and returning to light training. "We're taking it step by step," Pauw says.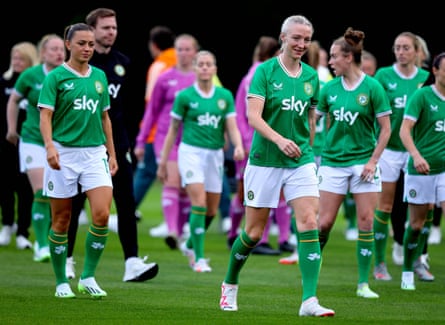 Ireland know that they are underdogs – but will take some confidence from a win over the Matildas in Dublin in September 2021. It was a sloppy performance from Australia in captain Sam Kerr's 100th match, and reflected post-Olympics fatigue and a rotated squad. But the friendly victory shows Ireland it can be done.
"We are definitely embracing the role of being the underdogs," midfielder Marissa Sheva says. "We know that this is a really tough group and having the opening game of the tournament against the hosts is an incredible opportunity. We're ready to give [the Matildas] our best game – we've shown that we are capable of competing with the top teams in the world, and this should be no exception."
Sheva admits that the capacity stadium – what will be the largest crowd most of the players have played before – is weighing on the team and inducing some nerves within camp. But channelling her coach, the Washington Spirit player is trying to stay focused. "It's just another game at the end of the day," she says, before pausing and then adding: "Only with higher stakes and a lot more people watching."
Ireland have closely reviewed the footage of Australia's clash against France, and Sheva says the Irish are mindful of the Matildas' counterattacking talent. But the dynamic on Thursday evening will be different, with the Australians required to break down a compact and defensively minded Irish team.
"We play very differently to France, so it's going to be a very different game," Sheva says. "We have to be aware of their ability to counterattack, especially with Sam Kerr up front, but there are also going to be opportunities for us. They are going to be trying get at us, so I think we can be pretty dangerous on the counter as well – it should be exciting."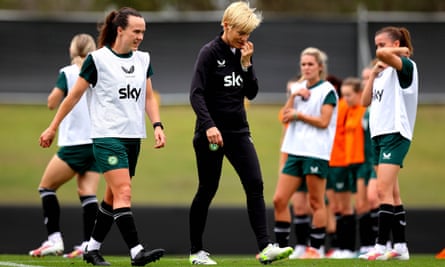 With Ireland known for playing a back five and two holding midfielders, the Matildas may have their work cut out going forward.
"[Ireland are] a hard working team, they're very solid at the back," says Clare Shine, a recently retired Ireland international who is in Australia to commentate for Irish television. "They can counter teams on the counterattack – if you leave spaces open, they know how to exploit that."
And although most of the stadium will be cheering for the Matildas, a sizeable cohort of Irish fans are making the journey – with many more cheering on from back home.
"There's a lot of Irish people out here, [and] there's four or five thousand fans flying out from Dublin," Shine says. "The whole country is behind them, and I know that they're going to put on a show. Anything can happen in these kinds of games."
While the hopes of Australia sit on the shoulders of the Matildas, Ireland are trying to remain relaxed and take advantage of the absence of such weighty expectations. At training on Monday, players donned jerseys from their childhood clubs for a team photo. The players have also visited a koala sanctuary in recent days, and seen some kangaroos.
"We know the pressure is not on us," Sheva says. "The pressure is on them – we're going to embrace that."